If you have the space, and a "standard" 1/10 or 1/18 scale radio-controlled machine isn't giving you the level of fun that you're looking for, you might be ready to step into the world of large-scale R/C. One such vehicle, Losi's 1/5-scale Desert Buggy has received a facelift in the form of sharp, new K&N graphics, giving this already menacing beast an even more intimidating appearance.
Looks aside, this nitro-powered off-road machine houses a number of impressive features, starting with the fact that it's an almost read-to-run (artr) machine, so you won't need to do much prep-work to get this machine going out of the box. While gas-powered radio-controlled vehicles need a little more cleanup and care, the tradeoff is a truck that sounds amazing and captures the spirit of a 1:1 vehicle in a slightly-smaller package.
Features:
K&N is recognized as a world leader in filter technology. Instant credibility in the motorsports world.
Genuine K&N Air Filter, Increased air flow for increased engine performance.
Established and proven DBXL Chassis. Affordable, durable large scale vehicle.
4-wheel drive performance and drivability.
23cc Gasoline Engine. Easy to use, reliable, upgradeable.
Roll Cage protects chassis and can be removed by taking of only 10 body clips.
24mm Hex Standard Hex size in 1/5th scale vehicles. Allows for use of multiple tire and wheel combinations.
Sealed differentials last longer and provide endless tuning options.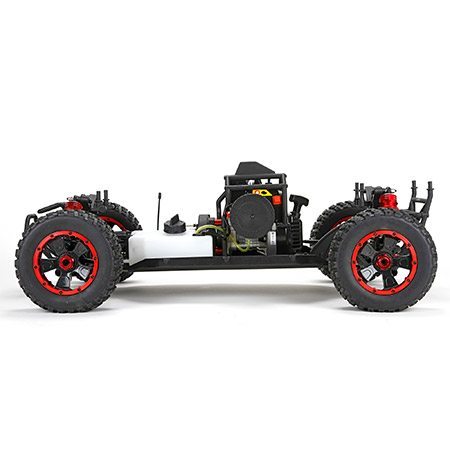 Specifications:
Type: 4WD RTR Off-Road Gas Buggy
Scale: 1/5
Length: 30.75 in (781mm)
Width: 19.1 in (485.1mm)
Height: 12.25 in (311.1mm)
Ground Clearance: 3.1 in (78.7mm)
Wheelbase: 22.0 (558.8mm)
Weight: 28.7 lb (13.01 kg)
Chassis: 4mm Plate, 6061-T6 Aluminum
Suspension: Independent
Drivetrain: 4WD
Tire Type: All-Terrain 7.8 in (198.1mm) Diameter
Motor or Engine: Pull start 23cc gasoline
Radio: Spektrum DX2E 2-Channel
Servos: Installed 30 kg Servo
Batteries: Dynamite 1700 mah Receiver Pack
Wheel Size: 4.75 in (120.65mm)
Kit/RTR: RTR
Shock Type: Oil-Filled, Coil-over Springs
Body: Panels, Silkscreened
Ball Bearings: Full Ball Bearing Drivetrain
Fuel Tank Capacity: 740cc
Experience Level: Intermediate
Recommended Environment: Outdoor
Assembly Time: Less than 1 Hour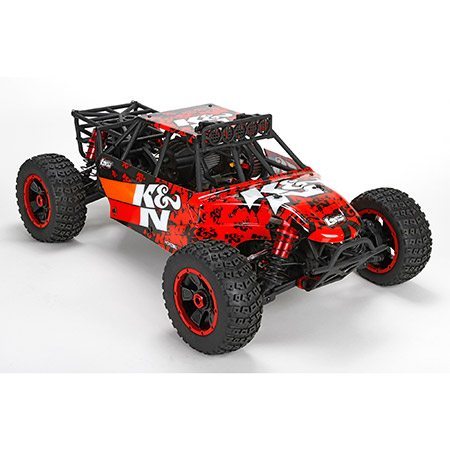 With a price of $999.99, this vehicle is geared toward the hardcore hobbyist. If nitro-powered R/C action is what you crave, then this vehicle might be the perfect addition for you. Learn more about the Losi K&N DBXL 1/5-scale Desert Buggy at Losi.com.
Image credit: Losi