This review has been a long-time coming, but it's well worth the read if you're thinking about slowing things down a bit and getting into the rock-crawling & terrain-navigation side of the hobby.  Believe it or not, there's much joy to be had in taking things at a reduced pace.
As with every other category of R/C vehicle, there are no shortage of options when it comes to choosing a crawler. There are entry-level options galore, and they come in a multitude of assortments in-and-of themselves.  In short, picking your first machine can be a confusing task. Thankfully, in my two-plus years in the hobby, I have gotten to know a few people that know a thing-or-two about the crawler scene, and their advice was crucial in steering me toward the Redcat Racing RS10 Rockslide.
With this being my first crawler-style machine, I wasn't sure what to expect when I opened the box.  After all was said-and-done, I was surprised by both how much and also how little there was to one of this vehicle.
The Basics
Out of the box, the RS10 is both impressive and a little confusing. If you haven't seen a link-based chassis before, you might feel that there isn't much involved in the construction of this machine. The truth is, there isn't.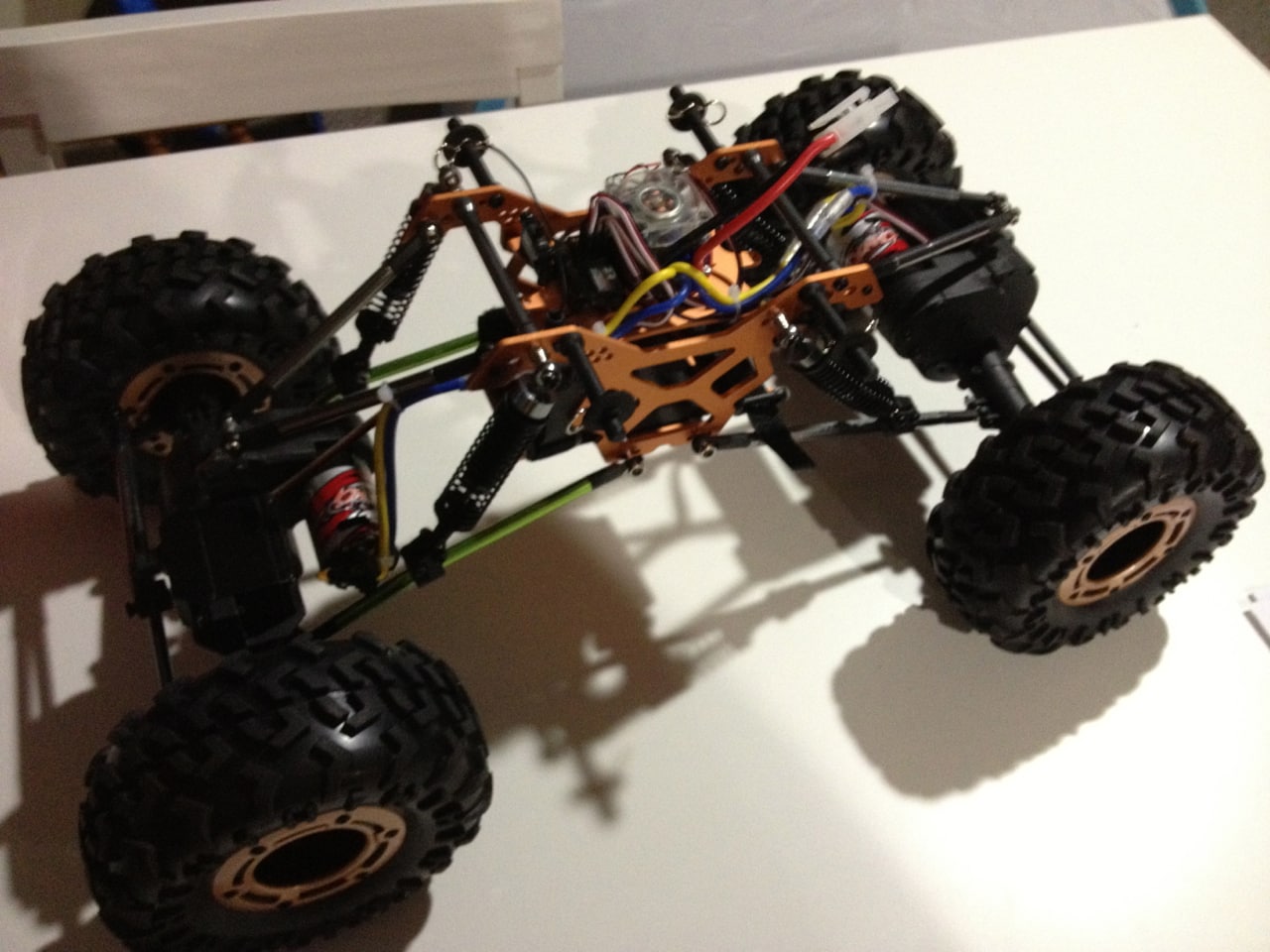 Not speaking for "scaler-style" rock crawlers (if you can still call them that), the RS10 follows a setup that's closer to a competition crawler.  A central aluminum chassis acts as the housing for the ESC, electronics, and battery.  Connected to it are four lower-links that attach to the axles and the coiled shocks.  There are also wishbone-style links that attach the the upper-portion of the axle.  It's an impressive scene when the wheels, tires, and body are mounted up, but when you strip those away, you quickly see how sparse the setup is.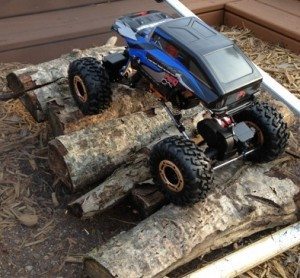 Truthfully, you don't need much more than what you'll see "under the hood" of the RS10.  Despite how minimal it may appear, it is incredibly capable right out of the box.  I had a huge grin on my face after only a minute of driving it around my basement. The stock-configuration has a great amount of articulation and you can improve on that by simply sliding the shock mounting location along the lower links.  Doing this also allows you to lower the ride height of the Rockslide, which is top-heavy in it's standard setup.
The motor-on-axle (MOA) layout is something that you'll typically see on a competition-style crawler. If you're looking for a hardcore scale-appearing rig, you will need to do a bit of work to convert the drivetrain configuration to a shaft-driven setup.  That said, for an entry-level R/C vehicle, the flexibility and customization that you can achieve with this setup is hard to beat, especially for the price.
A Budget Brute
Before I decided to check out the crawler side of the hobby, I did my homework comparing features, capabilities and more importantly, prices of vehicles. No matter how I would stack up the competitors, Redcat Racing's entry seemed to be near the top of the heap every time, especially where price was concerned. At just shy of $175 (I paid $155.99 for mine), I was able to get a RTR machine, electronics, radio, battery, and charger.
https://www.youtube.com/watch?v=BIwZI8XAP
That's a decent price, considering everything that comes with the package.  What I liked (and still appreciate) about the RS10's price-point is the "wiggle room" it afforded me to make some adjustments and upgrades.
Surprising features, standard
When you see the price of this vehicle and then compare it to others on the market, you may quickly assume that parts used aren't as high-quality as they could be. While the electronics, motors, and servo may not be top-spec, there are a few surprises that I found when it came to build quality.  Pleasant surprises, at that.
The lower-suspension links are made of aluminum stock, something that is an upgrade option on other comparable models.  The wheels are headlock-style rims, another option part for many of the popular crawler/scaler-style vehicles that are on the market. These small standard feature "niceties" are a welcomed find once you start digging into what makes the RS10 tick, especially when you find out that other, similar models charge for these types of material upgrades.
Getting down to business.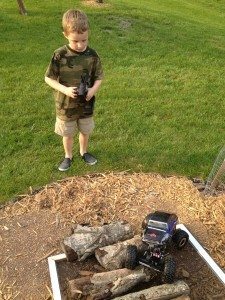 While it looks nice out of the box, it looks even better when you're crawling over an obstacle or attacking a trail.  While not a true "trail rig" like an Axial SCX10 or the RC4WD Trail Finder, the Rockslide can hold it's own on many different types of terrain.  I have run mine on grass, gravel, rocks, sand, and a wood course and it handled everything with general ease.  The tires may be one of the weakest points to the stock configuration, as they are fairly rigid and don't provide much flex or grip.  I did find that removing the inner foams helped in that regard, making them conform to obstacles, but you then get the appearance that the tires are low on air.
While that's not a deal-breaker, if you're looking for a realistic visual appearance, that can be a bit of a letdown.  There are ways to enhance the stock tires by siping the treads and you can always spend a little money to upgrade the rubber to something that might suite your driving style a bit more.
https://www.youtube.com/watch?v=NG_1isWD
The overall flexibility and stock performance of this vehicle, as I mentioned earlier, left me grinning from the word go.  The articulation that it features is much greater than I would have initially anticipated, and there are plenty of options and tricks that I employed to improve the overall handling and performance of this rig, simply by moving a few link and shock mounts around.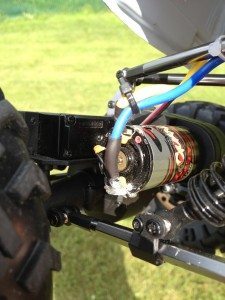 The only other aspect that I'm not a fan of is the length of the motors.  I have tried a few link-mounting configurations and even attempted to attach a set of high-clearance lower links to this rig, only to end up breaking a motor wire due to space constraints while the chassis was in flex.  That said, there are motor upgrades that you can purchase without breaking the bank.  Again, the amount of financial wiggle room you have with this vehicle is a nice change of pace vs other comparable models.
What's the verdict?
If you're new to the hobby or just looking to slow down and enjoy some scenery, you can't go wrong with the package that Redcat Racing's RS10 provides.  You get everything you need in one package and you're left with plenty of room to improve and build your own custom creation.
Parts and upgrades for Redcat Racing's RS10 Rockslide Rock Crawler: