Just in time for the holiday shopping season, Traxxas has released its latest larger-scale basher, the XRT. Similar in length to the X-Maxx, the XRT boasts a broader stance and a lower center of gravity for more speed and performance-focused fun.
Similar in style to the 1/5 ARRMA Kraton, the Traxxas XRT features a length in excess of thirty inches and an overall width that's just shy of two feet. A sleek, "speed truck" body sits on top of its massive chassis, which is easily accessed thanks to Traxxas' "clipless" body mounting system.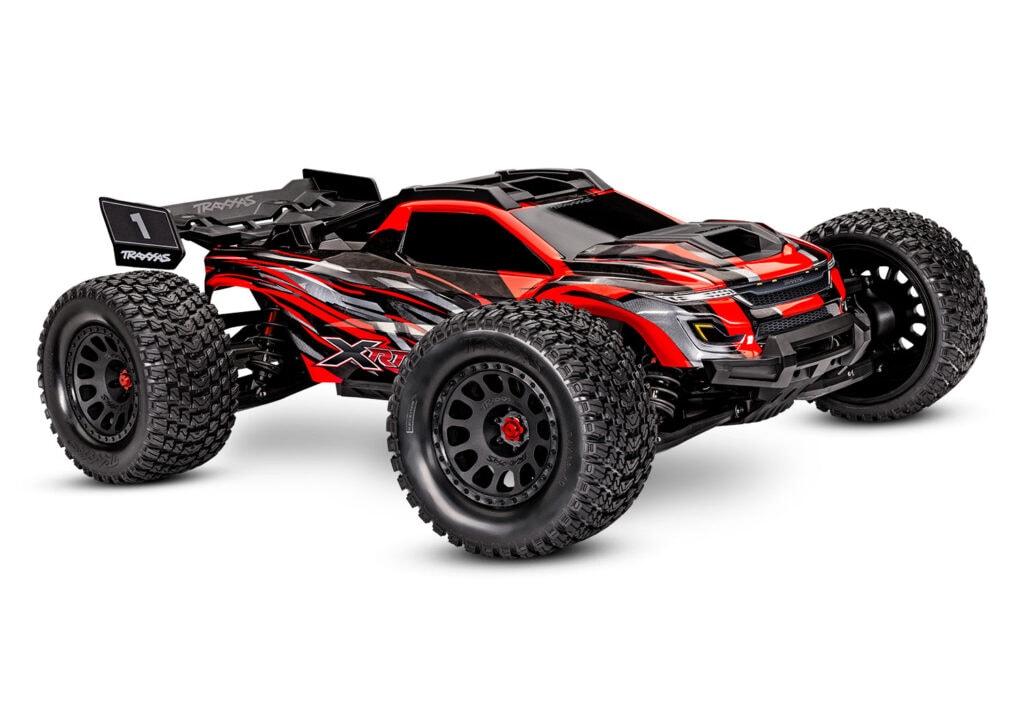 The body features two air inlets to help keep the internals cool, and there are a number of body brace and support elements that are mounted on the roof, bed, and other "high impact" areas to help preserve the body from road rash and bash damage. Four body color/graphics options are available to choose from (orange, green, red, and blue), each featuring color-matching wheel nuts.
On the performance end, the XRT is powered by a Velineon 1200XL brushless motor and can support 8S LiPo batteries thanks to its Vileness VXL-8S ESC. The low CoG and wide stance help to keep this machine planted during high-speed turns, and its durable chassis construction should allow it to withstand most hardcore outings.
Traxxas XRT Specs:
Length (including wing): 31.41 inches (798mm)
Front Track: 23.43 inches (595mm)
Rear Track: 23.43 inches (595mm)
Ground Clearance: 1.93 inches (49mm)
Weight:

19.70 pounds (8.94kgs) – without body
21.03 pounds (9.54kgs) – with body
23.87 pounds (10.83kgs) – with body & two 4s 6700mAh LiPos

Height:

10.15 inches (258mm) – ride height
12.12 inches (308mm) – full droop

Wheelbase: 18.9 inches (480mm)
Shock Length (front): 6.79 inches (173mm)
Shock Length (rear): 6.79 inches (173mm)
Tires (Pre-Glued): 7.4 x 4.0 inches (188mm x 102mm)
Wheels: 4.3 x 5.7 inches (110mm x 147mm)
Speed Control: Velineon® VXL-8s
Motor (electric): Velineon® 1200XL Brushless with heat sink and dual fan shrouds
Overall Drive Ratio: 20.6:1 (20/50 motor pinion and spur gear)
Differential Type: Sealed, hardened steel bevel, limited slip
Gear Pitch (Spur and Pinion): Module 1.0
Chassis Structure/Material: Composite Nylon Tub
Brake Type: Electronic
Drive System: Shaft-driven 4WD
Steering: Bellcrank
Radio System: TQi™ 2.4GHz Transmitter with TSM® receiver™
Servo: Torque: 365oz. Speed: 0.17 sec/ 60 degrees(6.0V)
Top Speed: 60+ MPH with two 4s LiPo batteries and included optional gearing
Skill Level: 5
Battery Tray: 186mm x 51mm x 44mm
Required Batteries: 4 "AA" (transmitter) and 4-cell LiPo battery (x2)
Priced at $999.95, the XRT will be available for purchase through Traxxas and its dealers. Visit traxxas.com to learn more about this massive R/C basher.
Image credit: Traxxas