Kyosho has released details about its 60th Anniversary FANTOM EP 4WD Kit. This 1/12-scale, performance-bred R/C car is based on the standard FANTOM EP kit but includes several special-edition assets.
You'll find several gold-finish elements for this car's chassis. Body posts, wheel hubs, steering blocks, and more all feature a satin gold anodized finish. The kit also includes black, limited-edition front and rear wheels.
Option parts for the standard-version FANTOM EP 4WD will work with this kit, so you have plenty of upgrade options should you choose to run this car competitively.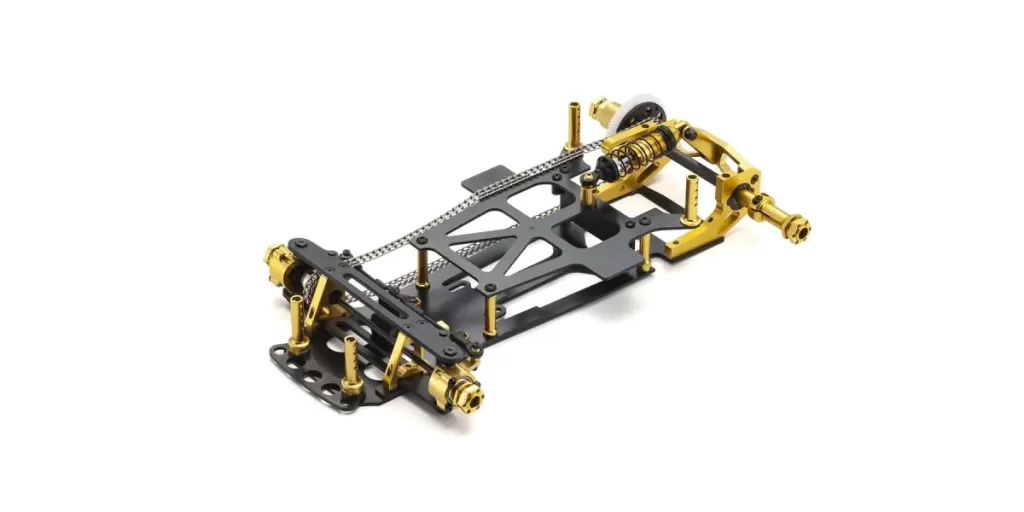 Kyosho 60th Anniversary FANTOM EP 4WD Specs:
Length 340mm
Width: 172mm
Height: 83mm
Chassis type: Chain drive 4WD
Wheelbase: 199-200mm(Adjustable)
Tread: F:135mm/R:133mm
Tire: F:φ48×23mm/R:φ53×35mm
Gear ratio: 3.38:1
Weight (approx.):900g(with GAB4202)
Motor: 540 size(both sold separately)
Used propo 2~3ch 2servo
※Maximum Speed: 約55km/h (with Le Mans480G)
※Driving Time approx.23minutes(with Le Mans480G)
Learn more about the 1/12-scale 60th Anniversary FANTOM EP 4WD at kyosho.com and find out how you can add one to your collection.
Image credit: Kyosho