Up until now, Axial's SCX10 III lineup has centered around highly-detailed, fully loaded R/C crawlers. From the Jeep JLU Wrangler (Kit and RTR) to the Early Ford Bronco, you'll find a heaping helping of visual detail alongside trail-focused performance. But what if you're new to the world of R/C crawling?
If you've wanted to get out and explore the slower-paced world of R/C crawling and scalers, Axial has a new model that's just for you. The SCX10 III Base Camp serves as the starting point for your outdoor and off-road radio-controlled adventure. Based on the core SCX10 III platform, the Base Camp is a no-frills, back to basics approach for folks who want to dip their toe into the water without taking the big plunge.
Water analogies aside, the Base Camp offers up a basic pickup truck body (available in three colors; blue, gray, and green) and rides atop a 12.3″ wheelbase SCX10 III chassis. While the body may not be a licensed replica of a 1:1 vehicle, there are some licensed bits to be found on this model.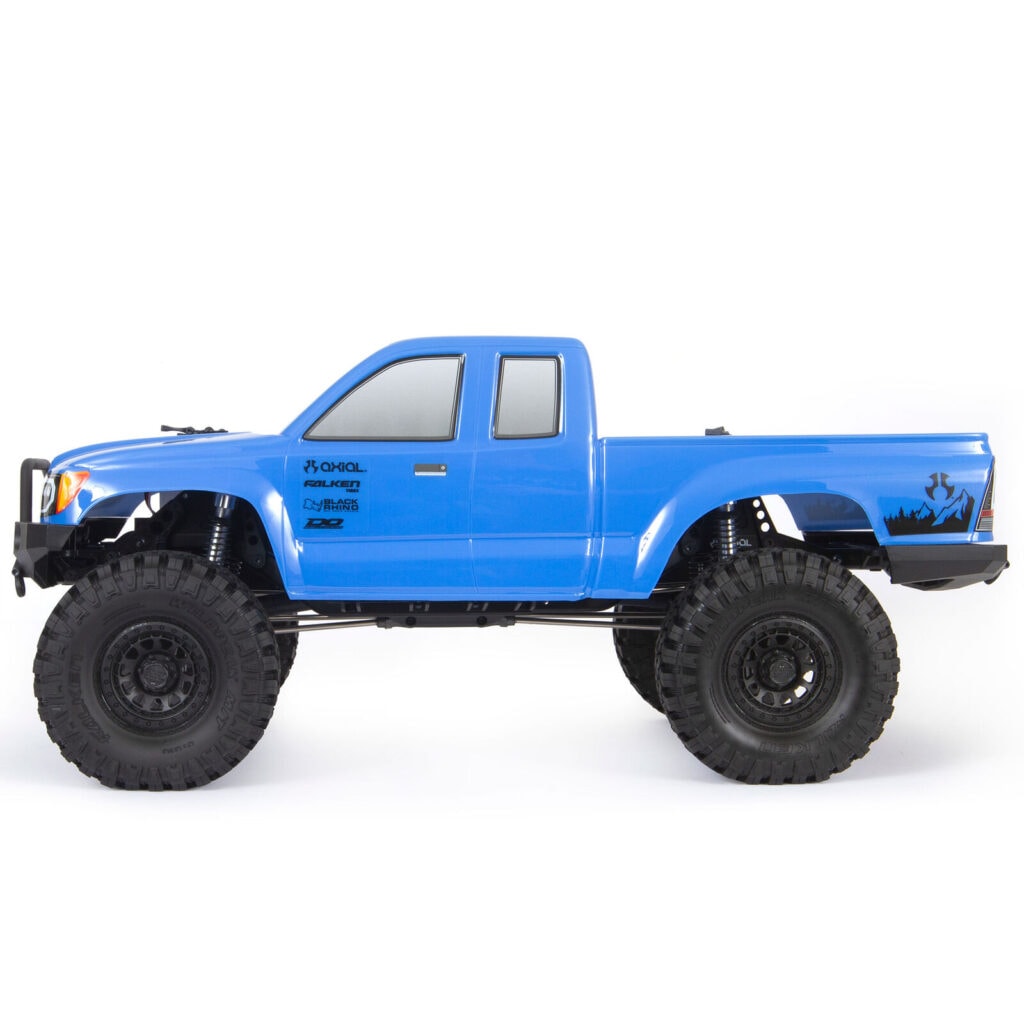 Axial has outfitted this rig with 19″ Black Rhino one-piece wheels, 1.9″ Falken Wildpeak tires, and Demello Off Road bumpers. Outside of that, this truck is quite basic in terms of appearance.
On the performance side, much of the SCX10 III chassis is found on the Base Camp, with the exception of the transmission. A new, single-speed LCXU Transmission has been applied to this model, providing a smooth, durable option for trail driving or rock crawling.
The Axial Base Camp features a Dynamite 35T, 540-size brushed motor, a Spektrum SLT3 3-channel radio, a Spektrum S614 15kg Steel Gear servo, and a Spektrum 40A ESC.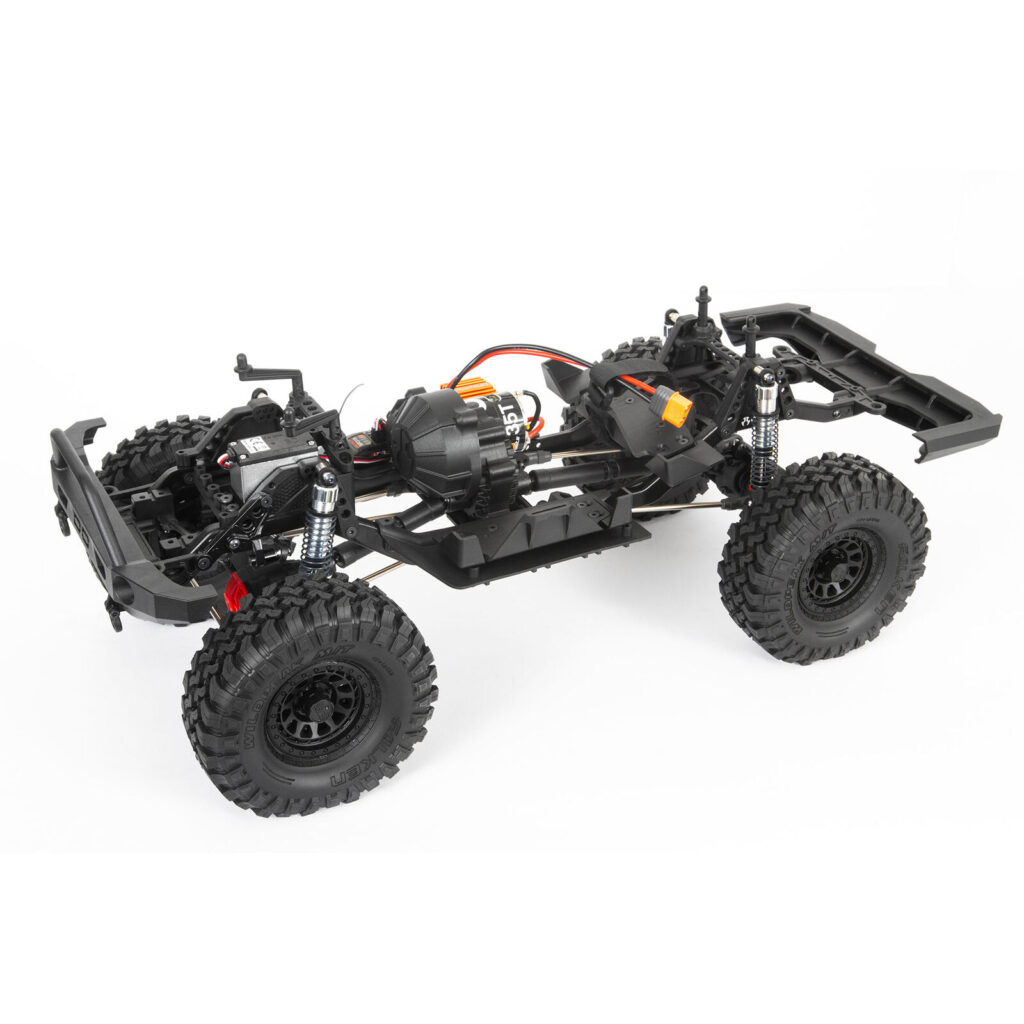 Axial SCX10 III Base Camp Specs:
Product Weight: 5 lb (2.3 kg)
Tire Tread: Falken Wildpeak M/T
Vehicle Type: Rock Crawler
Power Type: Electric
Gear Pitch: 32P
Servos: Included
Tire Compound: R35
Wheel Hex Size: 12mm
Product Height: 9.75″ (248 mm)
Chassis: Adjustable Steel C-channel
Completion Level: Ready-To-Run
Drivetrain: 4WD
Drive Type: Forward/Brake/Reverse
Front Track: 9.25 in (233mm)
Product Width: 9.25″ (235 mm)
Body: Pre-Painted
Brakes: Integral with ESC
Pinion: 14T
Scale: 1/10
Battery: Sold Separately
Ground Clearance: 2.5 in (63.5mm)
Motor Size: 540
Product Length: 20.75″ (527 mm)
Spur Gear: 52T
Suspension: Multi-Link Solid Axle
Wheel Width: 1 in (25.5mm)
Charger: Sold Separately
Differential : Locked
Receiver: Included
Shock Type: Oil-Filled/Coil-Over Spring
Final Drive Ratio: 45.6:1
Motor Type: Brushed
Rear Track:9.25 in (233mm)
Wheelbase: 12.3″ (312 mm)
The SCX10 III Base Camp is priced at $389.99 and will be available for purchase from Horizon Hobby and its dealers. Visit horizonhobby.com to learn more about this entry-level, 1/10-scale R/C crawler.
Image credit: Horizon Hobby