There are times when a ready-to-run (RTR) model has it all, the right shocks, motor, electronics, wheels, and tires. When something is so close to personal preference perfection, it can be hard to find a reason to change. When it comes to pre-installed R/C crawler components, I'm hard-pressed to find a better set of stock tires than those found on the Traxxas TRX-4.
Still, with so many aftermarket tire options available, sometimes change can be a good thing. After experiencing Pro-Line's BFGoodrich KM3 G8 Rock Terrain tires on my SCX10, I decided to take a similar approach to the TRX-4 Sport. Thankfully, the team at Pro-Line was gracious enough to supply me with two pairs of their BFGoodrich Krawler T/A 1.9" Predator tires (along with a matching set of Impulse Bead-Loc Wheels) to test out.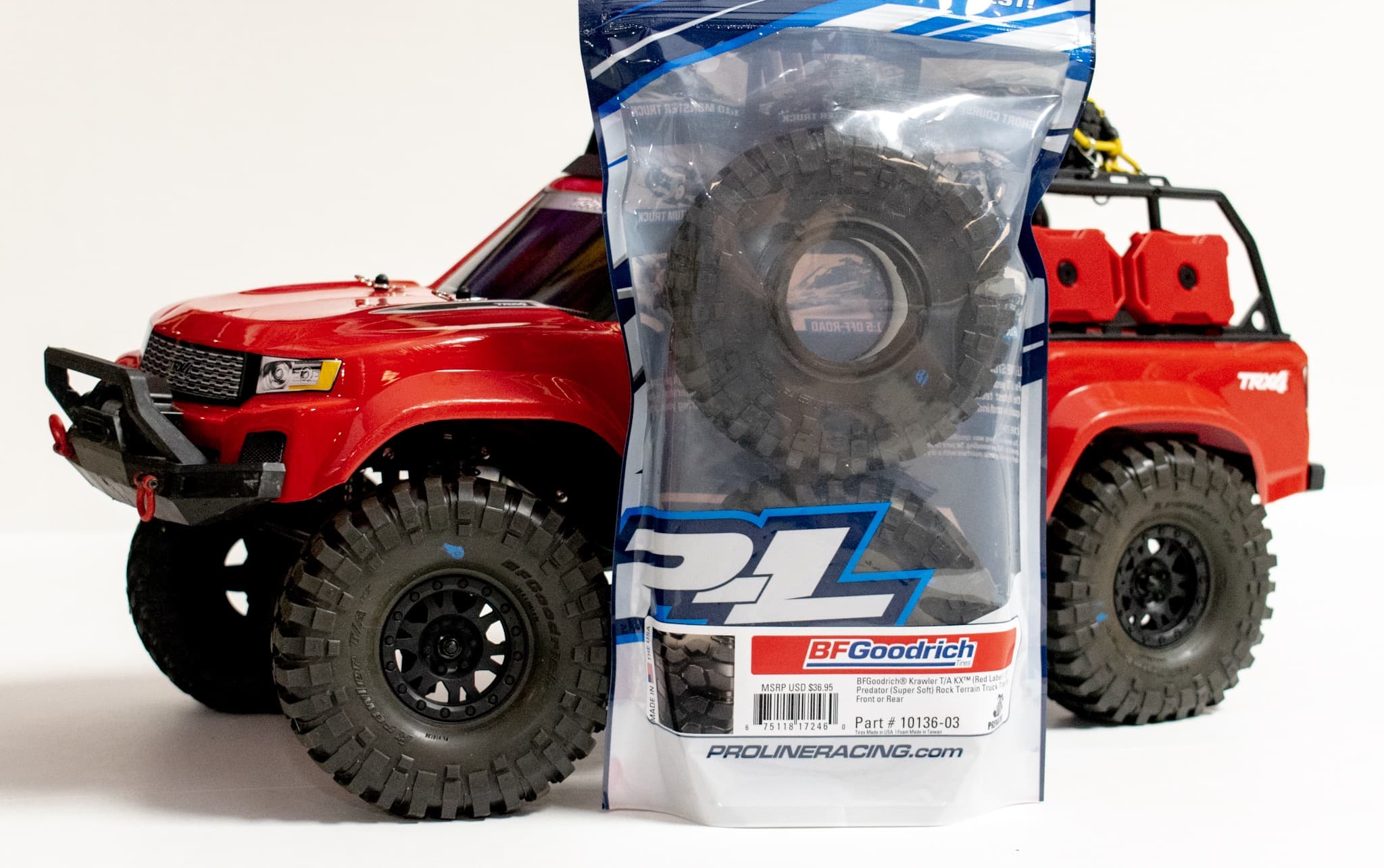 Upgrade Benefits
Although the TRX-4 has impressive traction on stock tires, it's always nice to see what type of impact a new set of rubber can have. While I've also run this rig on a set of Duratrax Deep Woods CR tires, I felt that the scale appearance on that set was lacking.
Pro-Line's BFGoodrich Krawler T/A tire options provide that element of scale authenticity that I was looking for. When you add that to the super-soft Predator compound and firm tire foams, you've got a recipe for impressive performance.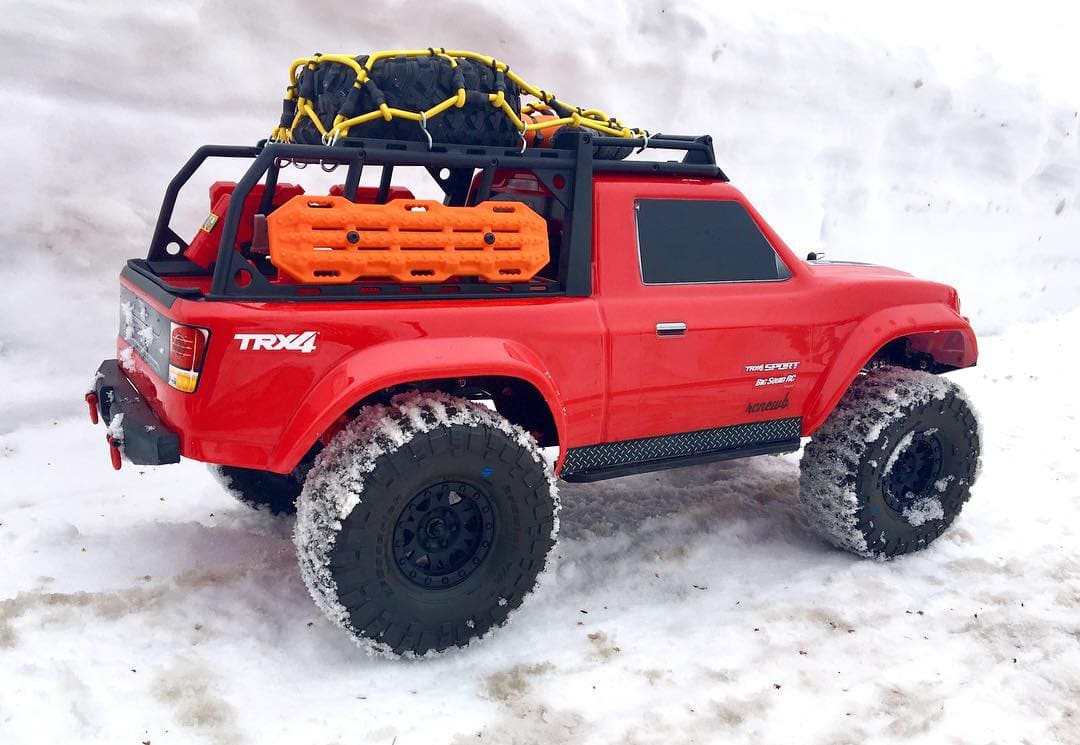 What you'll need to complete the installation:
2 sets of bead-lock wheels (plastic, steel or aluminum)

1 hex-head driver/Allen wrench (head size will vary depending on your wheel hardware)

1 wheel nut wrench

Installing Pro-Line's BFGoodrich Krawler T/A KX 1.9" Predator Rock Terrain Tires
Since the wheel mounting process is relatively quick, there isn't much to offer in terms of step-by-step instruction. The entire process (from mounting the tires to the wheels and the wheels to my rig) took between 12 to 15 minutes. While I'm not fond of gluing tires, mounting them to beadlock wheels is one chore I don't mind doing.
If I can offer any advice when mounting tires to beadlock-style wheels, it's to not over-torque your lugs or wheel nuts. The entire tire and wheel mounting process is quite straightforward, however, you can easily strip a screw/wheel lug or cause your wheels to bind if you overtighten them. Another item to keep in mind is the seal between your outer ring/wheel and the tire. This will ensure you don't have a tire come loose from the wheel when out on the trail.

A Predator on the Loose
My experience with Pro-Line's tire lineup spans back a number of years. From their short course truck tires to other types of crawler/scaler tires, I've had an opportunity to examine quite a few of their products. That said, this was my first time experiencing their Predator tire compound. On the surface, both compounds offer excellent levels of traction and both offer spot-on scale realism (when comparing licensed BFGoodrich treads). When you look closer, however, you begin to see differences.
While the G8 has a rich, dark black complexion, the Predator tires are a bit lighter, even gray(ish) in the right light. That lighter color leads me to my next description of this super-soft compound; skin-like. Pinching the sidewalls of the Pro-Line BFGoodrich Krawler T/A Predator tires is similar to pinching the skin on your arm. It's easy to grip and can be pulled away from the inner foam, but quickly snaps back to original form when you let go. Granted, you'll never need to pinch your tire's sidewall when out on the trail, but hopefully, this gives a vivid description of how extremely malleable these tires can be.
With that level of softness, it's easy to fear sidewall collapse, especially under higher-speed cornering or crawling over terrain with sharp ruts and cavities. Thankfully, the foam inserts provide a rigid backbone for the tires and, although super-soft, the tires remain solid under pressure.

Are Pro-Line's BFGoodrich Krawler T/A KX 1.9″ Predator Rock Terrain Tires Right for Your Rig?
You can never have too much traction for your trail machine. If your stock tires aren't quite cutting it, these BFGoodrich Krawler T/A replicas are worth taking a look at. Priced at $31.41 per pair, this can be a relatively low-cost upgrade for your kit or RTR trail truck. Pick up a set for yourself at prolineracing.com.