Plans; we all have them and love them when they run smoothly. But let's face it, there are times when things don't go according to plan and we have to improvise, pivot, change course, or do something to salvage a project. The more I think about it, I'm not sure if anything ever goes according to plan, at least 100%.
At least that seems to be the case for my personal R/C projects. While I may start out with "Plan A" in the beginning, I usually find myself further down the alphabet by the time things are all said and done. That said, all of my projects usually turn out quite well. Take the subject of this review for example.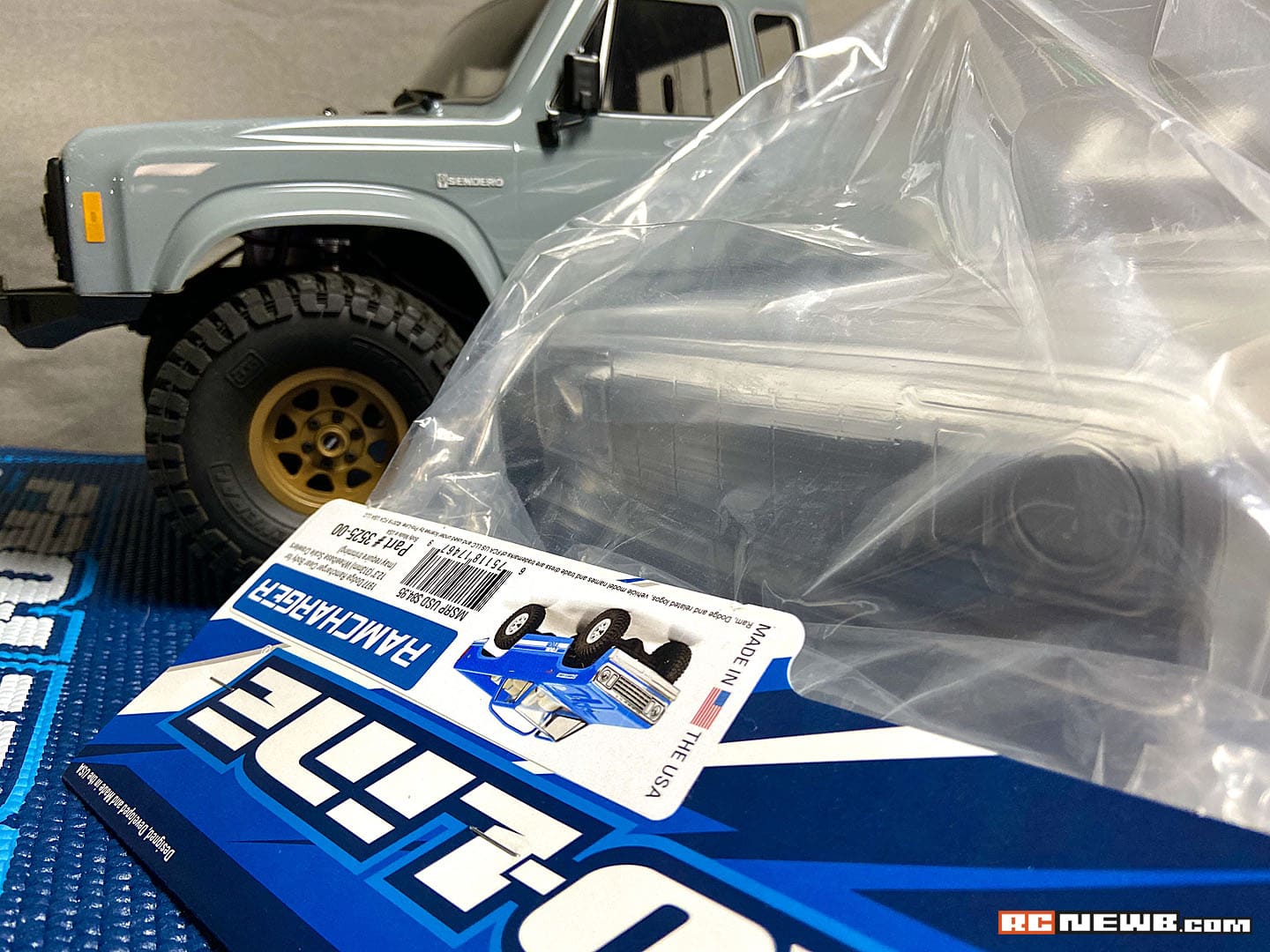 When Pro-Line set me up with their 1977 Dodge Ramcharger R/C Crawler Body ($73.95), I had the vision to recreate an old Dodge pickup truck that my family had driven many, many years ago. That truck had been driven by my grandfather, my father, and myself, and though it wasn't in the family for a long time, I still have fond memories of it (with a few not-so-great memories thrown in for good measure).
While a true recreation wasn't the goal, I wanted to capture the essence of this truck, with it's flat, off-white base, and yellow side striping. That's right folks, this truck was a looker!
Sadly, my personal painting prowess has some room for improvement, and I decided to take this truck in a different direction before busting out the rattle cans. That said, the end result turned out better than I ever could have imagined.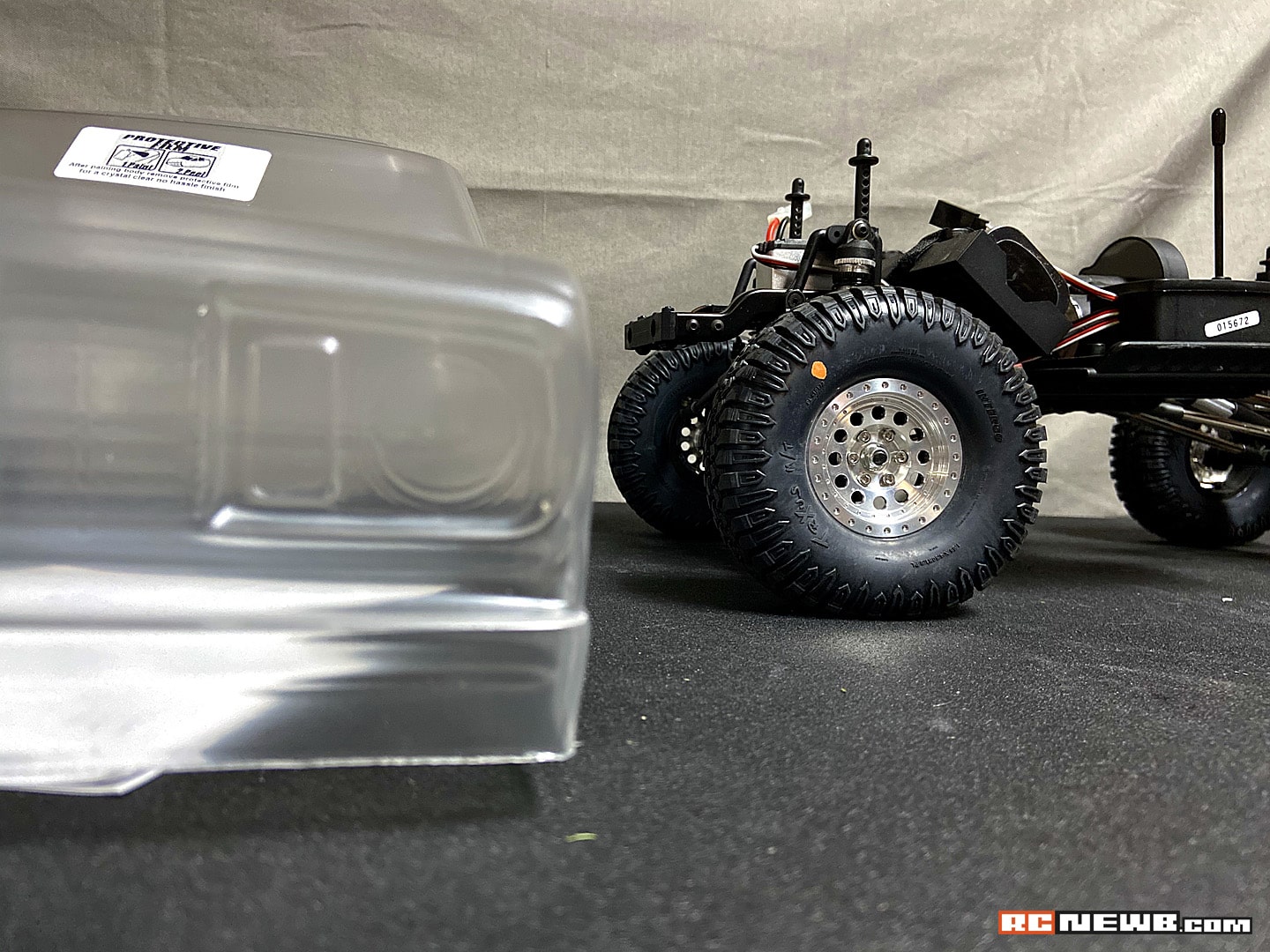 Upgrade Benefits
Unless your R/C lid is cracked or damaged, the main reason to upgrade the body on your radio-controlled crawler (or any other radio-controlled vehicle for that matter) is to give it a fresh, new look. Even if the body is based on a decades-old model, there's something about a new lid that can completely change the attitude of an R/C machine.
For this project, I swapped out the nondescript Element Enduro Sendero body for Pro-Line's '77 Dodge Ramcharger lid. Aside from the fresh coat of paint, the durability of the body was improved as Pro-Line uses a thicker polycarbonate for their crawler bodies, compared to the much thinner stock body of the Enduro Sendero.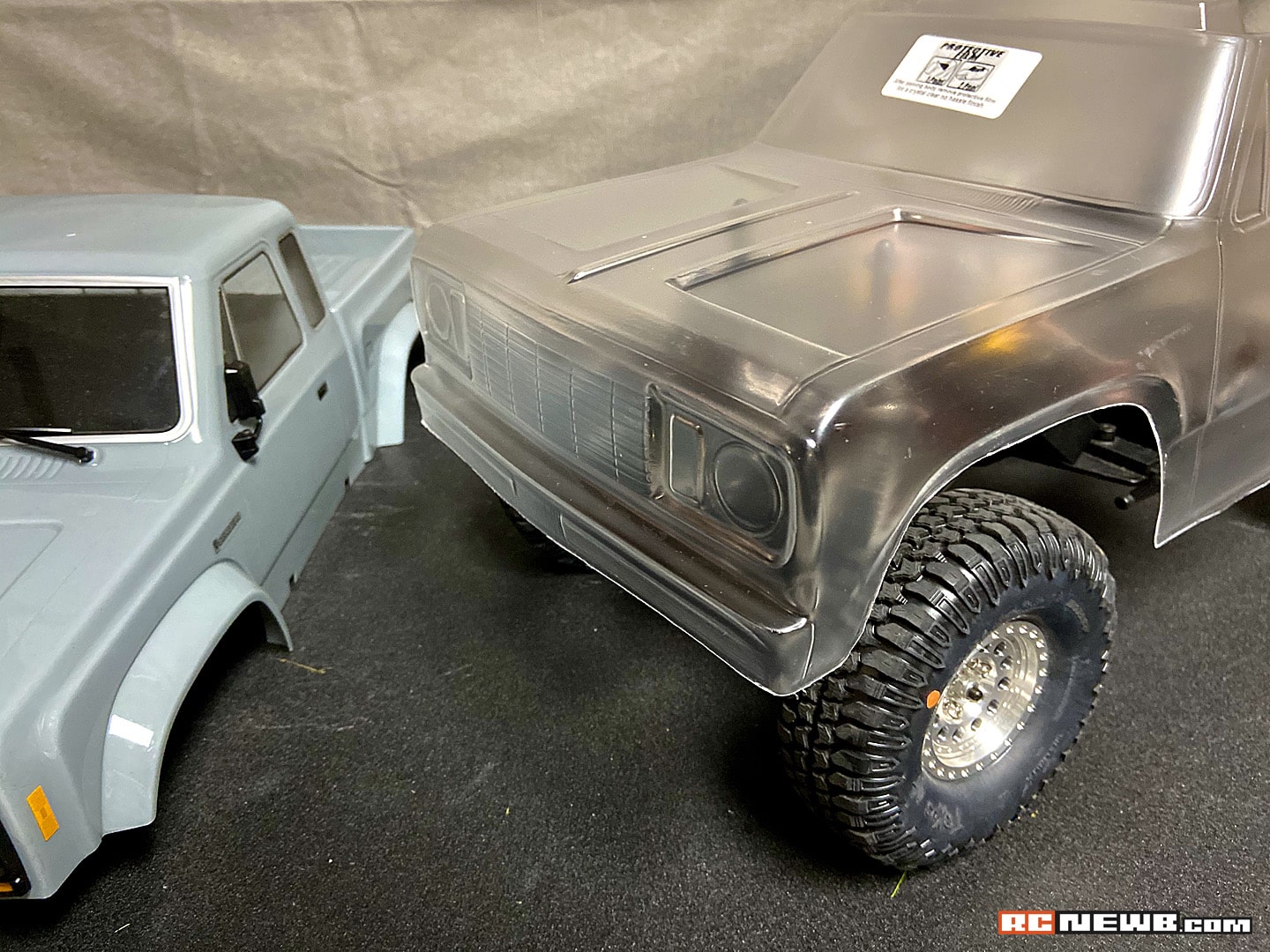 What you'll need to complete the installation:
1 Polycarbonate Body Scissors (Straight-edge)

1 Polycarbonate Body Scissors (Curved)

1 Body Reamer

1 Exacto/Craft/Hobby Knife

Multiple cans of polycarbonate spray paint
Heading into the Body Shop – Prepping, painting, and installing Pro-Line's 1977 Dodge Ramcharger R/C Crawler Body
On its face, the task of prepping, trimming, and painting a new R/C body is quite simple. Start by washing out the body with warm, soapy water, trim away excess material, determine your mounting hole positions, and paint. That's all well and good until you begin to hear the internal drumbeat of "Don't mess this up!" echoing in your brain. If nothing else, I'm my own worst critic when it comes to creative endeavors.
Out of the steps that I highlighted earlier, washing and rinsing the body was the easiest, as it should be. Trimming the body wasn't a terribly difficult task either, however, having a thick, durable polycarbonate shell can make for some interesting moments while trimming. Not only will the body need to be trimmed, but also the SUV capper, interior of the cab, and dashboard.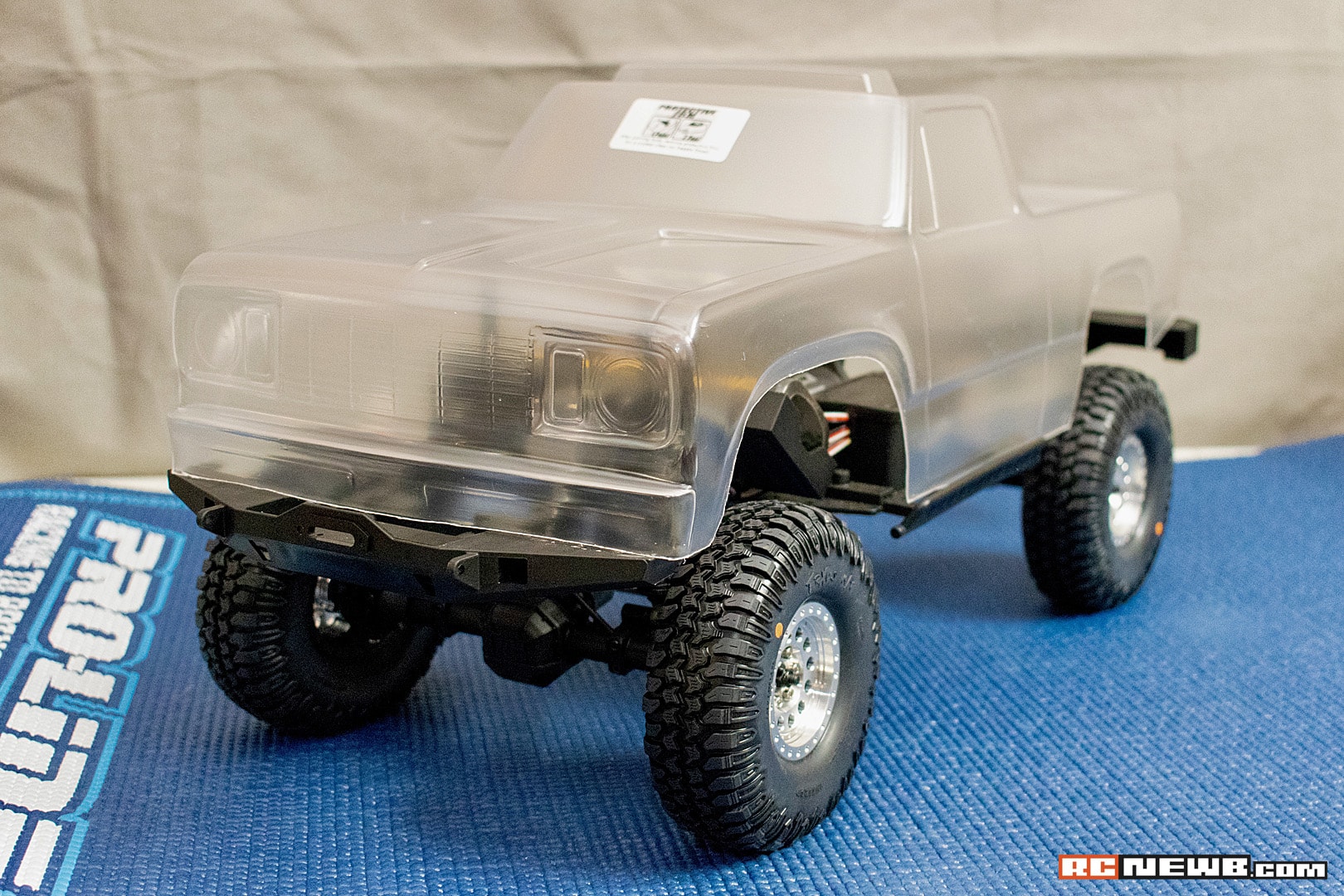 I've found my go-to trimming tool to be a pair of curved body scissors which allow me to make many small cuts without getting too far ahead of myself. There were one or two mishaps during the body trimming phase, but thankfully they were easy to mask (or at the very least, side-step).
The areas of the body that gave me the most heartburn (while cutting) where the cab and roofline. Pro-Line gives you the option of running this body as an SUV or pickup truck and has certain cutting paths that need to be followed for each. My plans shifted from SUV to pickup truck mid-stream, which meant I had to carve away more material than I had originally planned, and thankfully, it all worked out in the end.
I'm not sure if this is true for all Pro-Line Ramcharger bodies (or just the one I was working with) but the rear flooring area (second row) was incredibly thin and almost film-like, making it prone to ripping. I was able to work through and around this without issue, but I'd caution you to have patience while working on your lid.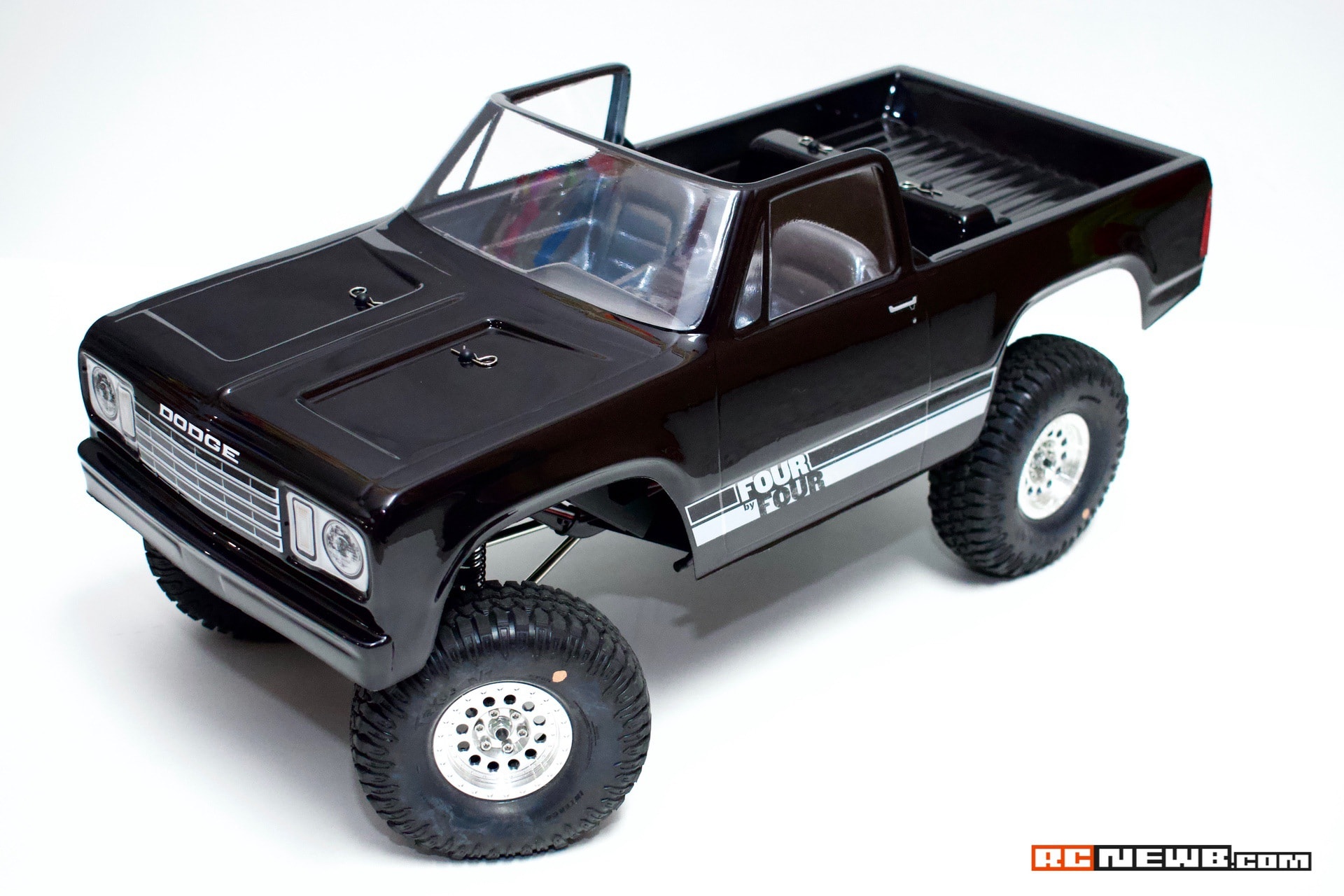 With most of the body prep out of the way, it's time to get it seated correctly and mark body post holes. For installation on the Element Enduro chassis, I removed the front and rear bumpers and pushed the rock sliders inward toward the chassis as far as they'd go. This allowed the body to sit perfectly and have a true-to-scale appearance.
With the unpainted body sitting atop the body posts, I was able to quickly mark where I wanted to make my body holes after painting. I highly recommend getting these lined up and marked before you start spraying paint, as it makes the process much easier.
Now onto the paint booth! As this project progressed, I found myself getting further and further away from the original plan of a "stunning" white and yellow Dodge pickup and more towards…something else. The only trouble was, I didn't know what "something else looked like". Thankfully, I was able to draw inspiration from a few of the other updates that I had made to this rig, namely Pro-Line's Rock Shooter wheels and Interco TrxUs tires.
A lightbulb went off in my head and I decided to go in the opposite direction of what I had originally planned. My light, bright trail machine was going to be a badass, black offroading beast.
After several coats of black Duratrax paint and a few backing coats of silver, the body, interior, and dashboard were done. I wasn't sure how I'd like this new-look truck, but once I peeled away the overspray film, I was an immediate fan of it's bold and aggressive appearance.
Next up was trimming and applying decals, which gave me even more opportunity to customize and emphasize this truck's new attitude. The included decal sheet gave me plenty of options to choose from, and I found an excellent use for the white "4×4" side-stripes and tailgate stickers. My previously-mentioned "paint game" needs some work, especially in the masking department, so I choose to spray the entire body of this truck black and forego painting the grille silver. Once the grille and headlight decals were applied, I had no regrets toward making that choice.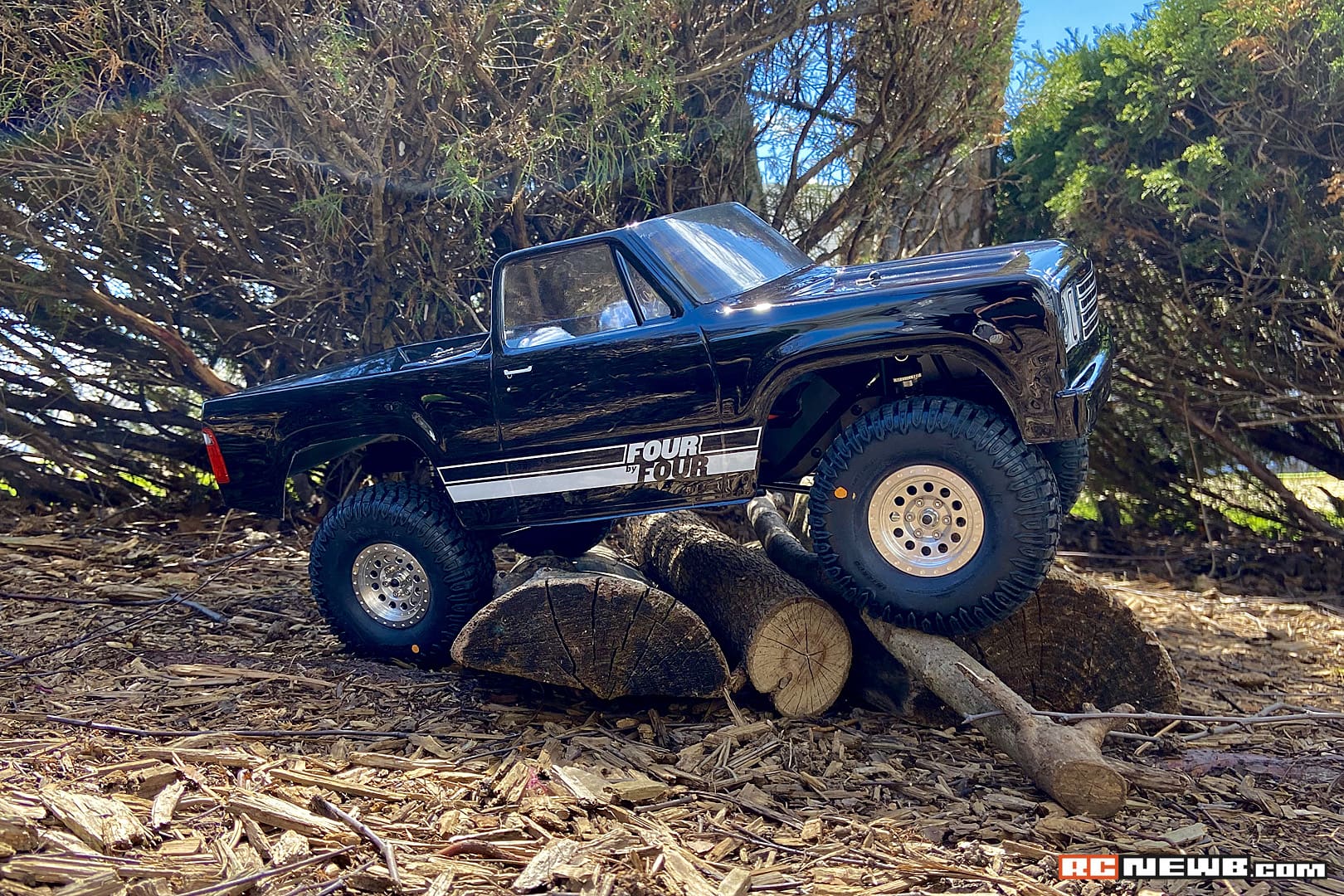 What's the Verdict?
Even before this body was pulled out of its packaging, I knew I was going to love it. As a life-long Mopar fan, this body has all of the details that you'd expect to find on a '77 Ramcharger replica and it leaves plenty of room for your imagination and creativity to roam free. Between the durability of the polycarbonate and the overall details that are molded into this lid, I can safely say this is a must-have for Dodge fans.
If you want to freshen up the look of your 1/10-scale R/C crawler, check out Pro-Line's 1977 Dodge Ramcharger body.