Turning a TRX-4 Sport into a TRX-4 Bronco with a simple body swap.
My Traxxas TRX-4 Sport has undergone quite a few changes since it arrived on my doorstep a few years ago. Little by little, this rig has been transformed from a standard pickup truck into an outdoor adventure rig, thanks to the wide array of upgrade options available for the TRX-4.
Even with a handful of cosmetic updates under my belt, I felt that something was missing from this rig. Between my "boxy beauty" Redcat GEN8 International Scout II and Element RC Enduro Sendero Dodge Ramcharger, I felt the urge to give the TRX-4 Sport even more scale swagger.
With as many body options as there are for this model, I decided to focus on the complete body kits that Traxxas has released for their trail truck. Between the Ford Bronco and multiple years-worth of Chevy Blazer K5s to choose from, you can make a significant update to the TRX-4 Sport without breaking a sweat.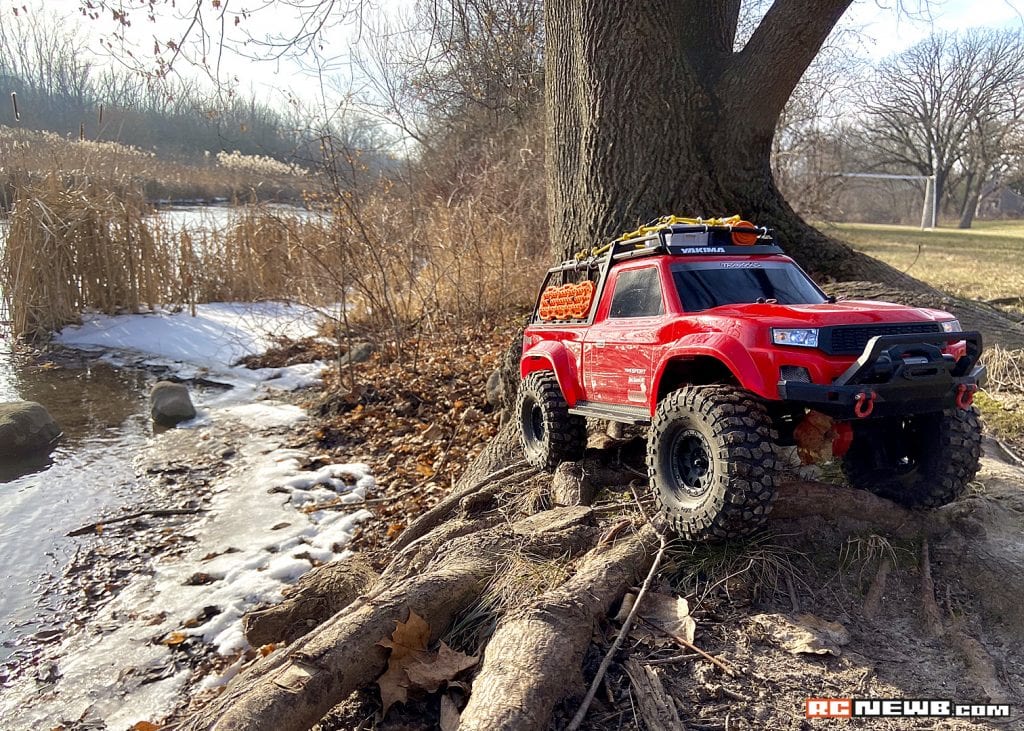 Yes, the beauty in all of the Traxxas Complete Body Kit options is that they are a direct fit for the TRX-4 Sport, allowing you to save money on an entry-level trail rig, only to splurge on the visual details. While the Complete Body Kits aren't inexpensive, I've found the fit and finish to be well worth the investment.
With prices ranging between $129.99 and $169.99 (depending on the body style), the Complete Body Kit can put a significant dent in your hobby budget. After weighing my options (and hemming and hawing more than a few times), I decided that the Ford Bronco Complete Body Kit ($139.99) was the way to go.
TRX-4 Sport Transformation: Take Two
Where some body-based upgrades and overhauls can take a few sessions to complete, I managed to complete the bulk of the work in an evening. Some of the features you'll find in this body kit are:
A painted (body) with clear windows and pre-applied trim pieces
A new, taller rear body post
A pair of chrome-plated front and rear bumpers
Two decal sheets with various body decals and stripes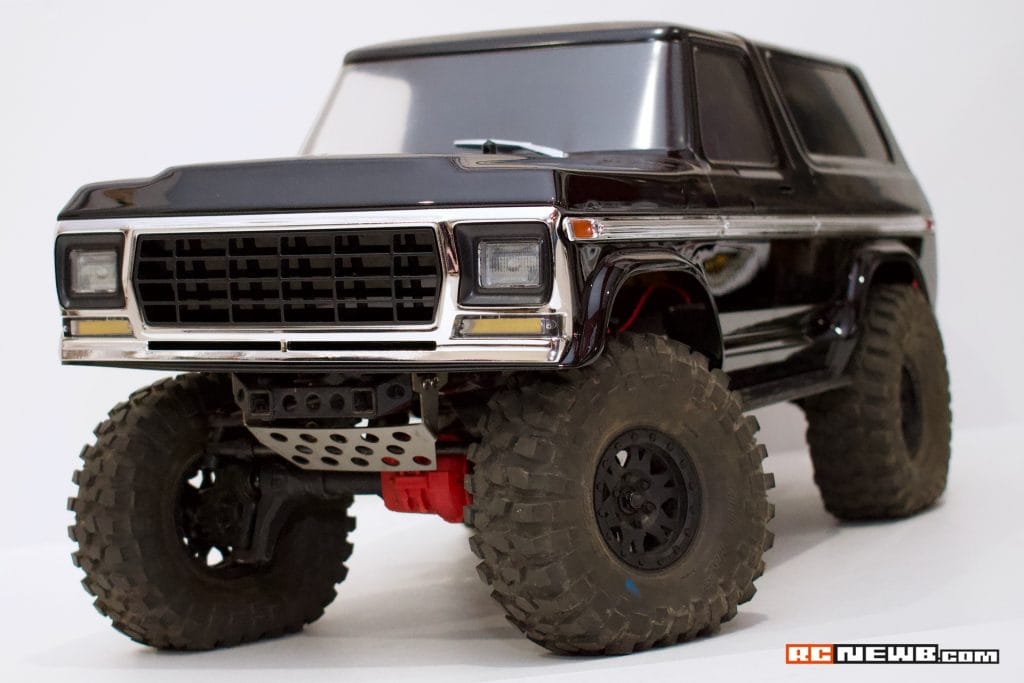 The first step of the body installation (after staring at its beauty for a few minutes) was to remove the stock TRX-4 Sport bumpers and rear body post. The installation guide that's included with the body kit does a good job of identifying how high/low to set the front and rear body posts, but I found myself adjusting this even further to get the heights "just right."
The body itself is pre-cut and has mounting holes pre-drilled/reamed, making it easy to drop the lid onto the chassis, review the fitment, and adjust if needed. After that was set, I installed the front, and rear bumpers and once-again admired the stunning transformation that was taking shape before my eyes.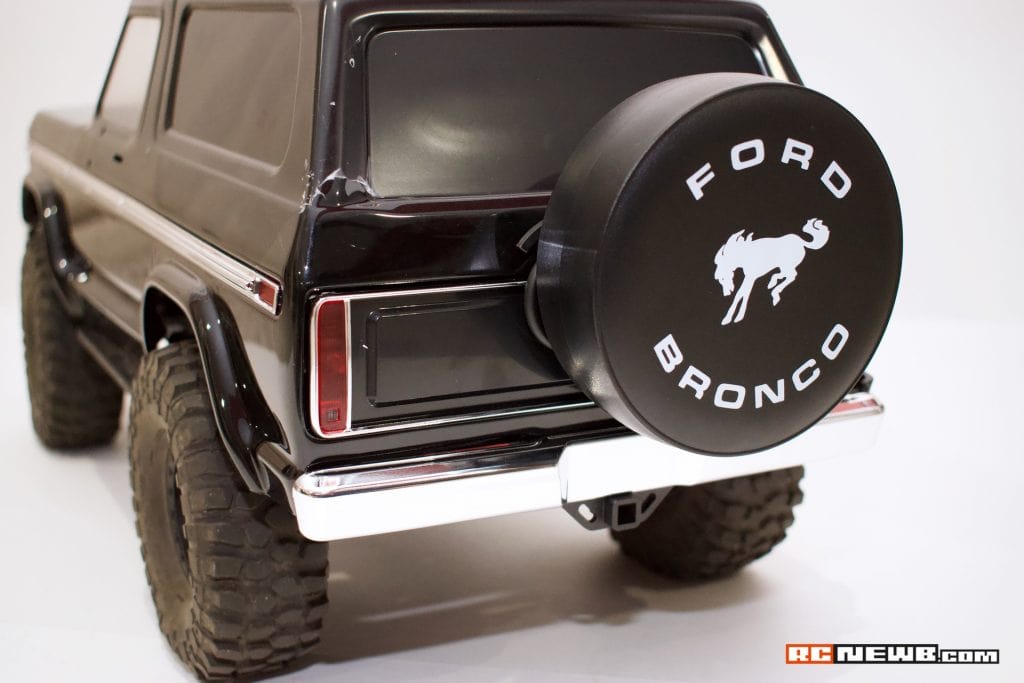 With all of the "newness" on display, my attention was immediately drawn to the wheels and tires. While the Pro-Line's BFGoodrich Krawler T/A tires and Impulse Internal Beadlock Wheels served me well under the TRX-4 Sport body, but this upgraded sense of scale detail called for something new.
I pulled a set of General Grabber 1.9″ tires out of my spare parts bin and paired them with a set of SSD 8-hole Steel Beadlock Wheels. Just like that, the "Bronco Sport" was much closer to completion.
The base of the Traxxas Ford Bronco body is gloss black, but the kit includes two sets of decals that will let you customize your rig even further. If you want a true late-70's vibe, you can select the "sunset" decal pack, or you can go with a more straightforward red. While both of these options are nice, I figured I'd fully-customize my rig with a custom set of vinyl decals.
After kicking around with some design options, I found myself painstakingly applying a fresh set of matte orange side decals and custom white Ford/Bronco decals.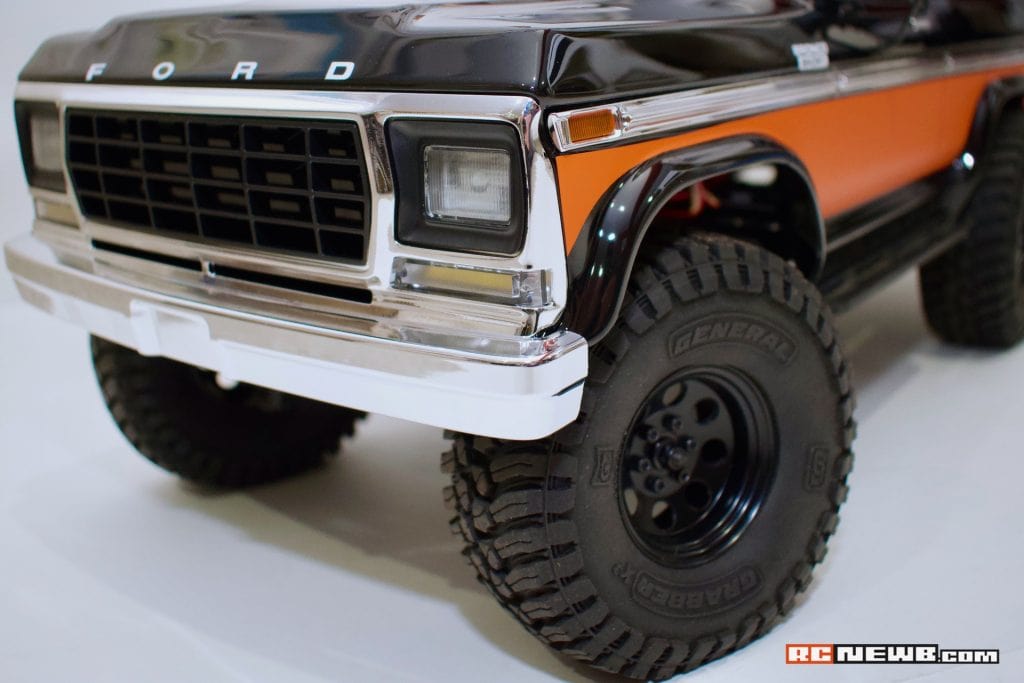 From "Sport" to "Stunner" – Final Thoughts on the Traxxas TRX-4 Ford Bronco Complete Body Kit
After a few hours of work and a little tinkering, my "adventure-ready" TRX-4 Sport was turned into a super-scale Ford Bronco. I have since added some smaller details to this rig, such as front and rear SSD Hubs and Boom Racing brake rotors with a few other items planned for the future.
The numerous ways that I've been able to change up the appearance of the TRX-4 Sport speaks to the flexibility of this platform. If you're a TRX-4 Sport ower who dreams of something with greater scale impact, I'd recommend looking at the lineup of complete body kits from Traxxas.
Where to Buy the Traxxas TRX-4 Ford Bronco Complete Body Kit: