This ready-to-run 1/10-scale rig is ready for the zombie apocalypse.
The R/C crawler and scaler scene is booming, and with a number of fun and capable models to choose from, it may be hard to settle on just one. That was the case for me as I bounced between the HPI Venture, the Traxxas TRX-4, and the Carisma Scale Adventure SCA-1E. At the end of my self-inflicted battle royale, the SCA-1E won me over, primarily on price and on appearance.
While the first Carisma Scale Adventure rig to roll into hobbyist's hearts was their old-school Coyote pickup truck, their second ready-to-run (RTR) release featured a more theme-driven look. The SCA-1E Lynx ORV trades that retro look for something more menacing. While a "themed" vehicle wasn't exactly what I was looking for, it was hard to pass this vehicle up, given its impressive performance record.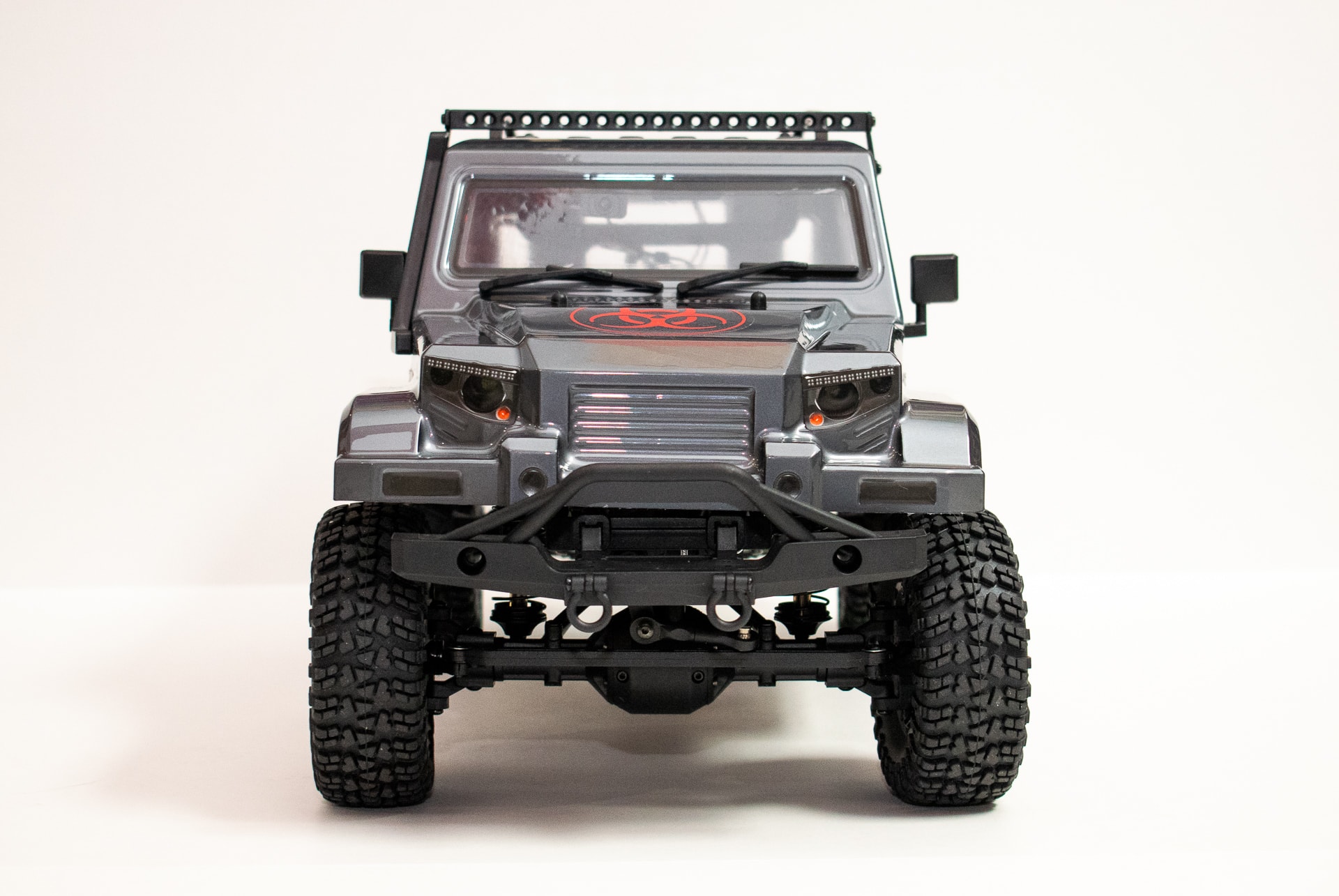 What's Included:
1 Carisma Scale Adventure SCA-1E Lynx ORV

1 Carisma CTX8000 2-channel radio transmitter

4 "AA" batteries (for the transmitter)

1 NiMh battery pack

Total cost: $299.99
Unboxing the Carisma Scale Adventure SCA-1E Lynx
Initial Thoughts on the Carisma Scale Adventure SCA-1E Lynx
Out of the box, this truck simply looks fun. The aggressive and intimidating body design give it a "rough and tumble" feel, which matches up with the solid chassis design. Compared to other 1/10-scale radio-controlled trail trucks on the market, the SCA-1E appears to straddle the line between "basic" and "advanced".
The overall chassis design reminds me of the SCX10 classic, however, Carisma has put their own twist on some design and setup elements. With a wheelbase of 11/22in/285mm, it looks and feels like a smaller rig, but that doesn't hamper it's trailing or crawling performance. Sharing the same chassis setup and wheelbase as the Coyote, the Lynx allows you to easily swap the bodies around between these two models if you're looking to shake things up a bit.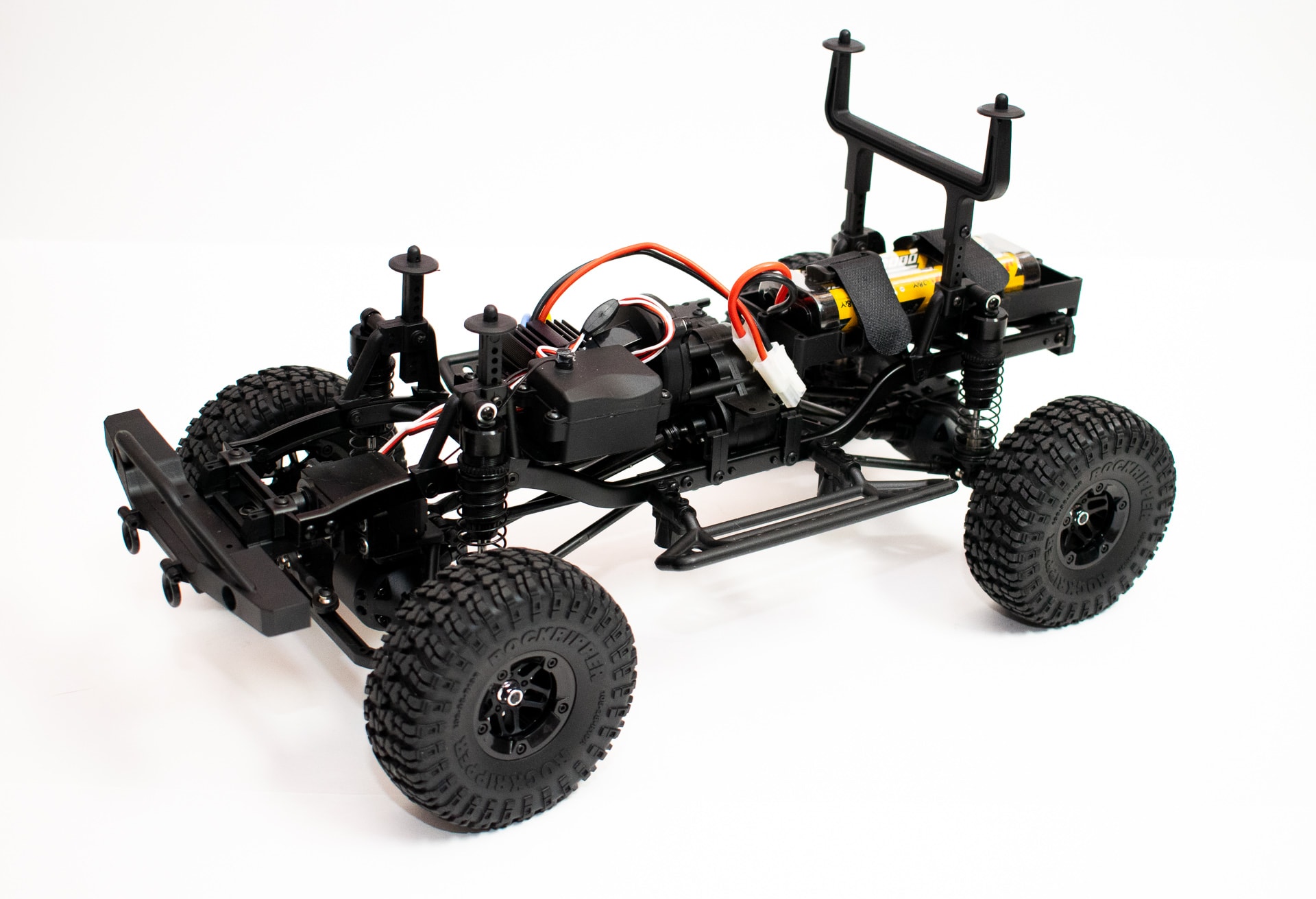 When you pick the rig up, even with the battery pack installed, the "feel" of the weight is quite light. The stock trail weight for this vehicle is just over five pounds. Not the lightest, but definitely not the heaviest rig that I've experienced either. The tires on the Lynx aren't as tall when compared to what you might find on other 1/10-scale R/C trail rigs. Again, this doesn't hinder the driving performance, but it has stuck out as a unique aspect for this vehicle.
Visual Appeal
While theme-based R/C vehicles aren't my typical taste, the Lynx puts a unique, fun spin on your standard trail crawler. The zombie outbreak response angle is something that you don't see many other brands attempting, and Carisma has ventured into this genre with a tasteful option.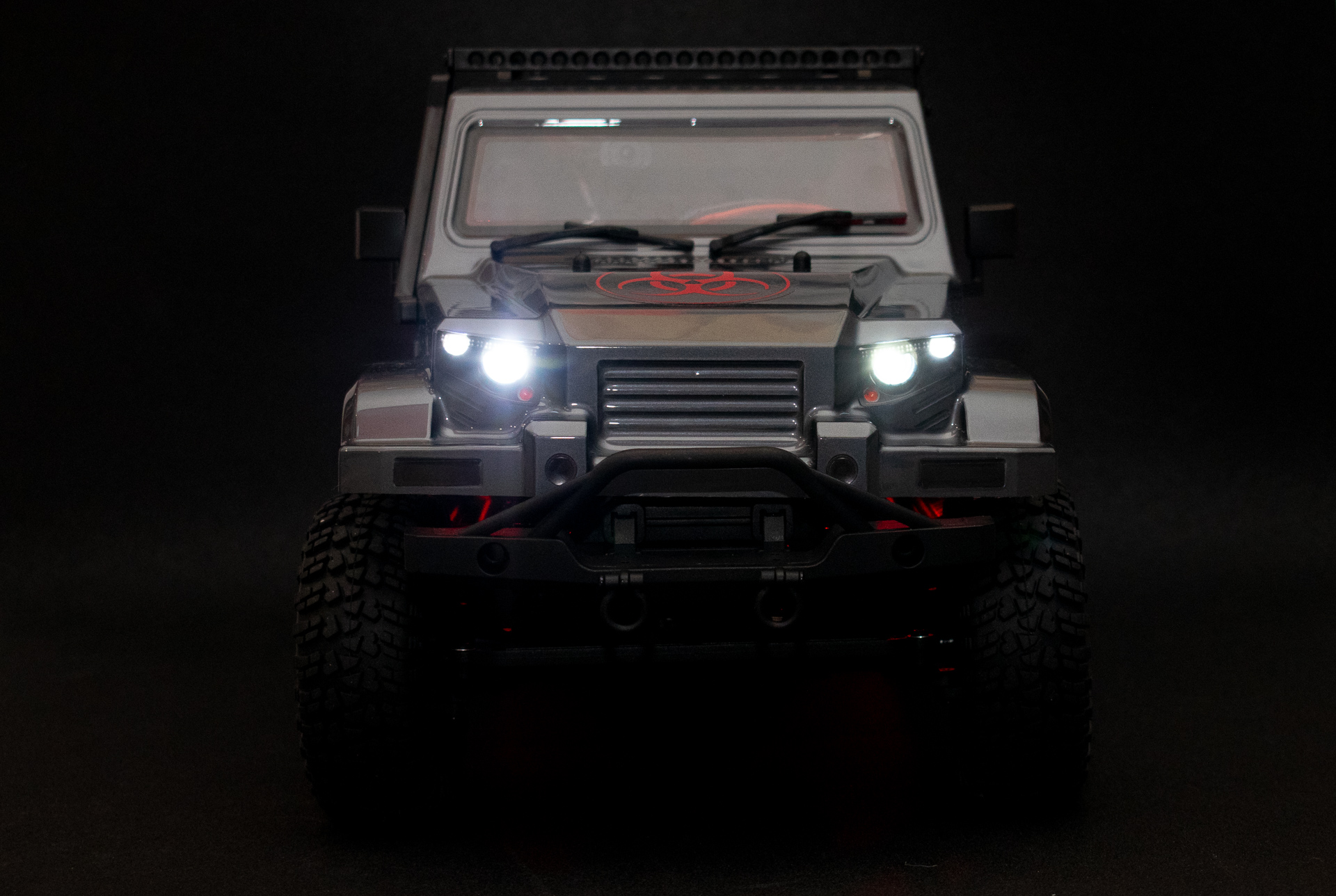 The overall design of the body is aggressive, which might be my favorite aspect of this truck. The polycarbonate shell is ready to receive LED lights thanks to pre-mounted light buckets. As luck would have it, I had a spare LED set laying around, so it was quickly installed. The moment those lights were turned on, the intimidation factor of this rig doubled.
For hobbyists who aren't into the zombie-hunter theme, you can easily remove the few decals that advertise that aspect, leaving you with an aggressively-styled tactical truck.
Electronics
The controller which Carisma pairs with this vehicle is their CTX8000, which is one of my all-time favorite RTR transmitters. It's lightweight, comfortable, and has just enough features to allow tuning of the steering and throttle setup.
While the transmitter only offers two-channel control, the receiver features a third open port for easy LED installation. Although there are other radio system options on the market, I don't see myself upgrading this stock system anytime soon.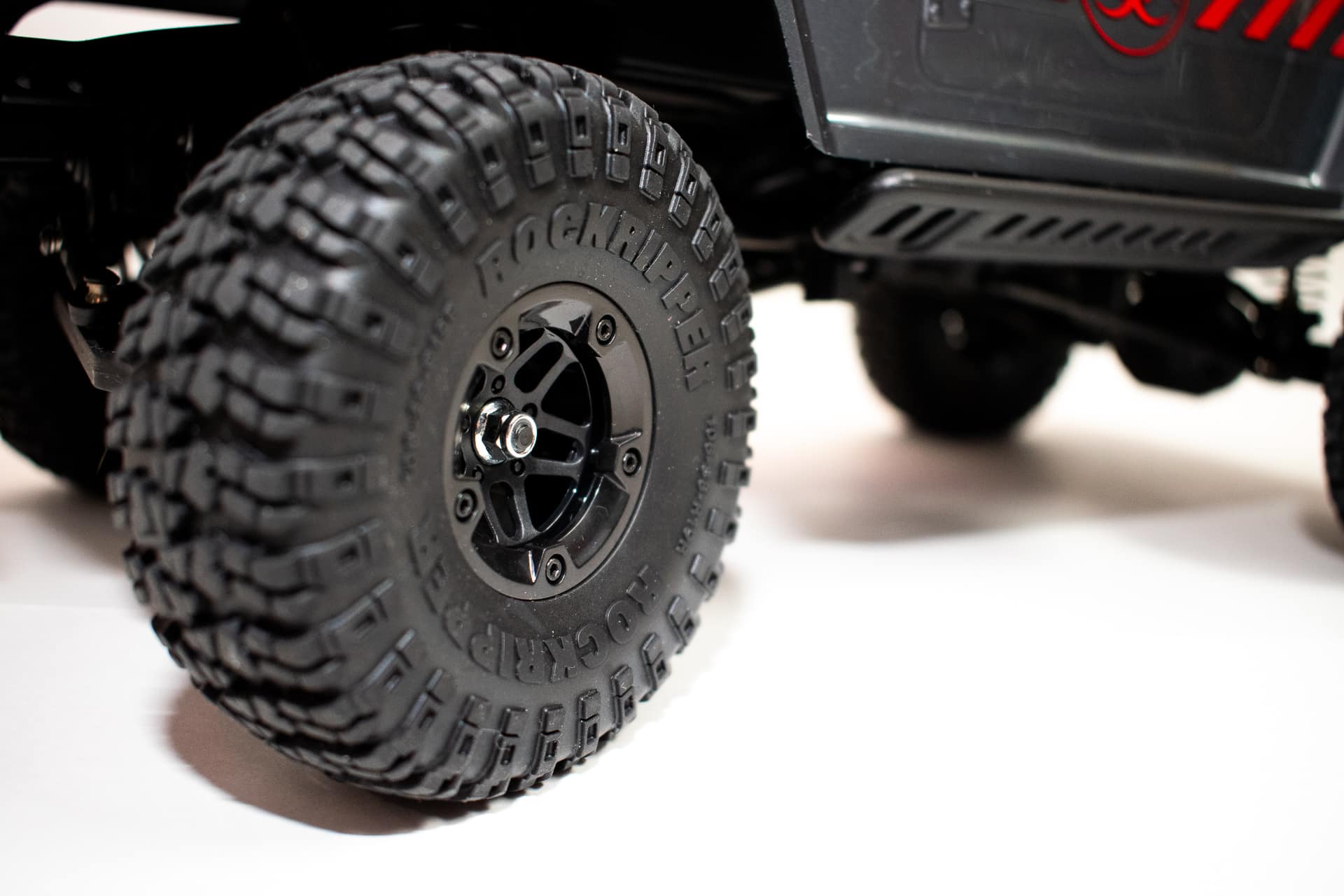 Technical Performance
As mentioned earlier, this rig has only seen a handful of outdoor and indoor drives since it was pulled out of its packaging. In that short time, however, I've gotten to know and appreciate its performance aspects and feel it's an incredibly solid vehicle. Going beyond that, it's a relatively low-cost platform on which you could build a custom radio-controlled creation.
The shocks on the Lynx ORV are big, and I mean BIG. I've heard them described as being ripped from an R/C buggy and I tend to agree with that assessment. They seem to take a while to get worked in and moving fluidly, but once they do, they're magnificent. Aside from their size, they offer a great amount of travel and feature adjustability and tuning to easily adapt to your terrain and driving style.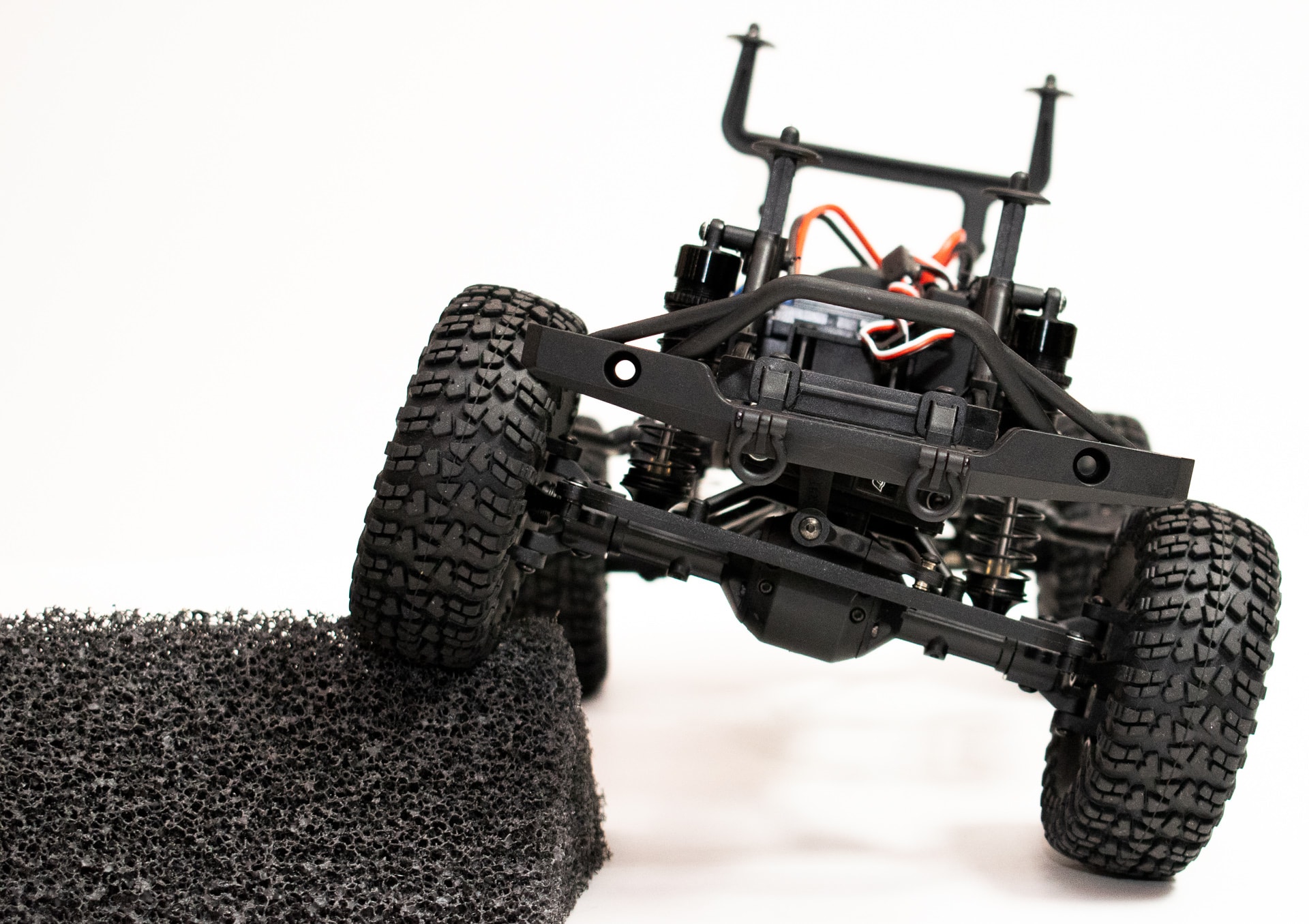 As first impressions go, I'm quite pleased by what Carisma Scale Adventure has brought to the table with the Lynx. Every time I drive it, I find myself enjoying it more and more. Time will tell if that trend keeps up.
Where You Can Buy the Carisma Scale Adventure Lynx:
Carisma-shop.com – $299.99

Vortex Hobbies – $299.99