Somewhere in this year's avalanche of model updates from ARRMA, a new vehicle line was born. Borrowing traits and designs from two of their popular models, (the ⅛-scale Fazon 6S BLX and the 1/10-scale Granite), the Voltage series puts a twist on budget-friendly bashers.
Hobbico sent me one of these new models, the Fazon Voltage Speed Truck, for a closer look. Having heard, read, and viewed positive reviews about ARRMA products in the past, I was excited to have the opportunity to wheel one of these machines myself.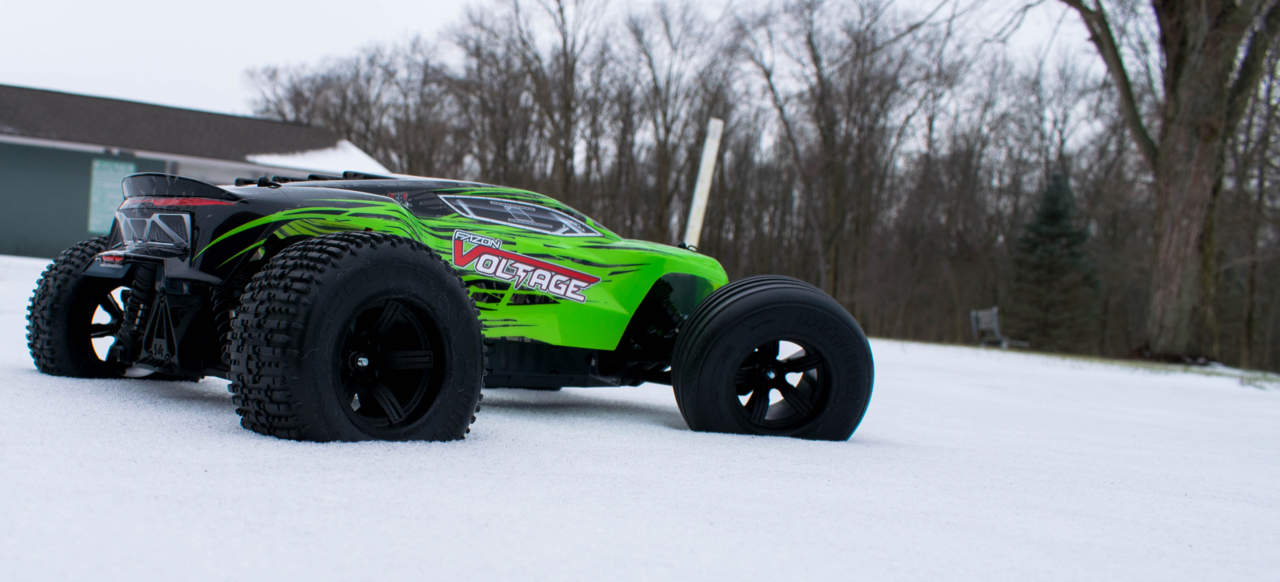 What's Included:
1 ARRMA Fazon Voltage 1/10-scale Speed Truck, Ready-to-Run (RTR)

1 Trigger-style, two-channel radio transmitter

2 3.7V LiOn batteries

1 USB LiOn charging cradle and charging adapter.

1 Instruction Manual

Multiple shock adjustment rings and a multi-tool (wheel wrench, driver)
Unboxing the ARRMA Fazon Voltage
Initial thoughts on the ARRMA Fazon Voltage
With this being my first experience with an ARRMA radio-controlled vehicle, I wasn't entirely sure what to expect. Their brand has a solid reputation among thrill-seeking hobbyists and R/C bashers, receiving high marks for performance and durability.
The Fazon Voltage follows in the tire tracks of previous ARRMA models with both aggressive styling and smart chassis layout.
The most unique feature of this vehicle isn't the body design or the chassis construction; it's the battery options. Out of the box, ARRMA provides two, 3.7V LiOn battery cells, a change of pace when it comes to hobby-grade power. At first glance, the batteries appear to be the same size as the "AA" batteries that you'd pop into your controller, however, they're larger and pack a bigger punch.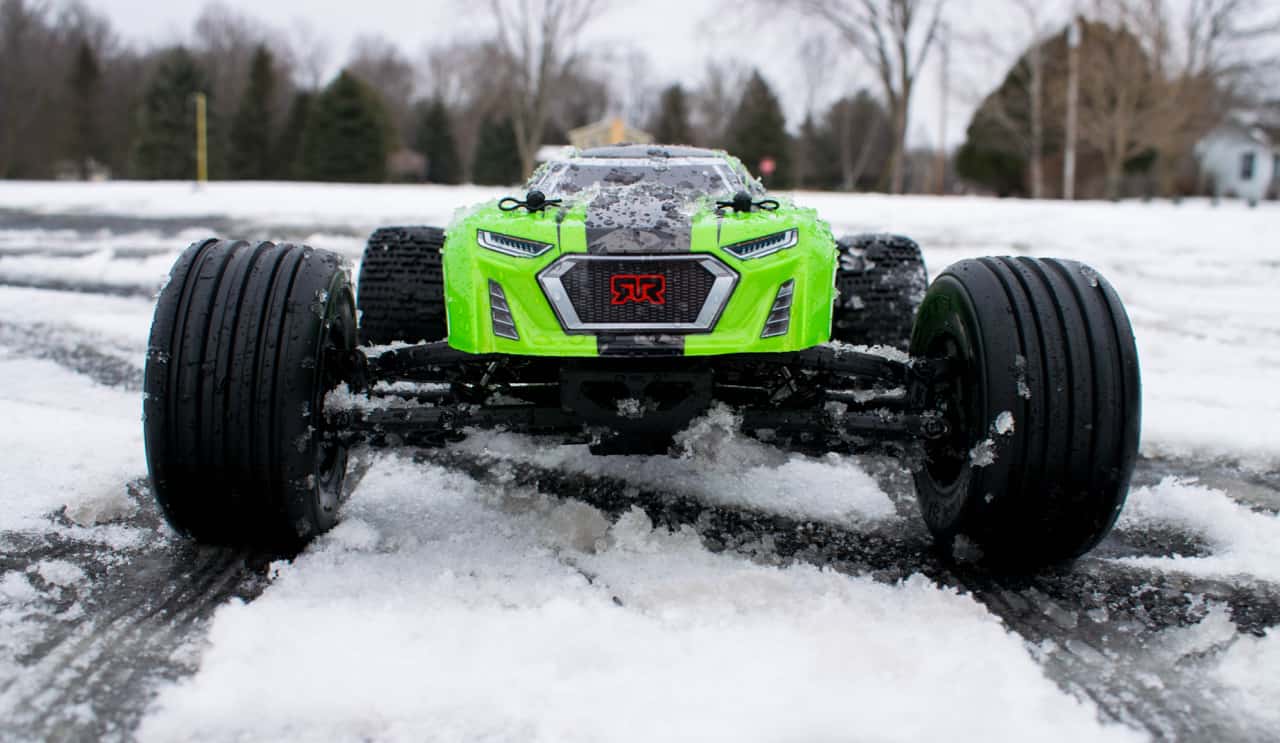 Charged via the included USB charging cradle, these batteries take a while to reach full capacity (30+ minutes, through an unscientific estimate), however, they provide plenty of driving time on a full charge. If you want to extend your running time and give this truck more power to work with, you can add up to four additional LiOn cells to fill up the six-slot battery cartridge.
While this type of battery may not appeal to some, the ARRMA Fazon Voltage also runs on 7.2V NiMh battery packs as well as LiPo (2S maximum). For this review, Hobbico set me up with a full slate of battery options, so we'll get an opportunity to see what this machine can do with every battery configuration.
My first opportunity to drive this vehicle occurred on a snow-filled parking lot. While the conditions weren't ideal, my "fun meter" was pegged from the moment I mashed the throttle. Although sitting on an inch of snow, the Fazon Voltage slung the white slush and slowly made its way forward. Even with massive wheelspin, this truck was an absolute blast to drive. The waterproof/water resistant electronics held up to slush, snow and a few puddles. A second wet-condition drive has gone just as smooth. I typically don't test out the water-resistant nature of the electronics, however, this model proved too much to resist.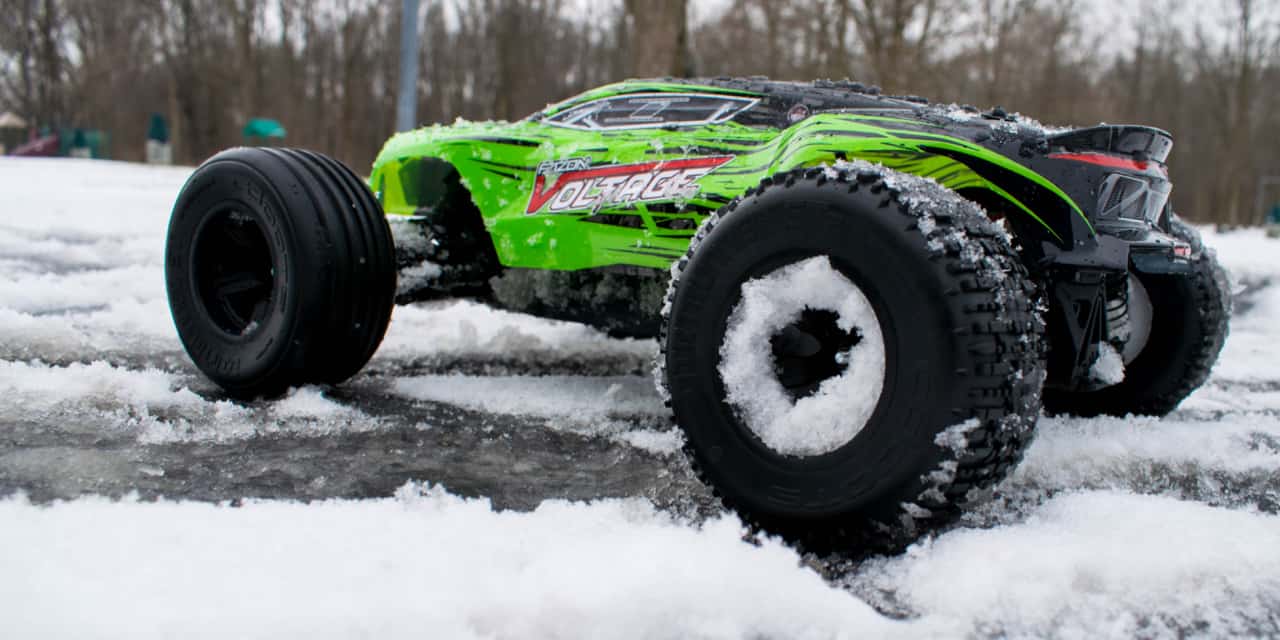 In dry conditions, this truck can haul. The dBoots tires provide grip when you need it and break free when you want to spin and slide. The brushed motor is peppy, with plenty of take-off torque and impressive top-end speed.
As go-fast radio-controlled machines are concerned, the Fazon Voltage is an impressive vehicle that I'd give high marks after only a handful of outings. I'm anxiously awaiting my next turn behind the wheel, and I have a feeling that my younger test drivers share that feeling too. With the $139.99 price tag, it hits the mark when it comes to budget-friendly radio-controlled fun.