If you've been considering taking to the skies and trying your hand at R/C flying, there's no better time to learn than now. With the number of radio-controlled aircraft growing day-by-day, you have more options to choose from, now more than ever. And when you mix in the growing popularity of FPV multi-rotor aircraft and drone racing, you've got an entirely new world of possibilities.
Dromida, who already has built an impressive quadcopter lineup, is adding another aircraft to the mix with their HoverShot FPV Camera Drone. This 120mm-sized aircraft is slightly larger than their recently released KODO HD Camera Drone (106mm) and features streaming FPV video to a smartphone (by way of their DroneView app).
Helping to make this model an entry-level option, it features a variety of built-in controls to help you pull of tricks and fly with ease. Similar to other models, the HoverShot features an Auto Flip button that gives you the power to quickly snap your quadcopter around with acrobatic manuevers.
In addition to this, there are buttons for auto takeoff/landing, holding altitude, and starting/stopping the motors. Camera control is also achieved by buttons on the controller, which includes a mounting cradle to hold your smartphone for easy heads-up viewing.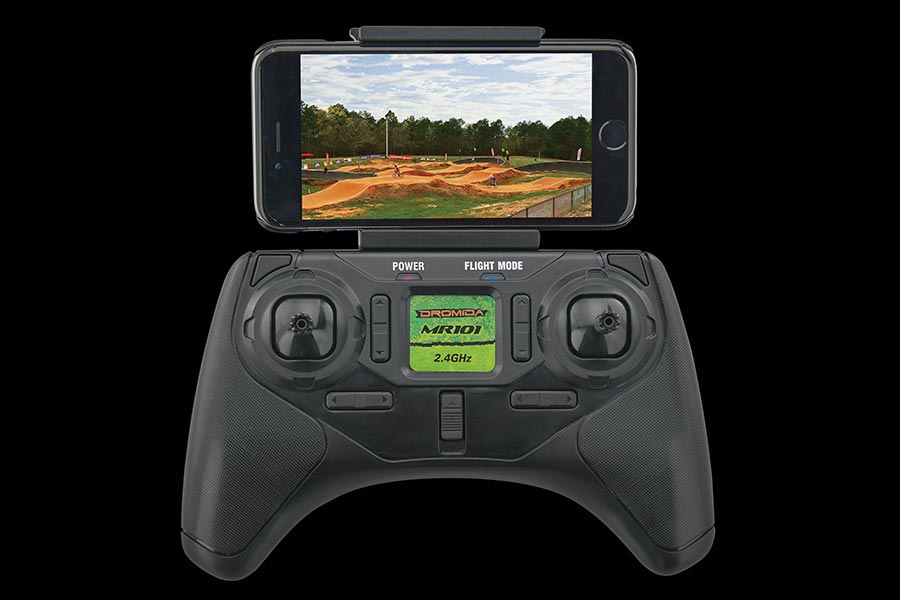 The HoverShot's onboard camera shoots 720p video and can take 1 MP still images, helping to ensure you capture every angle of your flight.
Included with the Dromida HoverShot FPV Camera Drone:
Fully assembled HoverShot drone
MR101 2.4GHz transmitter with built-in phone holder
720p Wi-Fi FPV video/still camera
2G micro memory card
1S LiPo battery and USB charger
(4) "AAA" batteries
(4) extra blades
Screwdriver
Specifications:
Diagonal: 120 mm (4.72 in)
RTF Weight: 72 g (2.5 oz)
Requires: device for Android or Apple and DroneView app
Priced at $99.99, the Dromida HoverShot FPV Camera Drone is available for pre-order at Dromida.com.
Image credit: Dromida