When selecting a new radio-controlled vehicle, there are two initial starting paths that you can take. If you want to get a machine that's complete and set to go as soon as you open the box, you'd opt for a ready-to-run (RTR) vehicle. If your preference is to build the car/truck yourself and add your preferred brand(s) of electronics, (radio system, ESC, motor, etc), then a kit is right ticket for you. ECX is putting a bit of a spin on these two traditional paths with their own hybrid, the "Build-to-Drive Kit (BTD Kit).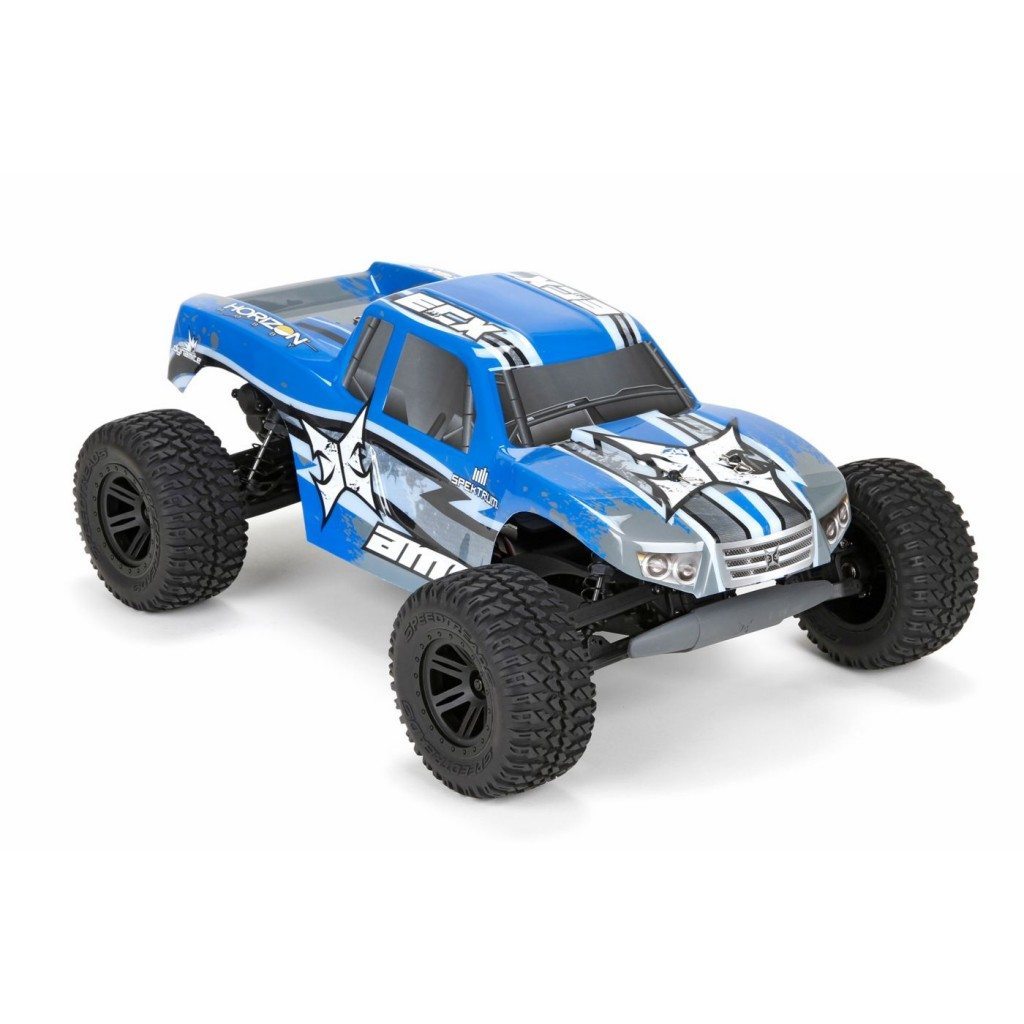 What is the BTD Kit and why is it unique?
Giving you the best of both worlds, the ECX Build-to-Drive Kit provides you with everything you'll need to get up in running, but allows you to build the vehicle from the ground up. Not only is this an easy and quick way to have a setup that will let you create a radio-controlled truck, going through every step in the building process, while providing you with all of the parts and pieces that you'll need to make it run. The first vehicle to be made available in this configuration is the 1/10 AMP MT 2WD Monster Truck: BTD Kit.
Boasting over 250 parts, the AMP MT Build-to-Drive Kit comes complete with a 2.4GHz transmitter/receiver combo, NiMh battery, pre-built shocks, differential, wheels, and more.
Specifications
Completion Level: Kit
Size/Scale: 1/10
Length: 16.9 in (429.3mm)
Width: 12.9 in (327mm)
Height: 7.4 in (187mm)
Weight: 3.44 lb (1.6kg)
Wheelbase: 11.6 in (294.6mm)
Track: 12.9 in (327.7mm)
Front Track: 12.9 in (327.7mm)
Rear Track: 12.9 in (327.7mm)
Chassis: Injection Molded Nylon Composite
Suspension: 4-wheel Independent
Shock Type: Oil-Filled Coil-Over Spring
Drivetrain: 2WD
Differential: Gear, Not Sealed
Wheel Type: Black, 12mm Hex
Wheel Diameter: 2.2 in (55.9mm)
Wheel Width: 2.0 in (50.8mm)
Tire Tread: All-Terrain
Tire Diameter: 4.3 in (110mm)
Motor Type: Brushed
Motor Size: 540
Pinion: 18T
Spur Gear: 87T
Gear Pitch: 48-Pitch
Internal Gear Ratio: 2.6:1
Final Drive Ratio: 12.6:1
Speed Control: Included
Radio: ECX 2.4GHz, 2-CH
Servos: Included
Batteries: 7.2V 1800mAh 6-cell NiMH Stick Pack
Charger: NiMH AC Charger, 110V-240V 200mAh
Brakes: ESC Controlled
Body: AMP MT, Partially Screened
Ball Bearings: Complete
Approximate Assembly Time: 3–5 Hours

When pricing out R/C vehicle kits vs rtr setups, you've probably noticed a significant price difference between the two. While the kit price will typically come in lower, you'll also need to factor in the added components that aren't included in the box. With this new hybrid approach, ECX is able to provide a kit that is not only complete (component-wise) but also affordable. Priced at $129.99, the AMP MT 2WD Monster Truck Build-to-Drive Kit is a budget-friendly basher that can also serve as a great educational tool for those looking to build their first radio-controlled vehicle from start to finish.
Learn more about the AMP MT 2WD Monster Truck Build-to-Drive Kit at ECXRC.com.
Image credit: ECX