If you've ever wheeled the Axial SCX10 Base Camp RTR, you know it's an impressive machine, even in stock form. You can now take that trail-driving, rock-crawling performance to the next level with the SCX10 III Base Camp Rock Crawler Builder's Kit.
This is the first "raw" builder's kit to be released under the SCX10 III banner and it appears Axial has done their homework. While you might expect a Base Camp kit to be a body-off copy of the ready-to-run (RTR) model, this kit offers a few changes.
Starting with the axles, you'll find AR45 straight axles rather than portal axles included with this kit. Additionally, the suspension links are more substantial than those found on the Base Camp RTR. Other features of this kit include metal pivot balls, Axial's LCXU transmission, and an optional dig function.
The SCX10 III Base Camp Rock Crawler Builder's Kit requires the following items to complete:
A 1/10-scale polycarbonate or "hard" body
Body paint (appropriate for the type of body selected)
A NiMh or LiPo battery and charger
A 2.4GHz radio system (transmitter and receiver)
Four wheels and tires (1.55″, 1.9″, or 2.2″)
A brushless or brushed ESC
A brushless or brushed motor
A steering servo
A micro servo (to control the dig function)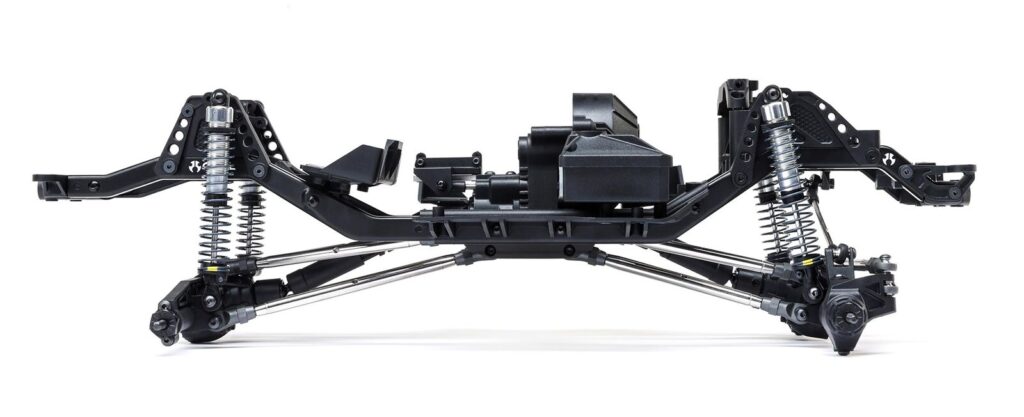 Axial SCX10 III Base Camp Rock Crawler Builder's Kit Specs:
Power Type: Electric
Gear Pitch: 32-Pitch
Wheel Hex Size: 12mm
Drivetrain: 4WD
Ball Bearings: Complete Vehicle
Chassis: Adjustable Steel C-channel
Charger: Sold Separately
Receiver: Sold Separately
Battery: Sold Separately
Ground Clearance: Varies depending on tires used
Steering Type: 2WS
Suspension: Multi-Link Solid Axle
Body: Sold Separately
Brakes: Integral with ESC
Pinion: 14T
Scale: 1/10
Wheelbase: 12.3″ (312 mm)
Final Drive Ratio: 45.6:1
Radio: Sold Separately
Product Weight: Varies based on components
The SCX10 III Base Camp Rock Crawler Builder's Kit is priced at $269.99 and will be available through Axial, Horizon Hobby, and their dealers. For a limited time, you can get a coupon good for 25% off one Pro-Line body. Some restrictions apply.
Visit horizonhobby.com to learn more about this 1/10-scale R/C crawler kit.
Image credit: Axial/Horizon Hobby