The full-bodied beauty of the Losi 22S 1969 Camaro RTR R/C Dragster is certainly a sight to behold. However, if you'd prefer to have more control over the customization and personalization of your next radio-controlled dragster, Losi has another option you might be interested in.
The Losi 22S No Prep Drag Car Roller gives you a performance-focused foundation on which to build your next pavement-ripping hot rod. Using the same aluminum-bodied chassis and all-metal transmission as the RTR, this roller variant lets you select your electronics, radio system, and body to truly make this car your own.

Speaking as someone who's been thinking about building an R/C dragster, this looks like an attractive platform. The chassis has been set up with plenty of adjustment points for tuning on-track performance and the 22S as a whole seems like a solid, durable machine.
To complete your 22S No Prep Drag Car build, you'll need to supply a motor, ESC, radio system (transmitter and receiver), body, paint, and tools.
Losi 22S No Prep Drag Car Roller Specs:
Height: 5″ (127 mm)
Length: 24.5″ (622 mm)
Width: 10.375″ (264 mm)
Front Track: 9.9″ (252mm)
Rear Track: 10.0″ (256.5mm)
Wheelbase: 13.1″ (333 mm)
Scale: 1/10
Price: $219.99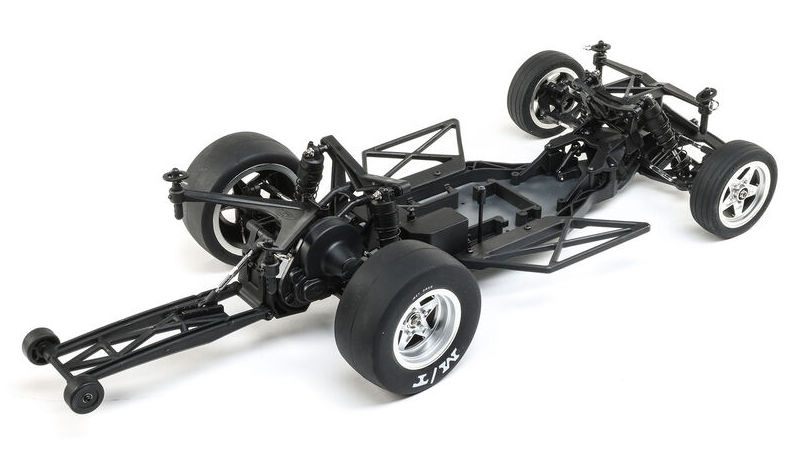 Priced at $219.99, the 22S No Prep Drag Car Roller will be available directly from Losi, Horizon Hobby, and their dealers. Visit horizonhobby.com to learn more about this 1/10-scale R/C dragster chassis.
Image credit: Losi