Blade has introduced the Scimitar 170 FPV into their lineup. This model is an indoor/outdoor FPV quadcopter that combines the thrill of first-person flight with a durable and capable aircraft.
Featuring 4″ propellers and a 170mm frame length, the Scimitar is designed to perform. Getting up in the air is easy, thanks to four 1407-300kv motors. A combination of injection-molded body parts and a carbon fiber frame help it stay in one piece during rough landings. If crash damage does occur, however, the arms can be easily replaced.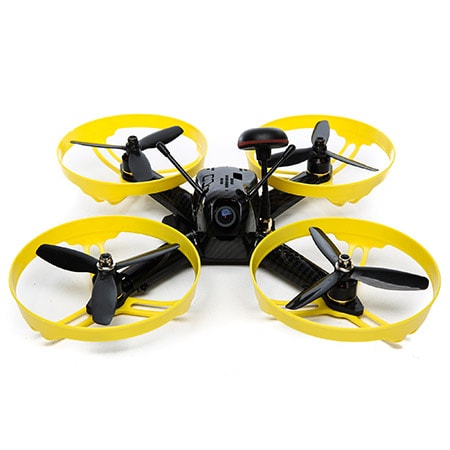 The FPV components on the Scimitar 170 include a camera with a 600TVL CMOS sensor and 2.1mm lens as well as a 25.200.600mW, 32-channel video transmitter.
Two versions of the Scimitar 170 FPV are available. The first is a ready-to-fly (RTF) setup (priced at $499.99) complete with a Spektrum DXe transmitter and FPV monitor. If you'd prefer to bring your own controller to the party, there is the bind-n'-fly (BNF) "Basic" option (priced at $299.99). This option will also require a LiPo battery and compatible charger.
Learn more about both of these new quadcopter options at bladehelis.com.
Image credit: Blade