Axial wasn't kidding when they teased "something big" in last week's social media announcements. The SCX lineup has gotten larger, in more ways than one, thanks to the introduction of the SCX6 Jeep JLU Wrangler RTR.
This 1/6-scale behemoth takes scale/trail adventures to an entirely new realm as the SCX10 III platform has been seemingly super-sized with this new large-scale model. No matter how you look at this new model, you're bound to find some amazing visual details.
From the highly detailed grille and hood to the side mirrors, door handles, and interior, the SCX6 is a scale R/C enthusiast's dream. The larger size allows for even more detail to be applied to the polycarbonate body and its injection-molded accents, making the entire package a true wonder to behold.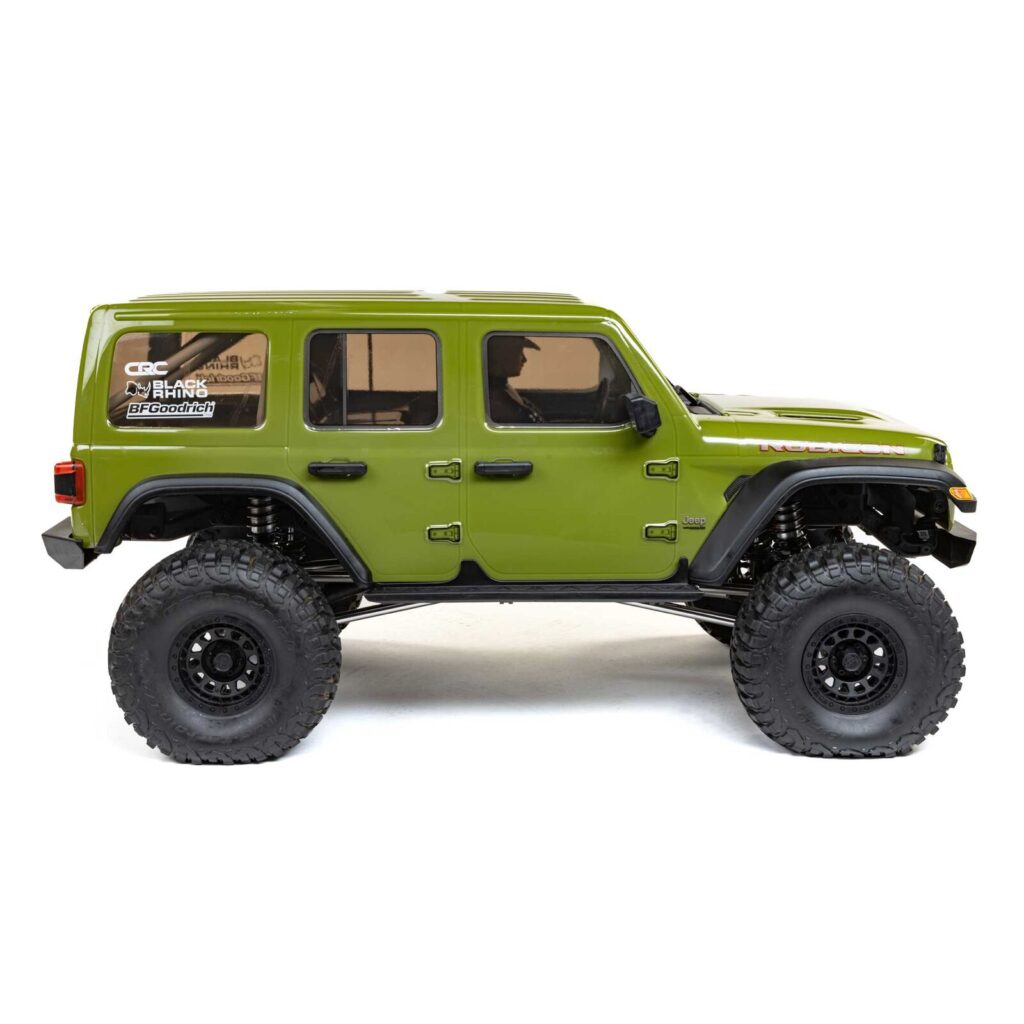 Don't be fooled by its looks, the SCX6 is more than just a pretty face. The folks at Axial and Horizon Hobby have poured plenty of performance into this platform, starting with the massive ladder-frame chassis and four-link suspension setup.
Four massive, oil-filled and aluminum-bodied shocks help this rig flex and maneuver its way over trails and rocky terrain and the 7″ tall BFGoodrich KM3 replica tires allow it to roll over just about anything that would get in its way.
The SCX6 certainly isn't lacking in power. It's been blessed with a 1200kv Spektrum Firma Sensored Brushless motor which is paired with a Spektrum Firma 120A Crawler ESC. A 40kg Spektrum servo helps to turn this rig's humongous wheels and a Spektrum 15kg servo powers the two-speed transmission.
Axial SCX6 Jeep JLU Wrangler Specs:
Ground Clearance: 4.25 in (107.9 mm)
Height: 14.55″ (370 mm)
Length: 33.55″ (852 mm)
Width: 14.88″ (378 mm)
Wheelbase: 19.74″ (501 mm)
Weight: 25 lb (11.3 kg)
Differential: Locked
Motor Type: Brushless, Sensored
Priced at $1,099.99, the Axial SCX6 is available for pre-order through the following retailers:
To learn more about this larger-than-life R/C crawler, visit horizonhobby.com.
Image credit: Axial/Horizon Hobby