As I mentioned earlier, the weather is starting to cool down a bit and the leaves have started to turn colors here at RC Newb HQ. That means only one thing, Fall is here and it's buddy Winter (aka: Mr. Crankypants) will soon be on our doorstep. I still have vivid, nightmarish memories of last year's bitter cold snap that we had to endure, so this little product announcement from ECX has warmed my heart.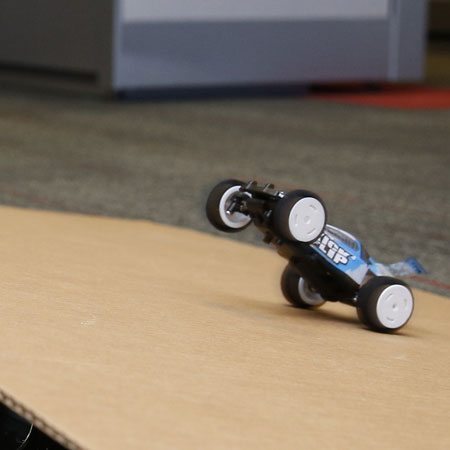 No matter what level of the radio-controlled hobby you're into, there is always room for one more vehicle, right? That's what ECX RC is hoping with thier just-announced 1/36 scale duo of the KickFlip (buggy) and BeatBox (monster truck). Yep, you read that right; 1/36 scale. These little guys are…tiny. But don't let their size fool you on how much fun they can be.
While the promo video leaves a bit to be desired, these look like two fun vehicles that are both budget-friendly and a blast to drive, a hard combination to match-up some times.  The specs appear to be solid for such a small vehicle:
Completely ready-to-run with everything needed to drive in one box
2.4GHz transmitter with integrated quick charger
Forward and reverse operation
Internal high-capacity 1S LiPo (3.7V) battery
Chassis includes an opening for convenient charging
Slow and fast driving settings
Pod style rear suspension
Eye-catching ECX® body
Includes four "AAA" batteries
Priced at $34.99 these two are tempting buys. So tempting in fact, that I pre-ordered the KickFlip and look forward to giving it a solid shakedown and review when it arrives.  Both models are due for availability in mid-November.
Learn more about the KickFlip and BeatBox at ECXRC.com.
Photo credit: ECX RC