I'm fresh off my first trip to a scale R/C outing, and I'm still buzzing with excitement. The stars finally aligned, and I was able to attend AxialFest Badlands 2022. This gathering of R/C adventure fanatics did not disappoint, and I have many great memories to tide me over until next year. But this isn't a recap of the event but rather an overview of one of the rigs I drove.
When Axial first released its SCX10 III Early Ford Bronco, my response was "ho-hum" to say the least. Yes, this rig offered a bounty of scale detail, above and beyond any SCX10 III that had previously been offered, but I was too enamored by the Traxxas TRX-4 2021 Ford Bronco.
As my AxialFest 2022 plans began to take shape, I quickly scooped up two RR10 Bombers for my son and me to run and figured that would be that. Then, in a twist of fate, or destiny, I caught another glimpse of the Early Ford Bronco. At that moment, I began seeing this vehicle for what it could be rather than what it was. By removing the stock decals and replacing them with something unique, changing up the wheels, and by making a few performance tweaks, this could be a fun little project. Without much more thought, I placed an order for an SCX10 III EFB and began laying out my plans.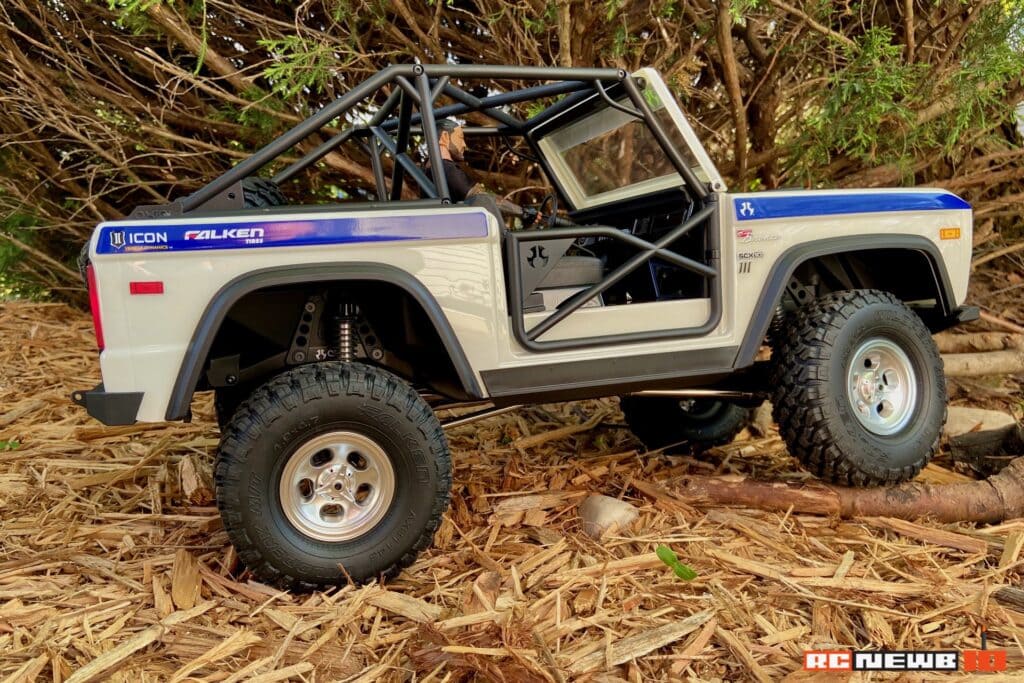 Planned Modifications:
Painted "FORD" Grille Badge
Painted Engine Cover
Assorted Custom Vinyl Decals
Scale Driver Action Figure
Tuned for the Trail
By the time the SCX10 III Bronco arrived, I had already ordered and received the SSD wheels, brass internal lock rings, and wheel hubs/brake rotors. Before I wheeled the EFB into the shop, I had to take it out for a quick spin to get a feel for how this rig handles in stock form. One thing that jumped out at me was this machine's overall height and top-heaviness. The stock body features a full interior, roll cage, and spare tire…all things that shift the center of gravity upward in a less-than-desirable manner. Not wanting to lose any scale detail (and, in some cases wanting to add more), I reached out to Pro-Line to request a set of Big Bore Scaler Shocks. At 90mm, their shocks sit lower than the stock 100mm set that comes with the SCX10 III Early Ford Bronco. While there are other ways to lower the body (and the center of gravity), I couldn't pass up the opportunity to run these shocks on yet another one of my trail trucks.
The SSD wheels and associated accessories added a substantial amount of low-end weight to the EFB. Wanting to keep continuity in my scale details, I replaced the wheel on the full-size spare tire with an 8-hole steel wheel (minus the brass inner ring). To cap off the wheels, no pun intended, I added a set of Injora M4 Aluminum Wheel Lock Nuts to add more realism to the wheels.
Shortly after the wheels were installed, Pro-Line answered my call for gear, and I set about swapping out the stock 100mm shocks for PL's Big Bore model. With the heavier-than-normal weight of the body at the top of my mind, I played around with spring and shock oil combinations, settling on 30w oil and Pro-Line's stiffest (red band) Big Bore Scaler Shock spring set.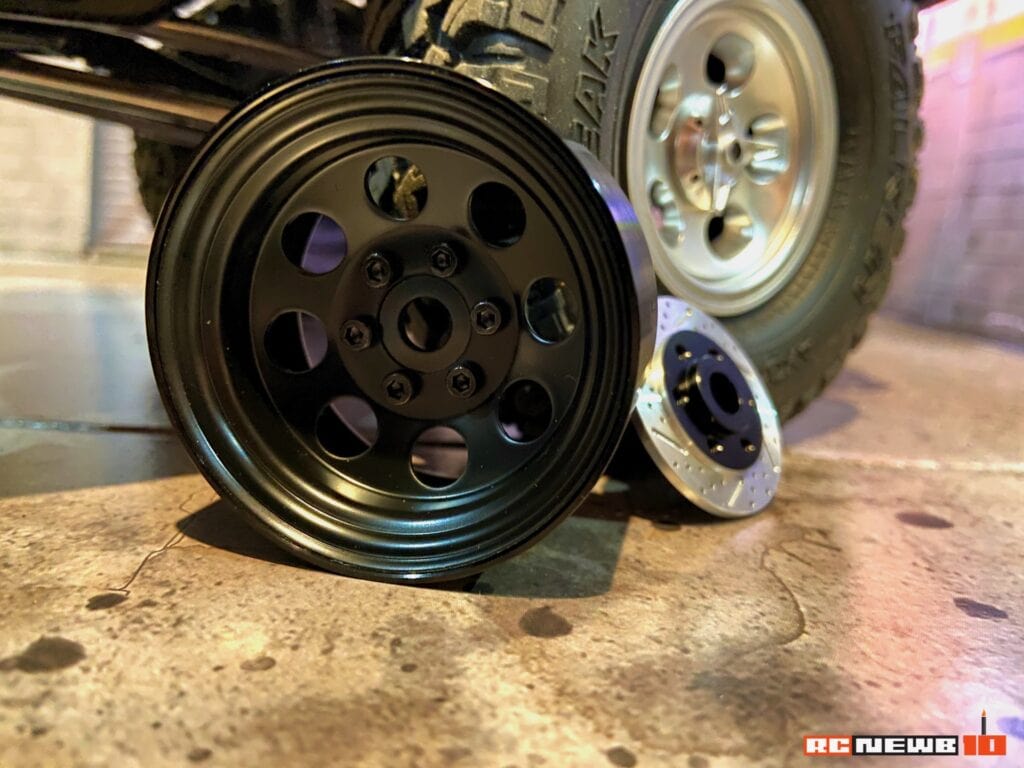 A Rig with a Retro Vibe
With the performance pieces in place, I turned my attention to the visual customizations I had planned. A few striping ideas were floating around my head, but none were sticking. After sketching a few quick concepts, I started to see something coming together. A retro-inspired blend of orange, yellow and black to replace the stock blue and silver decals that had adorned my white-bodied Bronco.
These ideas became much clearer from sketchbook to computer, and I soon found myself firing up the Silhouette vinyl cutter and running through sheets of vinyl. Playing off the retro theme of this rig, I found an action figure that would serve as an excellent driver, R.J. MacReady from The Thing. With those details sorted, I was in a race against the clock to finish this machine up before the start of AxialFest Badlands.
Since time was of the essence (and the decal application process took a bit longer than anticipated), I opted to hold off on painting the FORD grille emblem and the engine cover details. These are items that I'll get around to finishing eventually, as I have even more plans for this rig post-event. After applying the custom decals, I called it a wrap on this iteration of my Badlands Bronco.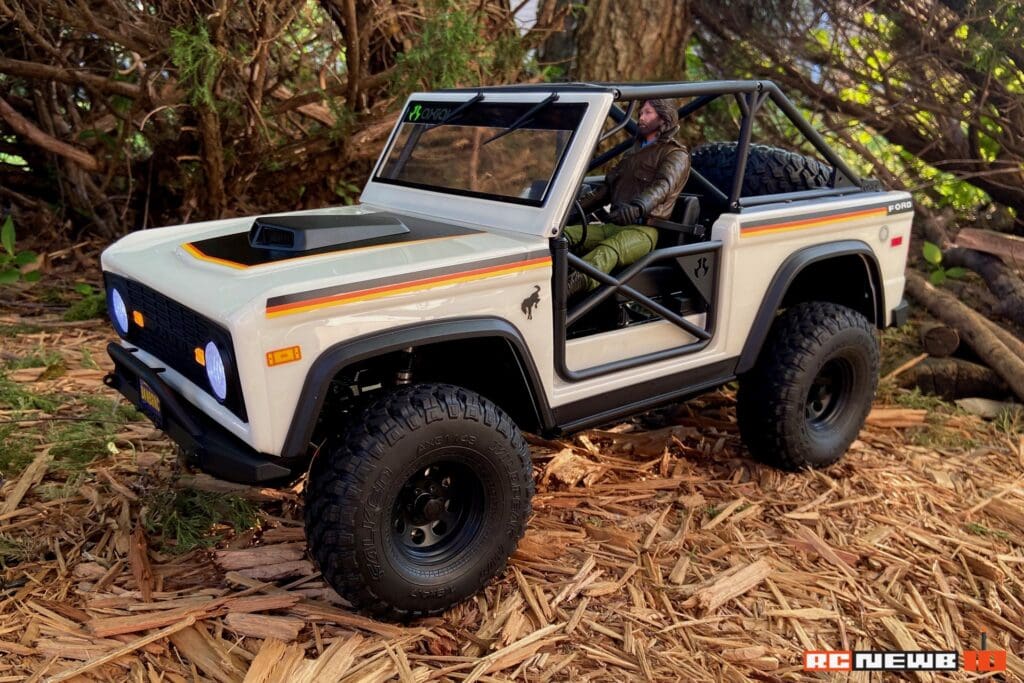 Actual Modifications:
Assorted Custom Vinyl Decals
Scale Driver Action Figure
Photo Gallery
Post-Event Rig Recap
Once it hit the trail at AxialFest Badlands 2022, this rig was a blast to drive. The trails at this year's event proved quite challenging, but the SCX10 III Early Ford Bronco proved to be up to the task of handling most of them. After everything was said and done, I'm happy I took another look at this model. I'm looking forward to making a few more adjustments to this machine and heading out for even more adventures, including future AxialFest events.