Taking large-scale, off-road racing to the extreme, September 15th – 18th.
If your R/C dreams are as big as the vehicles you wheel, the upcoming 2016 1/5 Scale Midwest Classic should be an event you won't want to miss. Taking place September 15 -18 at Deadend Raceway in Blairsburg, IA, this weekend of racing will feature both off-road and dirt oval racing.
Six vehicle classes will be represented: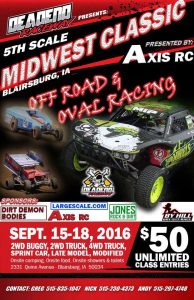 2-Wheel Drive Buggy
2-Wheel Drive Truck
4-Wheel Drive Truck
Sprint Car
Late Model
Modified
The entry price is $50 and will grant you unlimited class entries. This year's 5th-scale Midwest Classic is presented by Axis RC, a Wisconsin-based manufacturer of large-scale R/C tools and upgrade components.
If you're interested in attending this event, either as a spectator or a participant, you can learn more at the Deadend Raceway Facebook page.
Image credit: Deadend Raceway