The scale, off-road R/C landscape Is one of intense popularity and passion. For those that enjoy this specific area of the radio-controlled hobby, you'll find vehicles ranging from hand-crafted wonders to out of the box trail-bashers. One of the first names that comes to mind when you think of the off-road, scale genre is Axial. Over the years, they have managed to create a number of kits and ready-to-run (RTR) packages that Have captured the imagination and creativity of many hobbyists. One of their most-popular models/lines, the SCX10, has been not only a personal favorite of mine, but for many others as well.
Axial has gotten a bit of flack over the years for stretching their SCX10 line out, adding new bodies with slight component adjustments, and positioning it as a new model. Personally, I don't have any issue with that. If you have a popular model, that's not only fun but versatile, then you should be able to take full advantage of the popularity that you've built and improve on it. 2016 has brought a new chapter in the SCX10 line. While another vehicle has been added to this platform, it has been adjusted and reimagined. It is the second-act in the SCX10 show; SCX10 II (AX90046).
As soon as leaked images surfaced on Facebook a few weeks ago, speculation began to run wild as to the legitimacy of this supposed new model. The body style was new, using Jeep's 2000 model-year Cherokee as it's base. On top of that, there were a number of chassis and suspension elements that people had been noticed on this box art photo, enough to jump-start some intense speculation and discussion from enthusiasts. After they held a small event for SCX10 owners, Axial lifted the veil on this new model and put an end to the speculation.
Diving into the details of the SCX10 II
When looking at the new Axial SCX10 II Kit (yes, this is a kit and not a RTR offering), there are many aspects of the body that stick out and strike viewers as different. Outside of the Jeep Cherokee body, there are a number of small details (items that I personally appreciate) that have been given new life on this model. On past SCX10 incarnations, items such as door handles and the grille have either been decals or they've had very minor details molded into their Lexan polycarbonate body. With this next-generation model, these small details have been given new life as actual bolt-on components. The JCR Offroad-based grille is highly detailed and includes headlight lenses to top off that realistic look. Even if you don't want to run LED lights in your rig, it can have a scale, detailed look without any additional effort. An included roof rack, also based on JCR Offroad offerings, tops off the Lexan body and includes mounting locations to add LED light bars and additional scale accessories.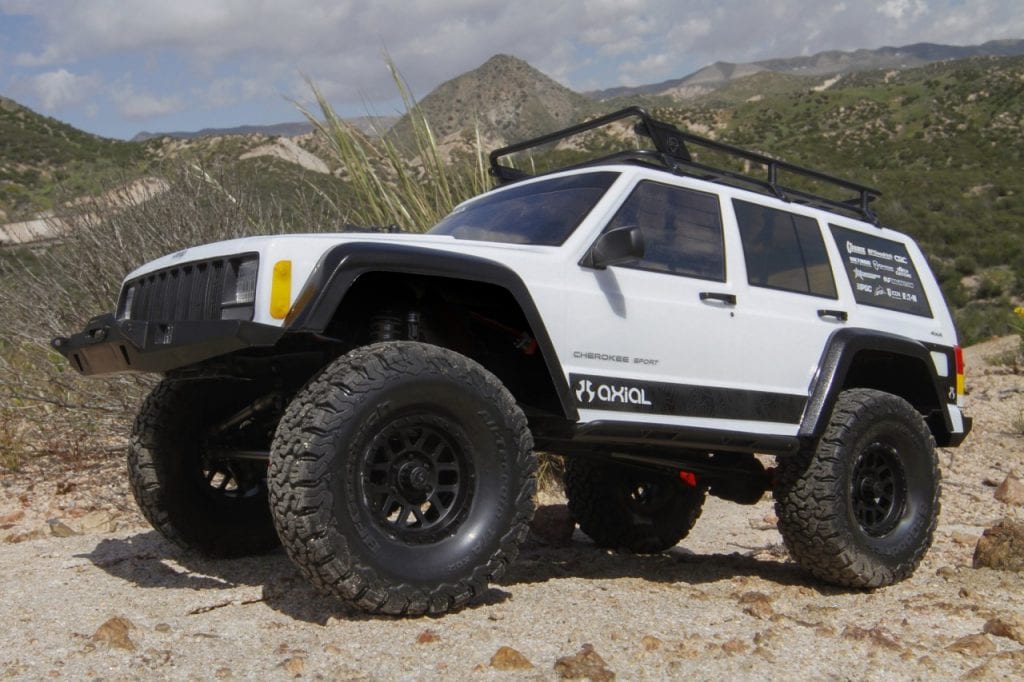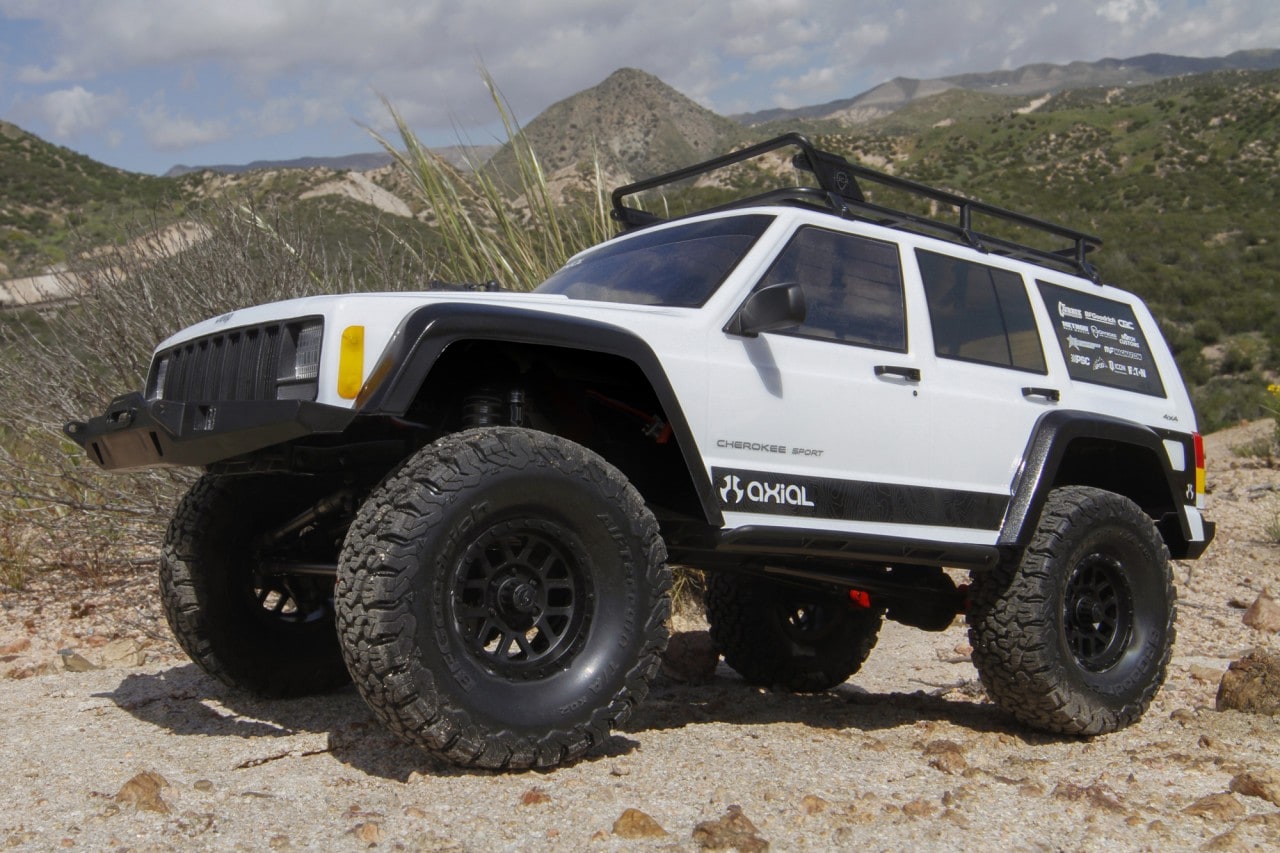 The front and rear bumpers of the SCX10 II Jeep Cherokee are also officially licensed JCR Offroad components, with the front bumper including a tow winch mounting area and winch-line slot and LED light buckets. The rear bumper also includes light buckets to insert LED lights, as well as shackle tabs and an adjustable tow hitch, topping off the attention to scale-detail that is found throughout this new offering.
Going under the hood; what chassis changes are in store for the SCX10 II?
It may be argued that the real beauty of the SCX10 II is underneath the Lexan body. Changes to the chassis aid in overall trail and competitive performance. One of the most-noticeable changes are the lower-profile, higher clearance axles. The axle housing is leaner, enhancing the "scale look" of this model and also aiding in the amount of ground clearance that is achieved. One of the obvious changes to this area is the smaller diff pumpkin. Other changes to the axles include bolt-on suspension link mounts, a one-piece all-metal locker (front and rear), high pinion gears, plus others.
The chassis frame utilizes the same c-channel frame but includes multiple holes for adjusting the wheelbase based on link mount position and not link length. With many other Axial kit packages, the suspension links themselves are aluminum, but feature some slight design adjustments, such as a custom tapered center and flared end. The battery tray has also seen some improvements on this model, with adjustable battery position posts being included to let you fine-tune the fit of your pack. The tray itself is mounted lower on the chassis and located toward the front of the vehicle, giving you better weight distribution and improved center of gravity (COG).
Officially licensed Icon shocks help this rig get over rough terrain and challenges, featuring an adjustable, threaded aluminum shock body, tuned shock springs, and a 7mm shock shaft. Another chassis change is the servo mount. Previous SCX10 models featured steering servo mounts on the front axle. Over the years, other scale R/C manufacturers, such as Vaterra has done with their Ascender model, have opted for a chassis-mounted servo setup and Axial has also chosen this route on the SCX10 II.
Specifications:
Length: 22.1" (562mm)

Width: 8.9" (226mm)

Height: 10.5" (268mm)

Wheelbase: 12.3" (313mm

Ground Clearance: 3.0" (77mm)

Weight: 4.5lbs (2.04kg) estimated with electronics
Priced at $349.99, this next-generation scale radio-controlled crawler features a number of enhancements and updates while staying true to its origins. With a countless number of SCX10 models in R/C garages throughout the world, this new version should be just as popular as the original, if not more. Learn more about the Axial SCX10 II 2000 Jeep Cherokee Kit at axialracing.com.
Image credit: Axial