One of two new radio-controlled monster trucks that are aimed squarely at the basher enthusiast.
The suspense has lifted and the wait is over. One of the two new R/C models that ARRMA had been teasing on their website has been revealed.
If you read between the lines (and looked past the clever image shadowing and visual obstruction), you could tell that the ARRMA Outcast 6S BLX would feature a monster truck's body style. What wasn't clear was the power behind this machine.
If you're familiar with the other BLX-equipped vehicles in the ARRMA lineup, you know that these all feature brushless power and are built to withstand just about anything. For those not familiar with these specific models, you're in for a treat.
A Pumped-up Stunt Monster
If that teaser video was any indication, the Outcast is gearmeans ed toward crazy, off-the-wall, fun. The motor and 6S LiPo-capable electronic speed control (ESC) make an intense combination. Based off of the video above and on the Outcast info page, wheelies, ballooning tires, and flips (in any direction) are easy to achieve with this machine.
While most radio-controlled monster trucks aren't focused on handling performance, this new model has some acrobatic chops, allowing it to perform mid-air flips and twists, simply by playing with the throttle after becoming airborne.
Additionally, the Outcast 6S BLX has a number of features that make it resemble the Traxxas X-Maxx. For starters, the ability to transition from a stationary roof-landing position back onto the wheels seems like a walk in the park.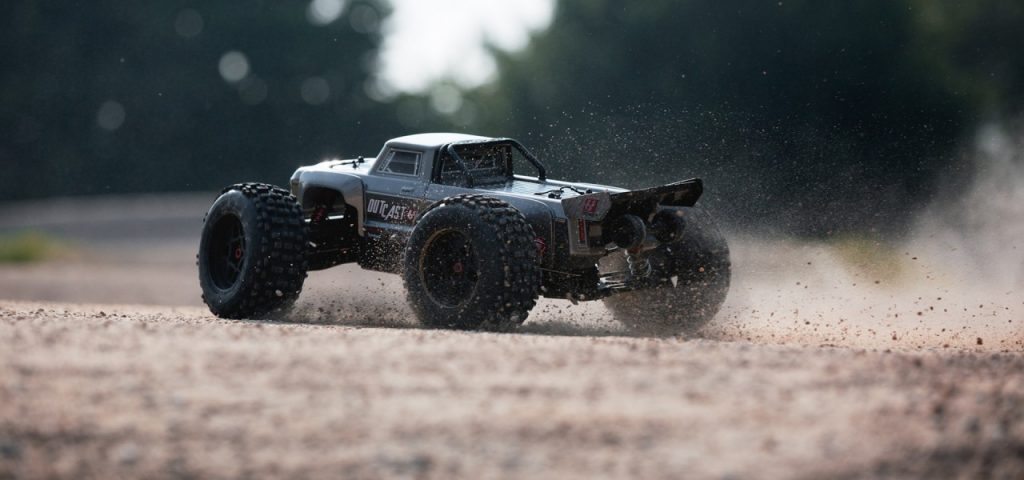 Monster Looks and Tough Components
One of the easy-to-spot accessories in the early teaser images was a wheelie bar. After watching a number of videos starring this model, I can see why that's included. Along with that functional assist, the Outcast 6S has a cool, old-school vibe, beginning with the body. The silver and black pre-painted lid looks amazing and also features a fairly large wing that's mounted on the rear of the truck.
Underneath that aggressive exterior is the heart and soul of this beast. The previously-mentioned brushless motor (BLX 2050kV) is paired with a waterproof/water resistant ESC (BLX185) to provide durability and performance.
The controller of choice for most ARRMA vehicles, the Tactic TTX300, is also included, giving this new model a comfortable grip and solid range and performance. These internal components make for a well-rounded vehicle that looks amazing both standing still and flying through the air.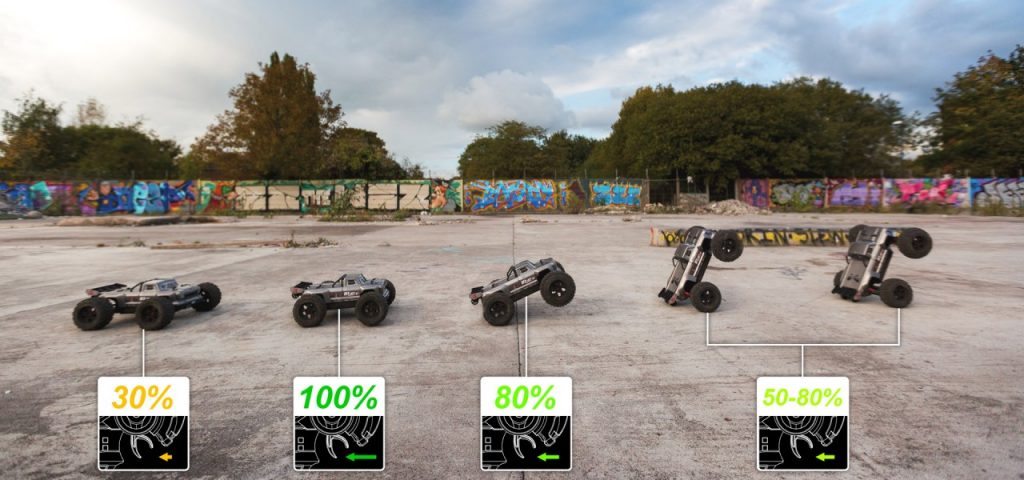 ARRMA Outcast 6S BLX Specifications
Scale: ⅛

Top speed: (MPH)60+mph / 96+km/h

Motor type: Brushless

Kit/RTR: RTR

Drive type :4WD

Vehicle type: Stunt Truck

Length: 540mm / 21.26″

Wheelbase: 328mm / 12.91″

Ride height: 47mm / 1.85″

Front width: 461mm / 18.15″

Rear width: 461mm / 18.15″

Height: 230mm / 9.06″

Locking differential: SNo

Number of differentials: 3

Weight (without battery): 4.86kg / 10lbs 11oz
The Outcast 6S BLX hits the market in mid-November (2016) at a price of $499.99. Learn more and see additional photos and video of this model at arrma-rc.com.
Additional reviews and first-impressions of the ARRMA Outcast 6S BLX Radio-Controlled Monster Truck
Image credit: ARRMA