If you're looking for something new for your next R/C purchase that's not from a mainstream brand, you might want to take a look at the lineup of go-fast machines and crawlers from Abisma. This brand has an impressive lineup of vehicles, each with its own unique features.
One of their most recent releases is the Sherpa Pro, an upgraded version of the 1/10-scale Sherpa trail rig. The Sherpa Pro builds on the already impressive Sherpa by adding a higher-torque steering servo, larger motor, metal-geared transmission, and more.
Sporting a red Jeep Wrangler-like body, the Sherpa Pro is packed with an array of scale details that help set this model apart from the competition. Body details such as side mirrors, door handles, and a roof rack are all standard and you'll also find items such as Jerry cans, a lift jack, and more right out of the box. Lights are another scale element that this model brings to the table.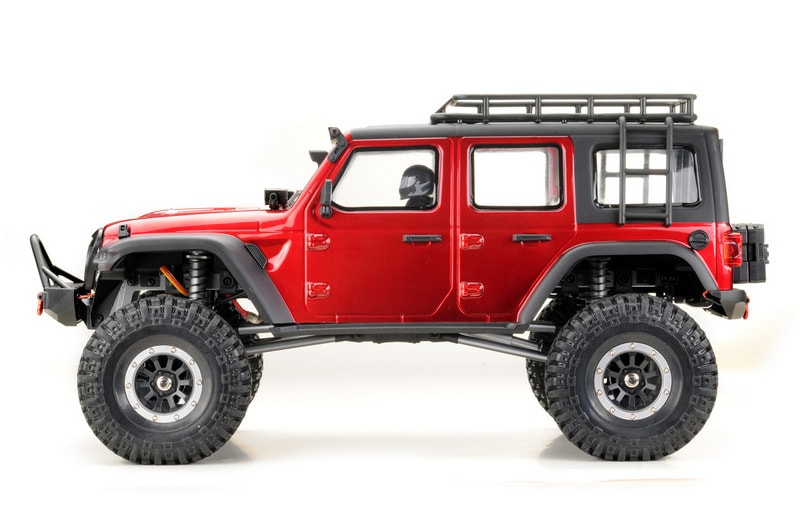 Both the Sherpa and Sherpa Pro offer front and rear LED lights as well as hood-mounted LEDs and a roof-mounted LED light bar. For scale enthusiasts who are looking for a model that's packed with options, this machine should have you covered quite nicely.
Along with scale prowess, the Sherpa Pro should also deliver on performance with a 25kg metal-gear steering servo, 755-sized brushed motor, and a Hobbywing QuicRun 80-Amp brushed ESC. All of these elements are in addition to the two-speed remote-shifting transmission, and remote-locking/unlocking front and rear differentials. Accessing the internals of the Sherpa Pro should be quite easy, thanks to its rear-hinged rip-top body.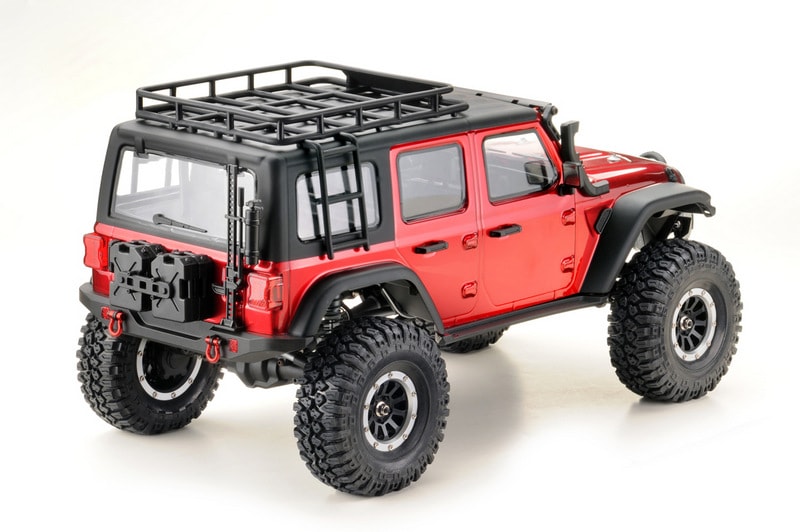 Abisma Sherpa Pro Specs:
Length: 542mm
Width: 250mm
Height: 240mm
Ground clearance: 53mm
Wheelbase: 313mm
Weight: 2970g
Approach angle: 60°
Descent angle: 45°
Steering angle max: 45.8°
Rims: 12mm Hex Beadlock 1.9″ 32x69mm
Wheels: 43x120mm
Shock absorber length: 90mm
Viscosity shock absorber oil: 500cps
Gear ratio: 2-speed (Hi 1/15.1 / Lo 1/37.1), remote controlled
Transmission: module 0.8/32dp – pinion 16Z / main gear 44T
Drive system: 4WD
ESC: Hobbywing QuicRun 80A brushed/waterproof with T-connector (BEC [email protected], 7.2V NiMh & 2S LiPo batteries can be used).
Motor: 755 high-torque brushed motor 15x5T / 8,800 rpm
Steering servo: 25kg metal gear, digital and waterproof
Mini servos: 0.9kg, waterproof
Radio system: 6-channel 2.4GHz remote control (4.8 – 12.0V LiPo capable)
To learn more about the 1/10-scale Sherpa Pro, visit abisma.shop.
Image credit: Abisma