This review appears in-full at smallscalerc.com.
"Whoa". That is the one word uttered by everyone who took a turn driving the Dromida BL Monster Truck during my review. Myself included. On the surface, this 1/18-scale R/C truck may not look like much, but once you mash the throttle, you'll soon discover that there's more to this machine than meets the eye.
When this model arrived on my doorstep, courtesy of Hobbico, I wasn't sure what to expect. My recent 1/18-scale experiences had ranged from the low-slung LaTrax Rally to the off-road Axial Yeti Jr. Rock Racer. Both of those vehicles were amazing to drive and relatively fast. Nothing, however, could prepare me for the power that the BL Monster Truck was hiding under its hood.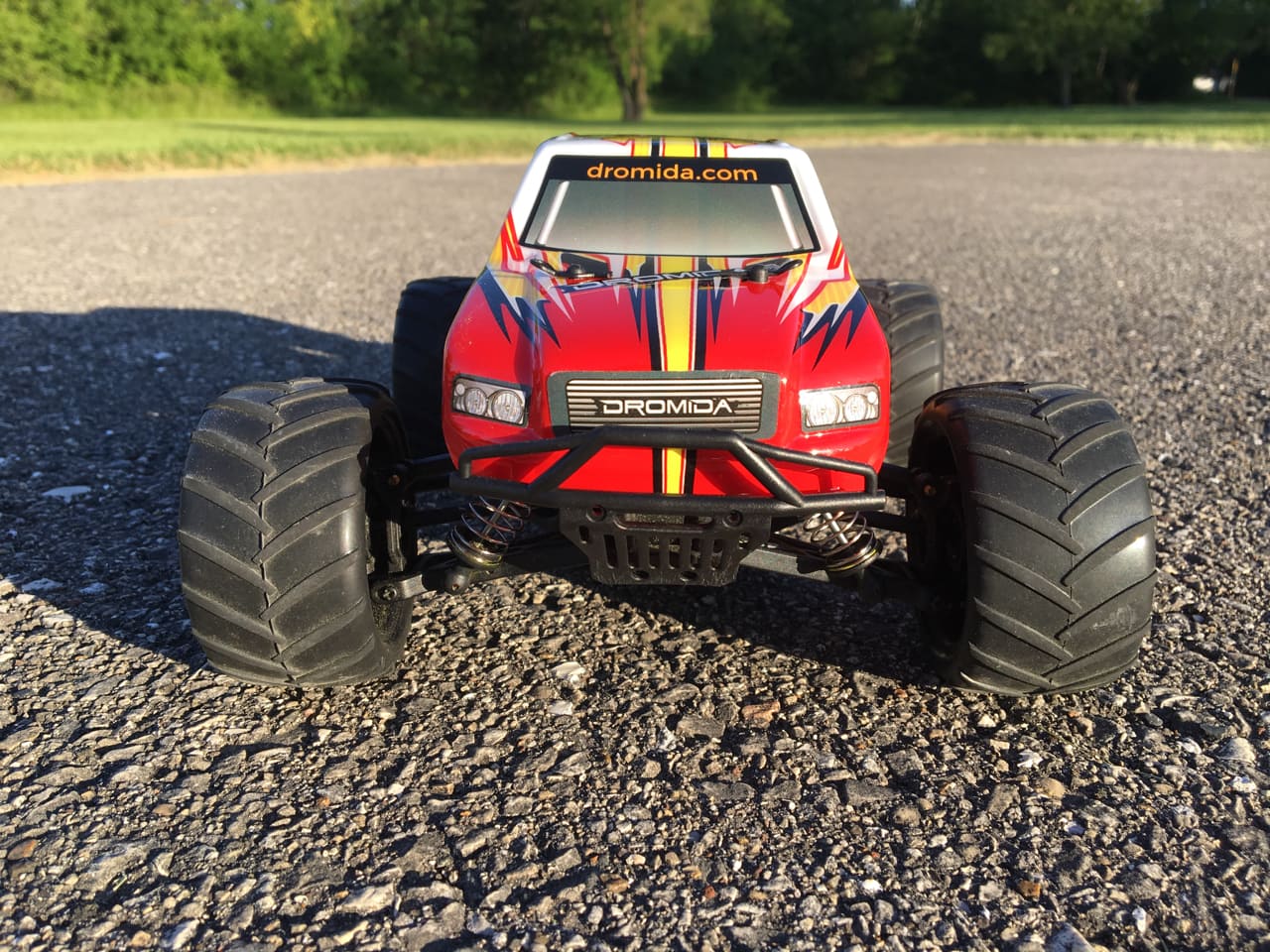 A Quick-charge Summary
Insanely-fast

Great handling and performance

Durable and very resistant to crashes and tumbles

An excellent choice for speed-seekers and bashers
Dromida BL Monster Truck Specifications
Length: 10.6 in (270 mm)

Width: 7.8 in (198 mm)

Height: 4.6 in (117 mm)

Weight w/battery: 1.4 lb (632 g)

Price: $149.99
What's in the Box
1 Dromida BL Monster Truck (1/18-scale, ready-to-run)

1 2.4GHz, 2-channel radio transmitter

1 7.2v, 1300 NiMh battery (for truck)

1 USB battery charger (for truck)

4 AA batteries (for transmitter)

1 Instruction manual
The Body
It may be easy to dismiss the appearance of a non-licensed R/C body, but there's something to be said for making a "no-name" car or truck lid appealing. The BL Monster Truck features an eye-grabbing red base with white, orange, and black flames across the hood and sides. It looks mean, and it looks fast. The question now becomes, is it all show and no go?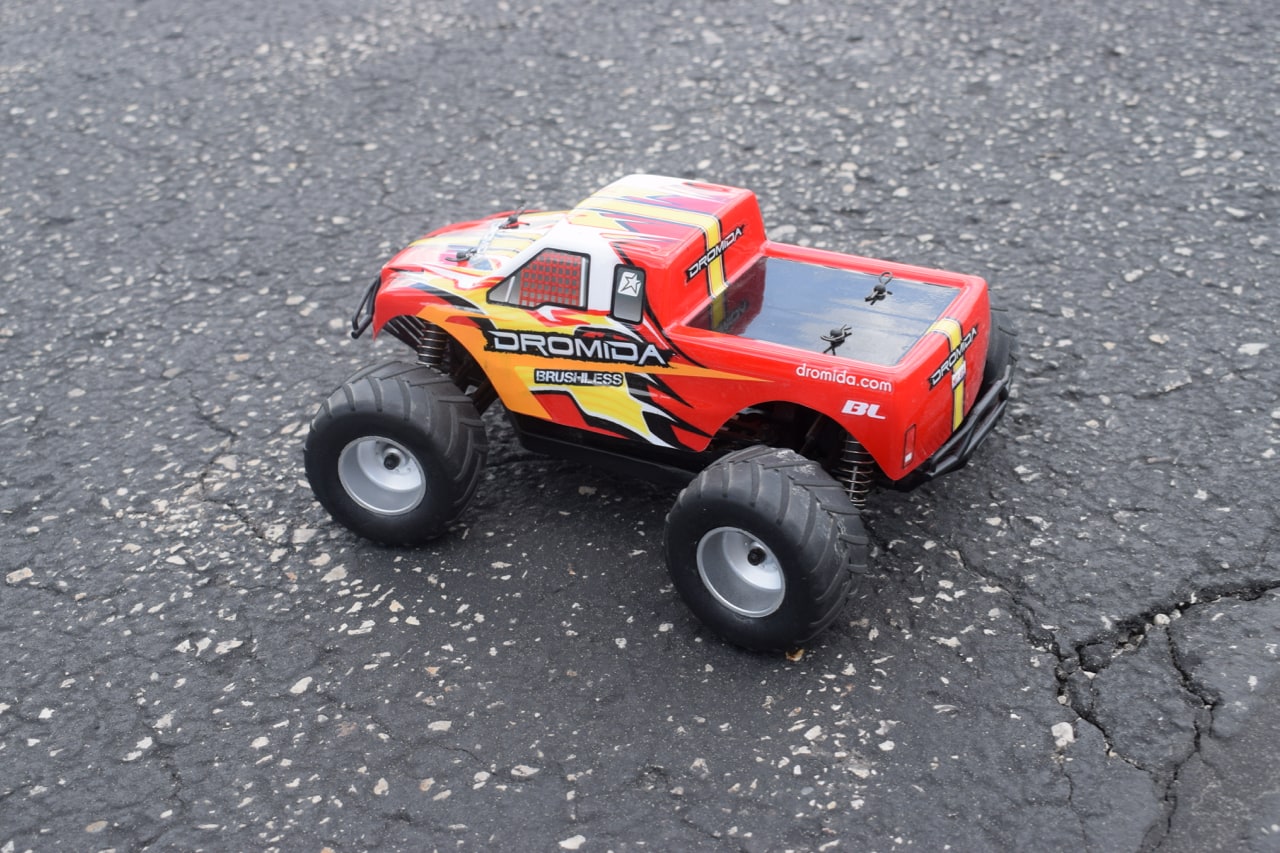 The Chassis
Starting from the ground up, the Dromida BL Monster truck features a stance that's somewhere between a 1:1 monster truck and a short course truck. With a wide stance, this truck has been surprisingly nimble and fun to drift and slide on pavement and gravel.
The chassis tub is compact and carries a low profile. The arrangement of the internal components is well thought-out, taking up almost every available millimeter of space. Weight has been distributed evenly, with the battery and motor on opposite sides of the chassis and the radio receiver, ESC (electronic speed control) and other components distributed throughout the chassis tub.
If (and when) the BL Monster Truck takes to the air, there isn't much body lean (side-to-side or front to back). This overall balance makes jumping and launching the truck skyward almost as fun as keeping it glued to the ground.
When you do find yourself taking to the air, the fear of hard landings is quickly put to rest, thanks to the four ample, oil-filled shocks which provide cushion and support to this truck. The overall suspension travel is impressive. Quite impressive, actually.
After sending this truck into the air on more than one occasion (not to mention, in a variety of "maneuvers"), there are only a few select scuffs on the bottom of the chassis. This is a drastic contrast to other models that I've driven, and speaks volumes to the stock suspension setup.
During my review, I kept the BL Monster Truck in stock suspension setup. There are adjustment rings provided, however, I didn't see the need to use them as I was very happy with the out-of-the-box performance.
Traction and handling performance was very crisp, with more than a few opportunities to let this truck slide around and drift around. The tires, although appearing to be big and beefy, have a low profile without much sidewall flex. This helped keep the truck nimble, allowing it to "thread the needle" of numerous obstacles.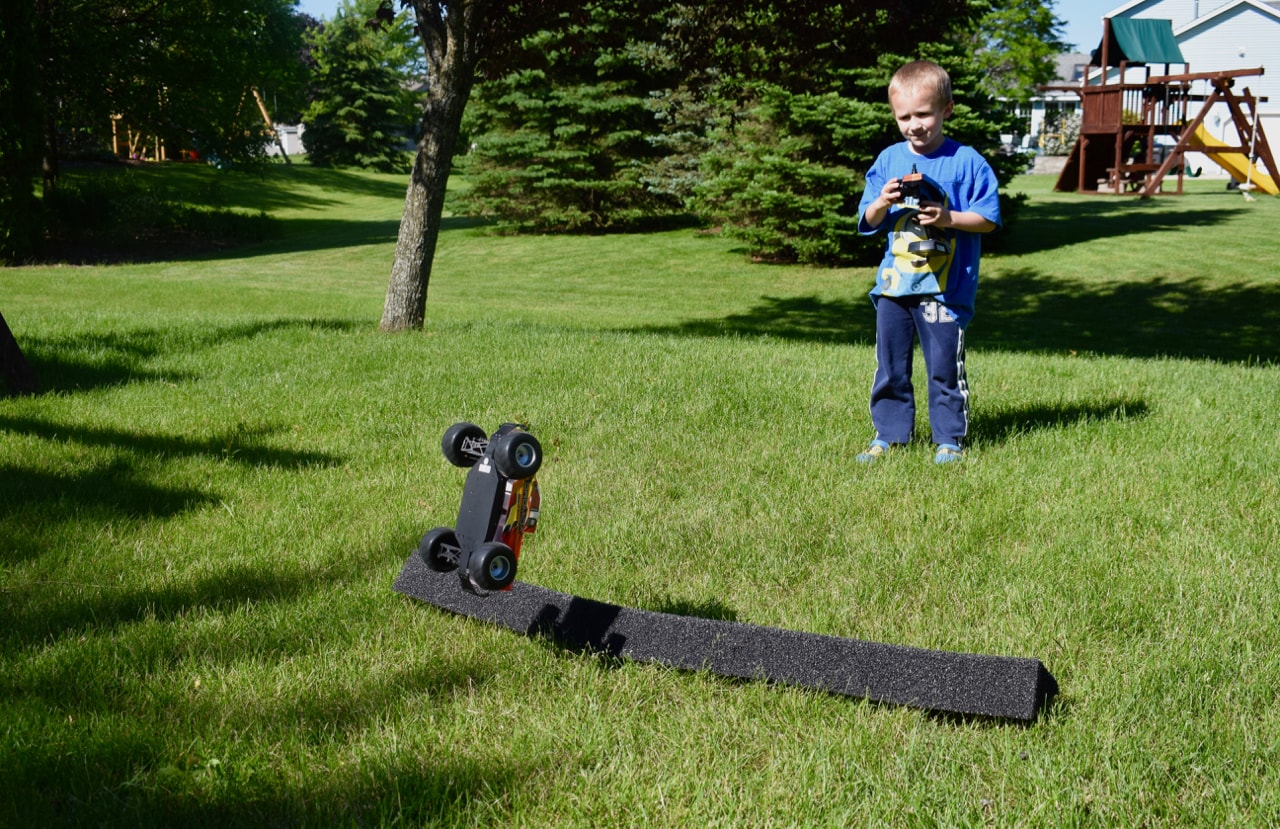 The Battery
While the battery of a RTR radio-controlled car or truck usually isn't something to make note of, I must say that the run time and overall power provided by the 7.2v, 1300mah NiMh battery was quite impressive. I was seeing run times of 10-15 minutes on a full charge, with almost all of that time being spent hard on the throttle.
Charging time is decent, taking 20-35 minutes using the included USB charger. Plugging the unit into a computer will take the longest time to achieve a complete charge, so you're better off using a smartphone or tablet USB charging adapter to get the job done quickly.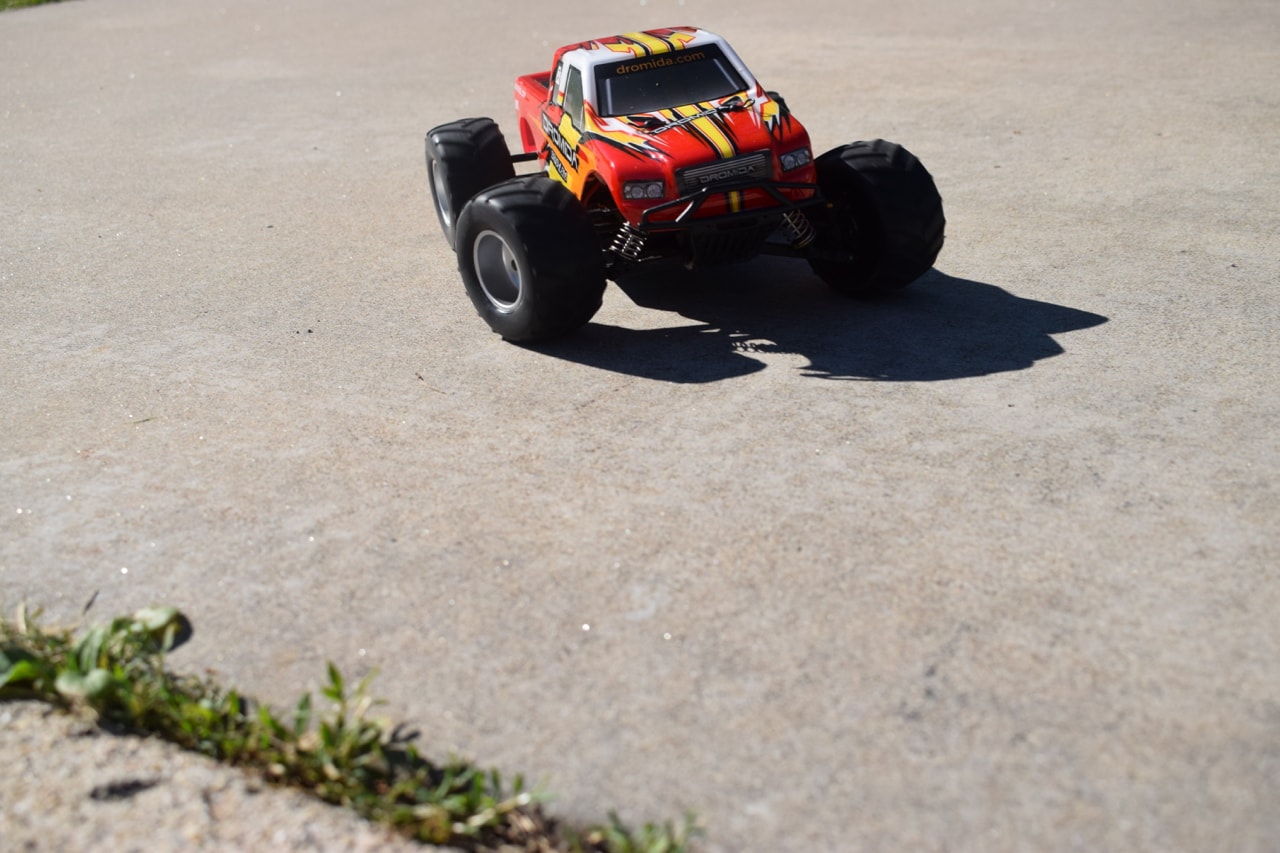 The Controller
Regardless of where this topic sits in my review, the radio transmitter is one of the most important pieces of your R/C experience. Not only does it provide the control and range needed to drive (or fly), but it's the only tactile connection you have to your R/C model. If the feel isn't right, chances are, you won't enjoy your time behind the wheel.
To that end, the controller which is included with the Dromida BL Monster Truck is quite comfortable. It has a smooth, ergonomic grip that feels great while holding it and the controls are all placed in easy to find, easy to reach locations. I could quickly adjust my steering and throttle trim without having to perform too many head-nods.
Range for the radio system was equally impressive as I was able to send the truck across a large parking lot and back again without any interruption.

The Motor
Ah yes, this is where the real fun begins, and where memories of previous 1/18-scale experiences joined me in a chorus of "Whoa!". The brushless motor of the Dromida BL Monster Truck is what really makes this beast shine. Your first reaction, at least my first reaction to handling any new R/C machine, is to mash the trigger and see what it can do. Don't get me wrong, brushed motors can have their own level of pep, but that is quickly overshadowed by the raw, blinding speed achieved by a brushless system.
The 5300kv motor puts out more speed than I knew what to do with (in some cases). At least, it was more speed than my driveway was willing to handle. Thankfully, a road trip to a wide-open parking lot provided the perfect spot to let this truck roam free and stretch its legs.
https://www.instagram.com/p/BVhyNXygDJI/?taken-by=rcnewb
Check out the full review of the Dromida BL Monster Truck to find out if this 1/18-scale truck is worth adding to your R/C collection.