If your taste in off-road vehicles skews toward the unique, Carisma Scale Adventure has a new offering that's sure to generate some interest. Expanding their SCA-1E lineup even further, they've released the 313mm wheelbase, 1986 Subaru Brat.
Re-creating the looks of this unique mid-80's pickup truck, the SCA-1E Brat offers up an interesting combination of visual detail and trail-proven performance. Packed with their latest chassis and electronics components, this version of the SCA-1E strives to be the best yet.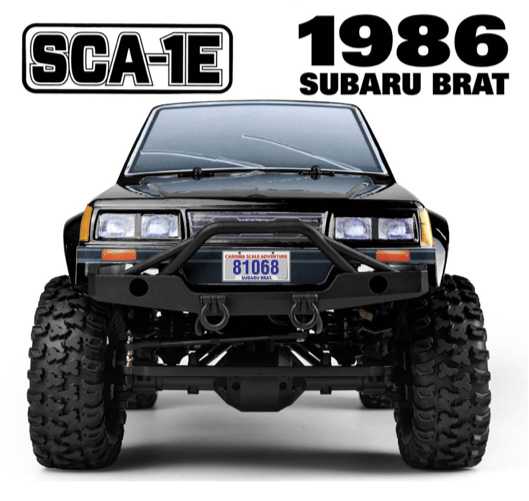 Highlights of this model include a forward-mounted battery tray, chassis-mounted steering servo, Carisma ARC-1 ESC, second-generation shock towers, and soft, 1.9″ tires with beadlock wheels. A steel driveline, bushings, and other durable chassis elements help to make the SCA-1E Subaru Brat a rough and tumble trail truck.
Another aspect of this truck is the price. At under $300, it's a great option for those looking to get into the radio-controlled crawling scene quickly and leaves plenty of wallet room for upgrades and hop-ups.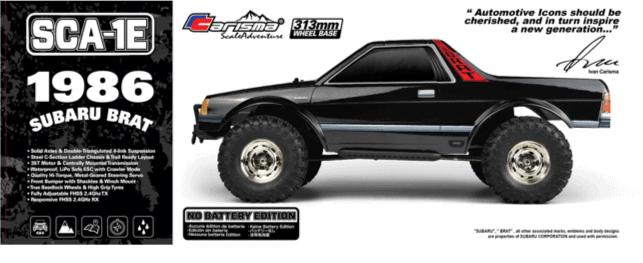 Also included with this model is a 2.4GHz radio system (transmitter and receiver). The only thing you'll need to add before you hit the trail is a NiMh or LiPo battery.
The SCA-1E 1986 Subaru Brat is priced at $275.99 and will be available directly from Carisma RC as well as their dealers. Visit carisma-shop.com to learn more about this old-school R/C trail machine.
Image credit: Carisma RC