Axial has announced the latest model in their growing SCX10 II lineup, a ready-to-run (RTR) replica of the 1969 Chevrolet Blazer (#AX90058). Fans of retro off-road vehicles are sure to appreciate the styling of this rig, while fans of hardcore R/C rock crawling will delight in this vehicle's performance record.
Since it's rollout, the SCX10 II has gained massive popularity among fans of radio-controlled rock crawling and trail driving. This new model stays in-line with previous SCX10 II offerings by proving a solid base platform, albeit with a shiny new lid. But that's not to say that there aren't a few surprises thrown into the mix.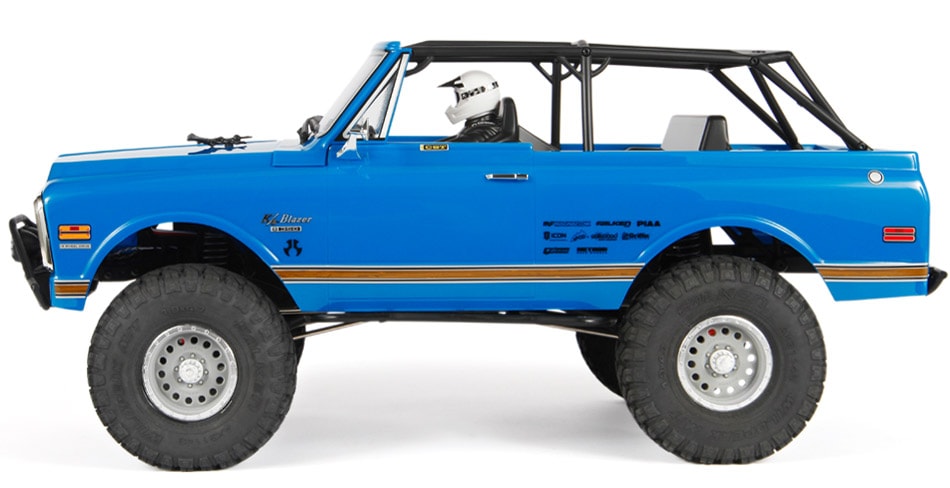 The design of this truck body is great, especially if you're a fan of old-school off-road vehicles. The 1969 Chevy Blazer has been well-replicated in its baby-blue polycarbonate body and features an open-air design, exposing a durable nylon roll cage.
Other visual details include chromed-plastic side-view mirrors and door handles, windshield wipers, and a highly-detailed grille. Finishing off the look of this rig are stone-gray Method wheels with white wheel nut caps and detailed front and rear bumpers.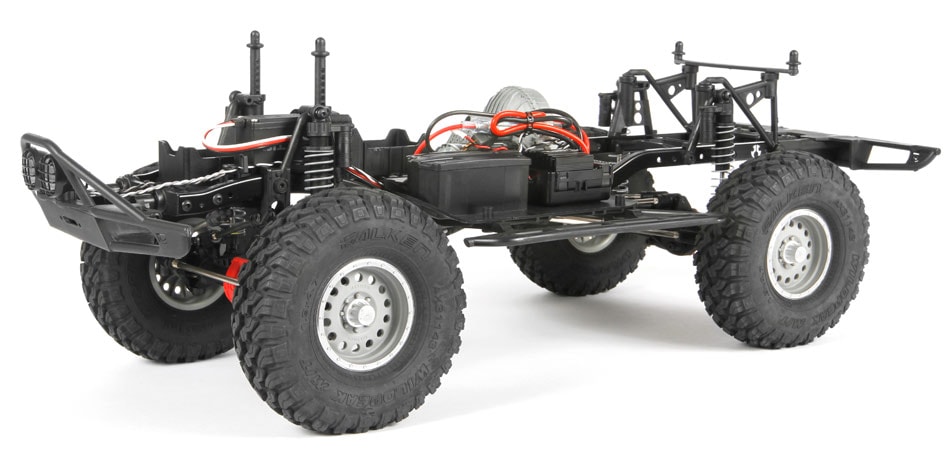 The chassis design is what you've come to expect from previous SCX10 II models, however, this RTR model includes steel suspension links (in place of the more-common nylon links). The oil-filled, coilover shocks allow for fine-tuning and the overall length of the chassis can be adjusted if you'd ever want to swap out the body.
While LED lights aren't included the AE-5L ESC features dual LED outputs for the easy addition of lights to the front bumper and headlamp area of this truck. Other electronic details include a 35-T brushed motor, 3-channel transmitter and receiver combo (Tactic TTX300 transmitter/ Tactic TR325 receiver), and a water-resistant Tactic TSX45 steering servo.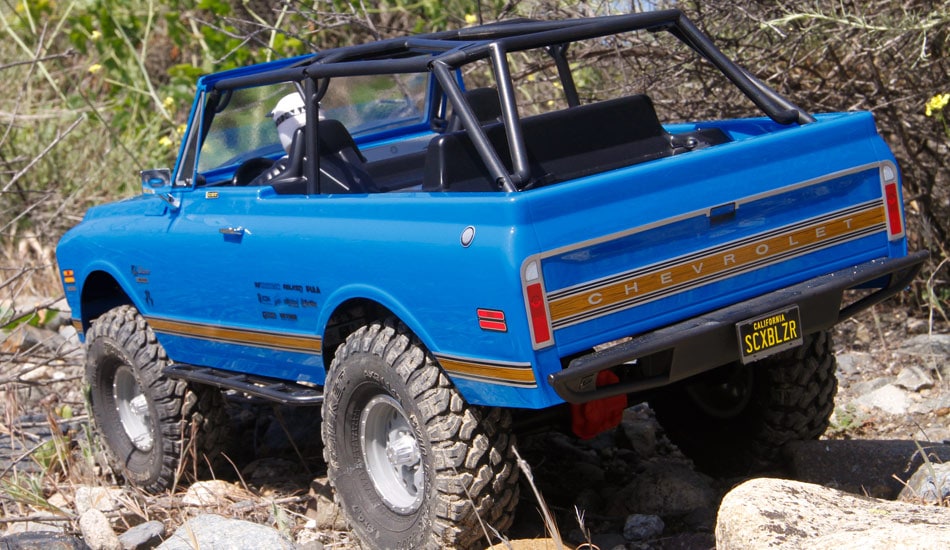 Axial SCX10 II 1969 Chevrolet Blazer Specs:
Length: 22″ (559mm)
Width: 9.5″ (241mm)
Height: 9.25″ (235mm)
Wheelbase: 12.0″ (304.8mm)
Ground Clearance: 3.0″ (77mm)
Weight: 4.5lbs (2.04kg)
Motor: 35-turn, brushed
Radio: Tactic TTX300 3-CHANNEL SLT RADIO, 2.4gHz
Servos: Tactic TSX45
Servo Torque: 6.0V 151 oz-in, 4.8V 143 oz-in
ESC: AE-5L, forward/reverse, drag brake, 3S LiPo compatible, waterproof
Priced at $419.99, the Axial SCX10 II 1969 Chevrolet Blazer RTR will be available online and at your local Axial dealer. Visit axialracing.com for complete details about this model.
Image credit: Axial