Killer looks, a basic design, and a price that's under $150. What more could you ask for?
Live out your monster truck dreams with the latest, low-cost bruiser from Kyosho. The Monster Tracker Readyset is a 1/10-scale machine that brings the fun without wreaking havoc on your wallet.
Powered by a 22-T, 540-size brushed motor, the Monster Tracker is a no-frills truck that features an aggressive look, a sporty body design, and easy-access compartments for quick battery installation and swap-outs.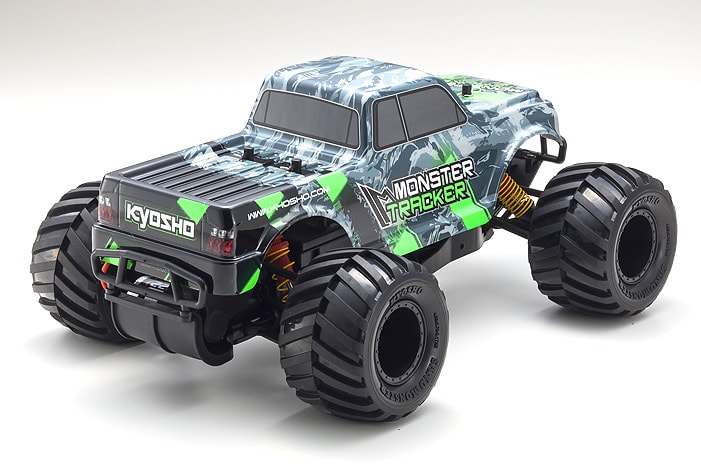 In the looks department, this truck has "monster truck" written all over it, thanks in part to large "Terra" tires and "V" pattern treads helping it claw over terrain. Adjustable, coil-over shocks are an added visual touch and allow for tuning the truck's handling characteristics.
Two graphics style options are available for the Monster Tracker (orange and green). No matter which option you choose from, you'll get a truck that's easy to spot and admire.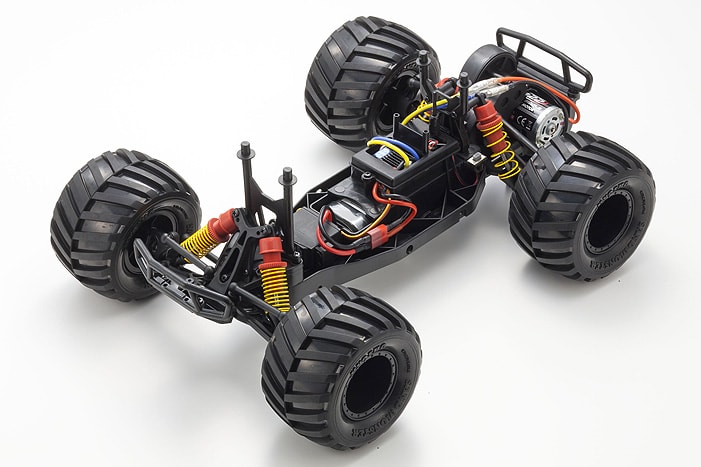 The tub-style chassis, while narrow, has just enough room to hold all of the electronic components with a small around of room to spare. This tight, up-front, arrangement makes accessing the internals easy and hassle-free.
Providing control to this truck is a 2.4GHz radio system including a Syncro KT-232P transmitter. A Team Orion 7.2V, 1800mah NiMh battery is included, along with an AC wall charger (Deans-type connector) to make this a true open the box & go experience.
Kyosho Monster Tracker Specs
Length: 410mm

Width: 300mm

Height: 175mm

Wheelbase: 270mm

Tread (F/R): 230mm/230mm

Tires (F & R): f110×70mm

Gear Ratio: 11.27:1

Motor: 22 turn 540 type

Weight: 1900g
With a street price of $129.99, the Kyosho Monster Tracker should be a capable machine, no matter what level of hobby experience you may have.  Learn more about this new R/C monster truck at kyoshoamerica.com.
Image credit: Kyosho