My first chat with Marcus White of 505RC.com took place late last year and have been wanting to get him on the RC Newb Podcast for some time. We haven't yet had that opportunity, but I do have the next-best thing, a written "sit down" with the man behind an amazing R/C website and something even greater than the hobby itself, an upcoming event to benefit Autism Speaks.
Q: Marcus, what got you into the R/C car hobby?
A: I got into RC Car Hobby originally because of my background in electrical engineering and a passion for speed. I loved to build and work on cars and trucks in my free time but I received multiple reckless driving tickets. I then had to find another way to fuel my love for speed and passion for building.  I then discovered Hobby level RC and I have never looked back
Q: What was your first "real" r/c vehicle?
A: My first RC was a Traxxas Stampede 2wd brushed that I put every possible hopup on I could
Q: How large is your R/C collection?
A: I have 4) monster trucks, 1) pulling truck, 1) 5th scale monster truck, 1) traxxas XO-1, 1) 5th scale on road motorcycle and a LaTrax Alias, So I currently have 9 RCs
Q: Do you have a favorite vehicle and, if so, why is it special to you?
A: My favorite RC is my 5th scale RedCat Rampage that I converted from gas to electric.  It's special to me because the conversion project was such a blast to do.  Also the amount of power and the sheer size of the RC is so fun to drive.
Q. Tell me a bit about the "Light it up Blue" RC Shootout? What was the inspiration/driving force behind it?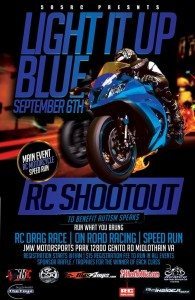 A: Light it Up Blue RC Shootout is an RC event that will be used to raise money for Autism. There will be three events, an RC Drag Race, On Road Racing, and a Speed run challenge.  There will be a main event of a RC Motorcycle speed run to attempt to reach 70mph. If this speed is reached a donation will be giving by everyone that submitted a pledge. There will also be a raffle to raise money for the cause as well. Please come out and help us raise money for Autism Speaks and have a great day of RC fun.
My inspiration behind this event came from my son who was placed on the Autism Spectrum and I began to research Autism.  This is when I discovered how many children are affected by this disorder.  I realize that I needed to do my part to help as much as I can, so I decided to use my love for RC to create a fundraiser to help as many children as possible.
Q: Is this the first go-around for the event?
A: Yes, this is the first year of this great event but it will be annual so everyone needs to be prepared lol
Q. Outside of raising funds for Autism Speaks, what are you hoping people come away with after attending the R/C Shootout?
A: I hope people come away with a better understanding of what Autism is and how it affects everyone.  Our local chapter of Autism Speak will be in attendance to help spread information about how important this is.
Q. What can people do that are interested in helping out, either by attending or supporting the event?
A: If someone is interested in helping with the event please feel to contact me at my website, 505RC.com.  We are always looking for volunteers. You can also visit Autismspeaks.org and click on "ways to give" and donate to help someone in your area.