Axial has made a name for itself as a manufacturer of R/C vehicles that focus on scale realism and attention to detail. While there are other models on the market that may cover more visual elements and scale items, an Axial rig will get you headed in the right direction and provide you with a customizable canvas to work with. One of their "platform vehicles", the Wraith, has become a popular model to build custom machines off of, specifically monster trucks. With this in mind, Axial has released videos and details that instructions for building your own Monster Wraith. For those of you that would prefer a out of the box solution, Axial's latest release has you covered as well.
The SMT10 (AX90055) is a new branch in Axial's product tree, with the first bud being a ready-to-run (RTR), 4-wheel drive replica of Grave Digger, the Monster Jam monster truck. This new release comes as a bit of a surprise to me, but isn't an announcement that is completely out of left field. Last year's RR10 RTR and Yeti Trophy Truck releases signaled a shift in Axial's approach, branching out from trail trucks and Jeeps to a replica of off-road racers. The STM10 stays in-line with that competitive spirit, while introducing its own unique elements.
Starting with the exterior looks, this new model is a very true representation of the 1:1 Grave Digger. With licensing from Monster Jam, this may be the first of many releases to feature actual Monster Jam vehicles, but that remains to be seen. Getting back to the truck, the exterior body shell features Grave Digger graphics and details. Side-mounted header pipes are visible, along with select areas of the tube-frame chassis, just like the real thing.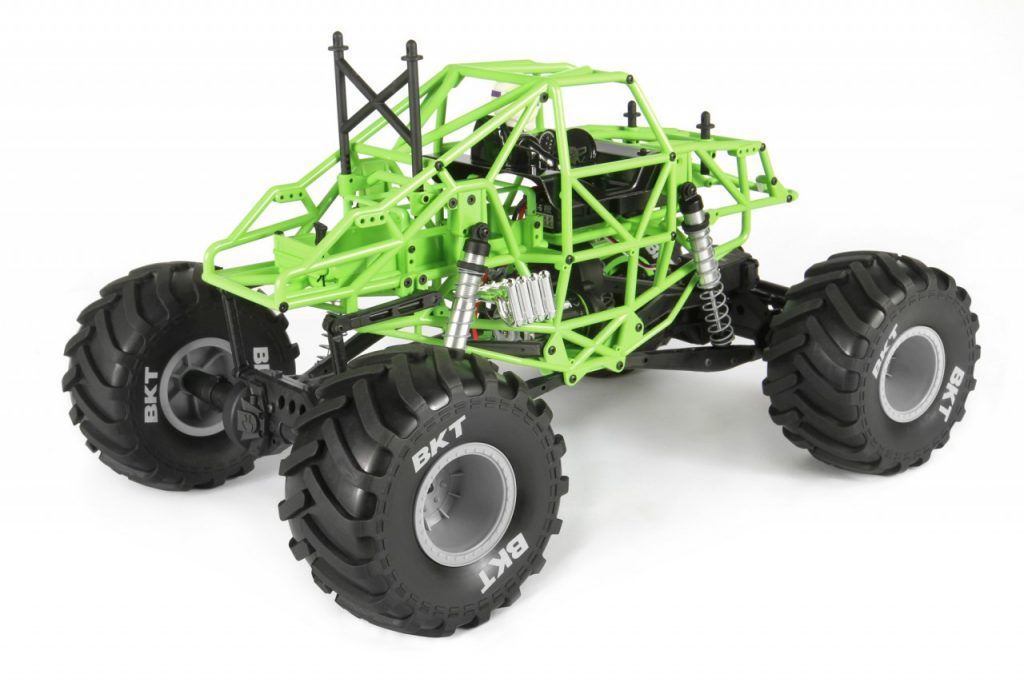 The chassis itself is also a replica of the 1:1 machine, utilizing bright green plastic and, as mentioned earlier, a tube-frame design. There are multiple adjustment and mounting points on the chassis for shock setup adjustments and suspension link mounting, allowing you to dial in the handling of the STM10 to suit your driving style and environment. An optional sway bar can be added to further enhance the handling of this vehicle.
Axial's AX10 transmission helps move this machine smoothly, which rides on massive 2.2" BKT Monster Jam tires and wheels. WB8 HD driveshafts are in place to make sure all four wheels are in use, crushing the competition and obstacles.
The electronics are all water-resistant, with the receiver being located inside of a waterproof box, much like other recent Axial models. An AE-5 ESC (electronic speed control) is included, supporting both NiMh and LiPo batteries and control for this beast is accomplished with a Tactic TTX300 3-channel transmitter and paired TA325 3-channel receiver. Rounding out the electronic and mechanical components of this new monster truck model are a Tactic TSX45 metal gear servo (also water resistant) which carries a 1511 oz-inch of torque rating. An Axial 27T motor keeps the Grave Digger rolling strong, no matter what you've got it up against.
Specifications:
Length: 19″ (483mm)

Width: 13.2″ (335mm)

Height: 10.6″ (270mm)

Wheelbase: 13.9″ (353mm)

Ground Clearance: 2.9″ (74mm)

Weight: 7.11lbs (3.22kg) estimated with electronics

Motor: Axial 27T Electric Motor

Radio: Tactic TTX300 3-CHANNEL SLT RADIO, 2.4gHz

Servos: Tactic TSX45 Servo. Torque: 6.0V 151 oz-in, 4.8V 143 oz-in

ESC: AE-5, forward/reverse, drag brake, 3S LiPo compatible, waterproof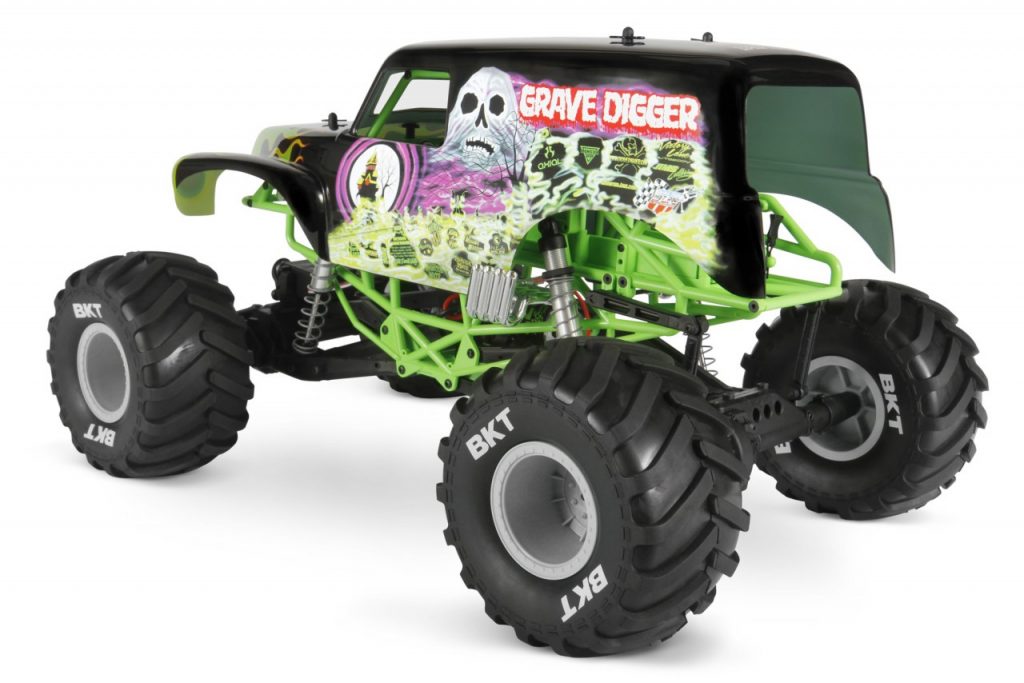 The new SMT10 is priced at $399.99 which, for a RTR model, is an appropriate price. For what you're getting with this new package, it's a great opportunity to have a replica of Grave Digger in a durable, "go anywhere" package. Learn more about the SMT10 Grave Digger Monster Jam Truck at axialracing.com.
Image credit: Axial